Best Shopping Apps for Windows 10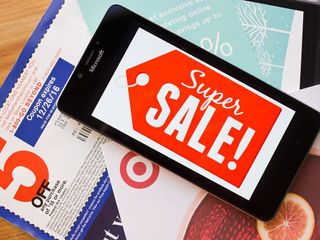 Whether you are hunting down the best Black Friday Deals or trying to compare prices for day to day purchases, the Windows Store has a modest collection of shopping apps to help you save a little time and money.
You always have the comfort of jumping onto Microsoft Edge and go to various retailer websites, but these apps can do the legwork for you. A few also can deliver the website experience to an easy to use Windows 10 app for convenience.
The Windows Store shopping app collection is more condensed these days, but it still offers some helpful titles. These are our best shopping apps for Windows 10.
Smart Deals
Why you can trust Windows Central Our expert reviewers spend hours testing and comparing products and services so you can choose the best for you. Find out more about how we test.
Smart Deals is an unofficial Windows 10 app for Slickdeals.com and displays deals from RSS feeds openly available from Slickdeals submitted by thousands of shoppers.
The app sorts the deals across a handful of pages that include the Frontpage that highlights key deals, as well as a Popular, Trending, Hot Deals and Freebie pages. There is also a Coupons page where you can find retail discount codes from an assortment of retailers.
If you are looking for a specific item, Smart Deals has support for keyword searches. Settings include support for Live Tiles and filtering out the app's main pages. Smart Deals is a free app is available for Windows 10 Mobile.
Download Smart Deals from the Windows Store (opens in new tab)
Amazon
In days of old, there was a Windows 8 Amazon app that did a rather good job of things, but alas it went away. To fill the void a new, Windows 10 Amazon app was introduced to the Windows Store a few months ago. Available for Windows 10 PC and Mobile, the Amazon app does a decent job of delivering all of Amazon's deals to the comfort of your Windows 10 device.
The app still needs a little polishing but it does give you access to your Amazon account, the entire Amazon inventory, your shopping lists and the ability to order merchandise directly from the app. You can search for items, view them by category and pull up the current deals. Unfortunately, the new app is still missing the barcode scanner that many mobile users want. Hopefully that changes soon.
The free Windows 10 app is a convenient way to compare prices or hunt down those hard to find gift ideas.
Download Amazon from the Windows Store (opens in new tab)
Shop Savvy
Shop Savvy is a handy Windows 10 Mobile app designed to help you compare prices on the go. Simply scan the barcode of any product and get the best prices for that item from Internet and local retailers.
Shop Savvy also highlights key deals on its homepage, along with a listing of deals sorted by major retailers and the ability to create shopping lists. Shop Savvy reminds me of RedLaser that was a popular Windows Phone 8 app that did not make the jump to Windows 10.
In testing out Shop Savvy, it did find some nice deals on items ranging from the Garmin Vivosmart HR+ to Thumbdrives. Scans were quick and the free Windows 10 Mobile app could save you a few bucks while you hunt down the perfect deal.
Download Shop Savvy from the Windows Store (opens in new tab)(.cta.large}
Wish
Wish is the official Windows 10 app for Wish.com (opens in new tab) that delivers a boat load of deals to your Windows 10 PC or Mobile device. Deals range from 50-80% from what you would pay at the local mall and includes items from clothing to electronics to jewelry.
This Windows 10 app presents the deals by the latest offerings, recently viewed and by category. You can search deals by keyword and receive notifications of new deals that come to light. There is even a Deal Dash feature where you can spin a wheel daily for added discounts on items.
Wish does require you to create an account before you can access the deals. Accounts can be based on your Facebook account or your email address. The free Windows 10 app is an easy way to find unique gift ideas at discounted prices.
Download Wish from the Windows Store (opens in new tab)
If you have tried any of these apps, let us know what you think of things in the comments below. There are other Windows 10 apps designed to help take the bite out of shopping such as the Home Depot app (opens in new tab), Newegg (opens in new tab) and Zappos (opens in new tab). Plus, you can always find great deals on phone and tablet accessories at the Windows Central Store (opens in new tab). If we have overlooked your favorite Windows 10 shopping apps, feel free to toss out your recommendation in the comments as well!