The Best Smartphone Camera, as judged by YOU!
So who makes the best smartphone camera? Here's what you picked.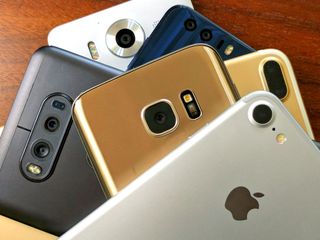 We showed you 16 sets of photos taken by four unspecified cameras, with all identifying data stripped away and presented in a randomized-on-load order for each block, all in an effort to ensure that you would be able to judge based on the quality of the photo and nothing more. And so, based on this wide range of photos, it's time to see just who makes the best smartphone camera today.
According to more than 13,000 of your votes, the best smartphone camera is in the Samsung Galaxy S7.
The Galaxy S7 was up against another Android phone in the LG V20, as well as the new iPhone 7 and the Windows 10 Mobile-powered Microsoft Lumia 950.
Why these phones?
Why you can trust Windows Central Our expert reviewers spend hours testing and comparing products and services so you can choose the best for you. Find out more about how we test.
Simply put: they're the best smartphone cameras you'll find. We went with what we expected would be the top four — it's been several months since we last did this and we wanted to both revisit some "older" excellent phones (Galaxy S7 and Lumia 950) that have received new software in the interim and pit them against the newer smartphone camera beasts on the block (V20, iPhone 7).
Including the Samsung Galaxy S7 was a natural choice — it won our last smartphone camera comparison, and with software updates the already great camera has only improved. The camera in the Galaxy S7 is also the same as you'll find in the Galaxy S7 edge and Galaxy Note 7, so you can easily extrapolate these results to those phones. It was a great camera earlier in 2016 and it's still a great camera today.
The other carry over was the Microsoft Lumia 950 — it's also the oldest phone here, nearly a year old at this point. Including it wasn't to throw a bone to the Windows phone crowd, no, the Lumia 950 had a great camera in late 2015 and with the recent update to Windows 10 Anniversary Update it received a whole new app and camera features (panorama!) worth testing again. But could it measure up to a raft of newer phones? There was only one way to find out.
And then there are the new phones. LG's V20 was announced in early September, but has started shipping in some locales (but not yet the United States). The version that we used for testing here was a pre-production Korean unit, but one that should be representative of the final product. LG has made serious strides in its camera performance over the past few years and has often led the way when it comes to new technical features. We should note that the LG V20 sports an extra-wide-angle 135º secondary camera, and while we do love the option, it wasn't used in this comparison.
The other new phone that was the impetus for doing this comparison again won't surprise anybody: the iPhone 7. Apple's made a big deal about their smartphone cameras in the past few years, and the previous iPhone 6s performed well in good lighting conditions in our previous showdown, but floundered as soon as the lights went out. With a widened aperture of f/1.8 and (finally) stabilization in the smaller iPhone, it looks like the device might be on even technical footing with the others. And while the iPhone 7 Plus has a secondary camera that's essentially a 2x zoom, like the V20's wide-angle camera it wouldn't make for an apples-to-apples comparison.
We also carried the Honor 8 to take photos. Despite the dual-camera hype around the phone, it was immediately obvious that it was the worst of the bunch by a noticeable degree, especially in low-light shots and anything with motion, so we dropped it from the comparison.
How we shot
Over the course of a few days I carried these four phones to various locations to put them to the test in a variety of settings and conditions. Every photo was shot in Auto mode with settings matching what you get out of the box from the manufacturer — down to automatic exposure and even auto HDR when the camera felt it was appropriate. The only modifications we made to any photos were stripping identifying data before uploading.
Yes, every one of these phones can shoot in RAW with manual controls (iPhone requires a manual app, of which there are many) and we know and embrace that these files would be better for editing to create a better image than the full-auto JPGs. But that's not how "normal" people use these phones. There are hundreds of millions of these smartphones out there, and the overwhelming majority of people taking photos with them aren't bothering with manual modes or with editing RAW files. That requires technical knowledge that most people don't have, and that's okay.
And to be perfectly frank, if you really care about fiddling with your white balance, ISO, shutter speed, and everything else, then you already know what you want in a camera — and you don't want the tiny lens and sensor you get in a phone. You want a real camera with real controls and a big sensor and beautiful lenses.
But, as they say, the best camera is the one you've got on you. Messing around with manual controls means you're going to miss the shot. Smartphones these days produce some really amazing photos on auto. We're not professional photographers, and odds are neither are you, so Apple, Microsoft, Samsung, and LG have all designed their camera apps to be accessible to the populace at large.
No modifications were made to the photos before comparison, although for display here they were automatically shrunk to a more manageable size.
Spec Showdown
There's one last thing before we dive into the photos: specs.
Swipe to scroll horizontally
| Category | Apple iPhone 7 | LG V20 | Microsoft Lumia 950 | Samsung Galaxy S7 |
| --- | --- | --- | --- | --- |
| Megapixels | 12MP | 16MP | 20MP | 12MP |
| Resolution | 4032x3024 | 4656x2492 | 4992x3744 | 4032x3024 |
| Sensor Size | 1/3" | 1/2.8" | 1/2.4" | 1/2.6" |
| Pixel Size | 1.22μm | 1.12μm | 1.12μm | 1.4μm |
| Aperture | ƒ/1.8 | ƒ/1.8 | ƒ/1.9 | ƒ/1.7 |
Alright, that's a lot of numbers. But what do they mean?
Megapixels is a count of the total number of pixels you'll find on a camera sensor, arranged in a grid. The "mega" in megapixel means one million, so a "12 megapixel" sensor will have 12 million pixels on it. More pixels mean a more detailed image. We're only now getting into the era of 2K smartphone displays and 4K TVs and compute monitors, and 4K only equals 8.8MP, so every one of these cameras will produce images "bigger" than your screens. More megapixels mean, though, that you can crop in closer without losing detail or that you can print a larger image — even poster-sized at 12MP — and not start seeing the pixels.
Resolution is the size of the pixel grid, width and height. Multiply the two and you'll get the pixel count, and thus the megapixels.
Sensor size is the literal physical size of the sensor. More megapixels mean the camera will produce a bigger image, but it doesn't mean that the camera itself is actually bigger. A bigger sensor can collect more light for a brighter photo, or fit more pixels for a bigger one. Sensor size is measured as a fraction — the larger the number, the larger the sensor (remember, in fractions a smaller denominator results in a bigger number). Of these four phones, the Lumia 950 has the biggest sensor — but it also packs in the most pixels, which leads to our next measurement…
Pixel size is a measurement of the physical size of an individual pixel on the sensor. This is where megapixels and sensor size collide and where the rubber meets the road. A bigger pixel can collect more light, which in daylight use you won't notice, but as soon as it goes dark the bigger pixels can produce brighter and less noisy images. It's worth noting that these are still microscopically tiny pixels we're talking about here — 12 million on a plate the size of a pinky nail. So they're measured in micrometers (μm). The biggest pixels here are on the Galaxy S7 and iPhone 7 at 1.4μm, and that's 1/70th the thickness of a human hair. These things are tiny.
Aperture is the size of the hole the light is passing through, and it works exactly the way you think: the bigger the opening, the more light gets to the sensor. The more light on the sensor, the better an image it can produce. Aperture is expressed as a fraction (the "ƒ" stands for "1"), and so the smaller the number in that fraction, the bigger the opening. We could get technical with it, but it's worth noting that the difference between ƒ/2.0 and ƒ/1.4 is double the light.
Take it again!
One more thing — just for giggles and your own edification: we've created a copy of the blind survey from before. It's still blind to start, but when you select your favorite photo this time it'll tell you which phone you picked. This is just for fun, we won't be tallying these into the 13,557 that informed the results below, we just want you to know what your own eye picked.
See which photos you picked as the best
The Photos
So we've said that the Galaxy S7 won, but how did it win? Let's go through each photo comparison.
Indoors
Image 1 of 3
Image 1 of 3
Image 1 of 3
On the artificially lit interior shot, the Galaxy S7 pulled way ahead, besting the next-best iPhone 7 by a solid 45% to 28%, largely due to its more pleasing saturation. Truth be told, the V20's image was more accurate than both of them, best capturing the yellowish hue of the lighting inside Findlay Market without squashing the red of the metal beams. But Samsung's win here is a trend you'll see repeated over and over: hyper-saturated colors are more pleasing to the eye.
When the lights went down inside, both the LG V20 and Lumia 950 performed well. Actually, all four phones performed admirably, but the Lumia and V20 both struck a balance between the iPhone's muted color palate and the Galaxy's too-saturated look.
Outside
Image 1 of 3
Image 1 of 3
Image 1 of 3
Image 1 of 3
Image 1 of 3
As soon as we step outside into the green environs of Washington Park, the Galaxy S7's propensity for hyper-saturation again becomes an asset, bringing brilliant, truer-than-life colors to play. But as before, it was far from the most accurate — even if it was the most-liked image by an incredibly wide margin (67% vs 11-12% for the others). In this outing, the V20 did an admirable job of balancing the shadows and sunlight, though the end result was a flat image. The iPhone 7 and Lumia 950 sat in between these two extremes, giving images that were practically indistinguishable.
In bright lighting, none of these phones faltered in capturing a lightning-fast photo, each freezing the water jets of the fountains right in place. But it was the Lumia 950 that came out on top with contrast that actually gave depth to the water jets, though at the expense of the overall brightness of the image.
Panoramas were the most special camera mode that we tested, and here the iPhone 7 and Galaxy S7 were neck-and-neck, with the latter winning out in the polling by a mere 1%. It's easy to see why both ranked high — the dramatic brightness contrast of the approaching storm wreaked havoc on the V20 and the Lumia 950, producing images that were overly dark on the sunlit left side and too bright in the dark clouds on the right. The Lumia 950 in particular struggled mightily, with shifting color balance and an unforgivable stitching error (we didn't notice it until long after, alas). Both the Galaxy S7 and the iPhone did an admirable job keeping the brightness and colors in check across the entire exposure, though again the saturated hues of the Samsung again pushed it over the top — even over the superior brightness balance of the iPhone 7. And in case you're wondering what that light streak is in the middle of the storm on the iPhone's photo: that's what happens when a sweep-style panorama meets lightning.
Thanks to optical image stabilization and a twice-as-large aperture than before, the iPhone 7 is finally a competent nighttime shooter. But it was not the best. In fact, it fared the worst, though none of its nighttime shots were particularly bad (though they were undersaturated). It was the Lumia 950 that won the nighttime poll, barely edging out (you guessed it) the Galaxy S7 by just 46 votes. Both produced sharp, high-contrast images with plenty of color. It came down to preference; the Lumia toned down the brightness to bring out more detail in the brilliantly lit stadium, while the Galaxy ramped it up and pushed the hues towards warmer tones.
For all of its strengths in the daytime panorama, the iPhone 7 fell flat at night, producing a final image that was terribly dark, undersaturated, and weirdly blue. But the worst performer was the Lumia 950, which committed the exact opposite sin: a too-bright night shot that washed out almost the entire image — a shocking result given the excellent nighttime single-photo showing. Coming down to LG and Samsung, the LG V20 had the best overall nighttime performance, balancing brightness and color and contrast beautifully in stills and panoramas.
Portrait
Image 1 of 3
Image 1 of 3
Image 1 of 3
So that's a lot of taking pictures of buildings and plants and things, but what about people? After all, many of those moments you're going to want to capture are going to involve the people in your life and the things they're doing — and the things you're doing, so being able to capture people and faces cleanly and accurately is of some importance.
Portrait photography has long been one of the iPhone's strongest suits, and it lives up to that in our testing. At least it does in well-lit conditions. The Samsung's penchant for oversaturating made my face go all pink and red, the LG V20 went bright and pink, while the Lumia ended up giving me something of an artificial tan. While I don't mind looking like I've gotten more sun than I actually have, it was the iPhone that manage to produce the most natural-looking photo — soundly trouncing the competition with nearly half the vote.
But as soon as the lights went down the Galaxy S7's tendency towards oversaturation dramatically lifted the Samsung's quality, sitting it between the practically ashen iPhone 7 (I get some sun, I swear!) and the almost Trumpian overly saturated LG V20. The Lumia 950, for all its bright aperture and big sensor, struggle to find balance in the darkness, exposing the background just as well as the others but leaving the subject dull and dark (like my soul).
When it comes to photos using the flash, our pick for the best is — just don't use flash. Each phone fired off a quick flash first to get focus and balance and then a brighter and color-calibrated flash to match the scene, and each produce a photo that's unflattering at best. Flashes on phones are simply too close to the lens and subject, and there's no physical way around that reality. That said, the Galaxy S7 secured the most votes in this comparison, thanks again to its saturated looks and a relatively close color balance, though it was the second-place V20's colors that were probably closest to accurate.
Food
Image 1 of 3
Image 1 of 3
Second to selfies, it's food photos that rule the social media photography landscape. Who doesn't love sharing a beautiful photo of a gorgeous dish and bragging about how tasty it is? As with most of these comparisons, in good lighting each phone performed admirably — only 5% separated the top three: Galaxy S7, iPhone 7, and LG V20. The iPhone and Galaxy S7 practically tied, with some preferring the iPhone's brightness while others opted for the Samsung's colors (though the LG V20 seemed to strike a nice middle-ground between the two). The sole outlier was the Lumia 950, which seemed to go for a longer exposure that led to blurriness, all while not giving the brighter image you'd expect from more time.
Take your meals in the dark, however, and you'll notice a predictable pattern: the iPhone is undersaturated, the Samsung oversaturated, and it's the LG and the Lumia that strike a happy balance. In the end it was Windows Phone, with the Lumia 950, that won this round with a brighter and cleaner photo that best balanced the many colors of the salad.
Selfies
Image 1 of 3
Image 1 of 3
With the front-facing camera LG made a decision with the V20 that I believe to be a critical error. The phone's predecessor, the V10, was their first phone to feature a dual-camera standard-and-wide-angle setup, but unlike the V20 and G5, the dual cameras were the front-facing cameras. Yes, two selfie cams — one at a standard 80º and the other at an extra-wide 120º so you can easily capture more of your environment along with your head. It was a nice enough feature, and with the G5, LG did the thing we wanted most out of those cameras: put them on the back instead with a standard-angle front-facing cameras. Not wanting to lose out on the wide-angle fans of the V10, though, LG included only the wide angle camera on the front and the dual cameras on the back. Consequently, any traditionally-framed front-facing photos are actually cropped from the middle of the 5MP shooter and they look abysmal.
At the same time, Apple's upgrade the front camera in the iPhone 7 to 7MP, allowing it to (in theory) offer the most detailed photos of the bunch — all the rest are at 5MP. And in practice the iPhone 7's front camera did fair quite well. In good lighting, just as with the iPhone's rear camera, it managed to offer the most realistic skin tones. It actually faired better in the darkness than the bigger and better rear camera, refusing to crush saturation out of the image. But the Galaxy S7 handled the dark better out front as well, firing off an HDR image that nicely balanced the shadows and bright lights in the rear, even if a lot of facial detail was lost along the way.
Macro
Image 1 of 3
Get up close with any of these phones and you'll probably get a good-and-sharp photo. We pointed ours at a standard quarter dollar coin and each was able to get crisp captures as a result. While the Lumia 950's 20MP resolution hadn't aided it much in the rest of this comparison, unless you really wanted to crop in, when it came to macro photos it was able to capture even more detail than its 12MP and 16MP rivals. The Galaxy S7 and LG V20 both produced nicely-balanced photos that replicated both the texture and color of the wood and the detail of the coin. Oddly, it was the iPhone 7 that went for oversaturation this time, dramatically ramping up the yellows for a very unnatural look.
Overall Tally
And so, coming out on top with a commanding 39% of the overall vote was the Samsung Galaxy S7. The LG V20 and Apple iPhone 7 duked it out for second place, coming in at 22% and 21%, respectively. The Microsoft Lumia 950, despite being a year old, still came in at a respectable 18% overall.
When you start to break it down, the iPhone fares much better when you only focus on well-lit photos, matching the Galaxy S7 at around 1/3 of the total vote. Take away the bright photos, though, and the Galaxy S7 wallops the competition, the V20 rises to a strong second place, and the iPhone falls to a distant last place behind the Lumia 950. But if taking pictures of people is your thing, grab an iPhone 7 — especially the 7 Plus with its 2x zoomed lens.
We, as animals of a base nature, are drawn to saturated colors. It's programmed into our very DNA, from the food that we eat to the clothes that we wear to the characteristics we look for in a mate, brighter and bolder colors are better. That's what we're drawn to in photos, even if it's more colorful and brighter than real life — and that's what smartphone makers are increasingly giving us in both the photos taken by the camera and the quality of the screen.
Samsung, by the results here, is clearly giving the people what they want. It won the most of these contests and the most overall votes, but it was still far from the majority choice in nearly each comparison. LG and Microsoft, too, amped up the saturation in their photos. In isolation there doesn't appear to be anything wrong with the iPhone's photos, but as soon as they're compared side-by-side with the competition the iPhone's saturation deficit stands out in dramatic fashion.
Of course, you can shoot in RAW with any of these cameras and adjust the brightness, saturation, and everything else to your liking — or even adjust a JPG photo afterwards — but that's not what this comparison is about. Most of the photos we take are impromptu moments captured on the fly, not something we stage and frame and ensure is beautifully lit and perfectly positioned. It's about capturing the moment, not as we see it, but as we want to remember it: bright, vivid, and full of color.
Windows Central Newsletter
Get the best of Windows Central in your inbox, every day!
Derek Kessler is Special Projects Manager for Mobile Nations. He's been writing about tech since 2009, has far more phones than is considered humane, still carries a torch for Palm, and got a Tesla because it was the biggest gadget he could find. You can follow him on Twitter at @derekakessler.
I figured Samsung would win...
Great contest let's do it again down the road!

I'm Viewing this on the Windows Central App. Can someone please post the results in a comment reply here. I would open the link in my browser but edge is crashing on my poor Lumia 630 which shouldn't even be running W10M preview. I really need a new phone lol.

Overall Tally "And so, coming out on top with a commanding 39% of the overall vote was the Samsung Galaxy S7. The LG V20 and Apple iPhone 7 duked it out for second place, coming in at 22% and 21%, respectively. The Microsoft Lumia 950, despite being a year old, still came in at a respectable 18% overall."

my answers are like 4/10 for lumia 950 and 6/10 for samsung but maybe koz samsung has better processor so it does the better job + its newer phone also?

My vote goes to the 808 pureview and 1020.

i don't why but i keep thinking about getting a lumia 1020. for me it'll be a legacy.

One of the greatest of all times with underpowered hardware. I still dream about that sensor running on a Snapdragon 821 processor. Imagine that! Posted via the Windows Central App for Android

I saw a girl at Walmart the other day at the register and she had that canary yellow 1020 and I simply could not take my eyes off her. What a beauty. Talking about the 1020 here of course... ​I wish I had one, for the same reason you said.... legacy.
​It's going to be precious one day, just like those crazy Phase One 100MP cameras hardly anybody buys.

If the 1020 had nanoSIM I would totally buy one to swap back and forth with my V10 to use as a phone as well but I don't think I'll buy one just for the camera even though it holds a special place in my heart. Posted via the Windows Central App for Android

You could try a nanoSIM adapter. I just bought a package of 3 sets of adapters for about $5 and I can put my nanoSIM from my 950 into my 640 and fits just fine.

Wow I never knew those existed for phones. Ordering me a Lumia 1020 this weekend then. Thanks for this tip! Posted via the Windows Central App for Android

I came all the way back to this post to personally thank you for that idea. I got a like new Lumia 1020 and two camera grips for $140! That's an unbelievable deal. I got the sim adapter for .99. I put the sim in the Lumia 1020 today and everything works just fine. Still a usable device and the battery held up pretty good.

and mine goes to Sony Ericsson K800i.

It's still the only one better than the S7. And believe me, I have both. The S7 is much faster though and has HDR. So for quick shoots, it's the best choice. But if you have time to compose the shots, the Nokia 1020 still blows it away. Posted via the Windows Central App for Android

Spot on. I still use my 1020 (yellow 64gb fact fans) for outdoor use and the results are up there with an SLR and the zooming blows the iPhone 7 Plus out of the water. But the slow processing time between shots has always been a major issue, and if anything seems to be getting worse.

Yeah, whatever. Samsung phones are good... for something :D Maybe just exploding and lagging, but that's something as well :D

That was only the Note 7. This joke is not funny.

Some say, that now even newer S7-s are exploding, due to changes in the battery manufacturing process and the manufacturer itself. And btw, it's funny indeed :D And I'd buy anything from Samsung, except phones and tablets (and TVs are also a tough decision for me). I use a Samsung EVO SD card in my Lumia 535, and it's performing pretty well :D

It's not just Samsung phones exploding. Apparently Samsung top-loading washing machines are exploding as well.

And Note 2 actually exploded inside a flight here in India.

"Exploding." Aparently making a bunch of noise and bangning around equals exploding now... Falling apart while running is more accurate.

I bought a perfect vacuum cleaner Samsung. It is better and 4 times cheaper than a Dyson.

Stay on the topic here please. Posted via the Windows Central App for Android

They are also good for calming your insecurities by joining the rest of the sheep

... Posted via the Windows Central App for Android

Yeah. If they were so sour, I'd buy a Samsung phone. But I didn't :D

How is that app selection on your Lumia? Cry some moar Posted via the Windows Central App for Android

How are those viruses and malware on your Droopy Droid.

I have almost 200 app (and game) installed. I'm happy with it :D So happy, that I will get a 950 or XL as well soon :D

A fool and his money are soon parted...

You have a problem. Fix it. Posted via the Windows Central App for Android

I've been using an S7 since its launch in March.
Still waiting for that "lag" you speak of... Posted via the Windows Central App for Android

It will be unuseable next march, or even sooner :D

At least android users have to wait for the lag....windows 10 mobile lags right from the start!

I had a Lumia 920 that "exploded", which would probably mean the rate of conflagration is the same or higher than that of the Note 7 if total sales are taken into account. The fact is that anything with a lithium battery in it is prone to explosion and phones especially blow up all the time. The Note 7 has led to greater knowledge of this and tarnished the Samsung brand so anytime one of the millions of handsets they sell per year goes wrong, the press (and lawyers) are all over it. I would have thought someone who owns the 535, one of the bug ridden handsets released under the Lumia brand, would have been more understanding.

I guess you're talking about the touch issues, which are typical on the early 535s. But my phone isn't affected by that, so it's a perfect phone. I agree, that lithium batteries are likely to explode, but the Note 7 is even more likely to do so.

Fan boys never understand it's always best to ignore them. Posted via the Windows Central App for Android

This is a windows site.. It is not a place where the android fans can come, bash and just leave like you folks expect.. expect for the apps which typically arent event written by apple or google WP does well everywhere. Android looks plain vanilla, not appealing to the eyes at all

Couldn't tell the difference most times, all are just great cameras.

Yeah, I always say a camera phone just needs to be "good enough" these days. All those features are easily good enough for my personal use. Great comparison here

Dude I literally saw so little of a difference I picked some because of the setting of the picture lol the camera's are all amazing but it's more than a camera it's a cell phone

More of a phone, messaging device and internet explorer than a camera to me

that was nice. i have to say that when i did the poll i had to view the photos in full resolution and while i dont have a 4k screen i had to zoom in and check these details. color accuracy ( that was tough because i didnt know the how the real color are in real life). the best detail when zooming in. and finally how good the camera can focus. i think it was easy to find out which were samsung's photos and that's from the color saturation. even though i like saturaed photos but for me they fail the test.

I miss the days of 2012/2013 when Lumia PureView was a cut above the rest. Nokia's imaging technology was one of my huge selling points for Windows Phone, but these days, you can't go wrong with any modern smartphone camera. They are all fantastic. I'm going to ride out my Lumia 1520 for as long as I can because I love the physical design of the phone, love the performance of WindowsPhone8, and the camera can still pretty much stick with anything else on the market today other than low light.

Correct. Microsoft was too busy looking at what's ahead of the next curve, they did not concentrate, innovate and improve on what they had. I remember 2012/13, when I just got my lumia 920. The cameras coming out then were beasts. MS had an ocean of opportunities and possiblities for the WP platform. By alas, it's at 1% now.

So who came in 2nd, 3rd, and 4th?

Assuming that's based on the order of the pictures left to right below the winner.

And so, coming out on top with a commanding 39% of the overall vote was the Samsung Galaxy S7. The LG V20 and Apple iPhone 7 duked it out for second place, coming in at 22% and 21%, respectively. The Microsoft Lumia 950, despite being a year old, still came in at a respectable 18% overall.

1. GS7 2. LGV20 3. IP7 4. L950

And the V20 is the only one that has an extensive manual mode for video as well. My next phone hands down from the V10. I miss the days when only Windows Phone/Lumia owners had manual controls in the camera. Now the only phone without manual controls built in is the iPhone. Posted via the Windows Central App for Android

Lumia wins in 4 Categories? Not bad for a year old camera! I was surprised by how bad all camera's did in certain situations...though it does seem the GS7 is the best all around performer. Nice!

Actually its camera didn't change since 930, so it is even older. MS didn't put much effort in mobile photography like Nokia did.

The software and processing changed quite a bit from the 930.

Very interesting. I do agree about the comment on people liking saturation of photos even if it's not realistic. I remember in past tests with Lumia phones like from AAWP, they would usually have the most realistic result compared to other cameras.

if you use 950/950XL dont upgrade to latest AU because central zooming bug... before 14393.189 was shoot 3x better pictures than now.... now i must take many pictures to get perfect one and sometimes i get mad :(

(Nokia) LUMIA is pioneer of camera, it is impossible to out someone and say that the LUMIA is below Samsung, is impossible! Nokia will remain invincible in camera phones

Right. And how's that new Nokia phone treating you?

Wait a couple of months and we'll get back to you on that, Derek ;P Posted via the Windows Central App for Android

Would like to see and compare HP Elite x3 against, Microsoft Lumia 950, Apple iPhone 7 Plus and Samsung Galaxy S7.

the elite x3 would be the big loser if put in comparison

Very likely however would be interesting on blind survey/poll, it is a shame that HP didn't invest in the camera hardware as for that price that would have made it acceptable/justifiable at least.

HP should've just paid Microsoft for their camera tech/sensor and the Elite X3 would've been invincible. Posted via the Windows Central App for Android

Agree, there were allot of options considering its a £700 handset on release here in UK as an example.

HP does not care about camera quality....as long as it displays grey tones for taking pictures of documents, memos and grey cubicals!

As a semi pro photog, shoot-outs like this bug the crap out of me. There are too many variables that aren't accounted for to simply pick the winner based on samples: 1. We don't know what the original scene looks like so how can we possibly determine what the best photo is? 2. Many of these cameras have manual settings. Are we simply judging the results based on auto mode? You wouldn't buy a $3000 Sony A7Rii and judge the camera from photos taken in automatic. 3. Let's assume default settings were used, those default settings aren't the same from camera to camera? While one might use matrix metering another might use a spot meter. There are times for each so the appropriate setting should be used. 4. And where is image stabilization? That should be a key component to taking a photo - especially in a dark environment. 5. Is there some type of AI or auto enhancement being applied to the photo after you take the shot? If so, the same setting should be applied to all cameras. Better yet, all the AI and post processing needs to be disabled.

1. Neither know someone who is looking picture at facebook, instagram, phones screen. So, the best picture is the one that looks best.
2. Cos most mobile users never use manual settings. So it's natural to compare pictures took with auto mode.
3. Thats kind of a idea of this test. Who have best native settings. Without different settings and postprosessing all pictures would look pretty much the same.
4. It's called OIS. Optical image stabilization. Keyword: OPTICAL. Use google to learn more.
5. Read answer to question number 3. Posted via the Windows Central App for Android

in fact android phones like the s7 or V20 let you choose the metering spot mode, a thing that in Windows Phone was avalaible on the serie Lumia x10 via camera extras, but as Microsoft likes erase and restart from scratch and ditch all the best features then the manufacturers like LG or Samsung took the abandoned features without say that also those phones has an function that is alike the old abandoned Lumia Refocus., also many of those android phones let you choose the White balance but in Kelvin temperature so would be accurate take pics if also the Windows Camera had that handy feature but well just Microsoft always makes the restarts bad or worst, i have proposed those features in insider but nobody votes , just watch hundred millions of idiots asking by Pokemon go

In regards to number two it's stated that this test is specifically to test pictures taken in auto mode for all phones as that is the usual use case. This is different from tests run by like AAWP where they're going into actual photo quality. This is just about what "normal people" like when they look at photos.

I'm so damn sick of these over saturated monstrosities. Its akin to TV makers and their 'store mode' setting. Redoing the test I picked the sammy more than the others, but never the heavily saturated ones that make everything look cheap and plastic. Regardless, I'm not going to be getting rid of my Lumia 1020 any time soon, and its a shame that at least a few of the pics weren't captured with that device for fun.

I honestly think that the Lumia is best in most photos (after checking which ones were from which phones), but I'm glad that there is a good Android phone ready for me once I am ready to stop using my 950 XL. I just wish they kept the camera at 16 mp like with the S7. I would rather have a 21 mp camera with an almost unnoticeable bump (like with my Lumia) than a perfectly flat camera with 12 mp. I don't care if they have to make the phone a tiny bit thicker if they could fit a better camera and a bigger battery.

More megapixels does not make a better camera.

Wondering if people find that some of the pictures were fairly compared? I see some pictures (e.g. panorama) that seem to be taken in different lighting conditions (passing cloud) - the lumia 950 also seems to have messed up the panorama on the right side. The high lit food shot for the 950 looks unfocused...is it really bad at focusing?

I find the auto focus on the 950xl to be a bit unreliable, especially at lower light levels. I will usually find a high contrast edge at the same distance to the subject, focus on that and reframe. The resulting shots are always very sharp... I love the 950/xl camera a lot and the results are much less processed and smeared than the S7, which we also have in the family. I find the Lumia much better for photo enthusiasts but the Samsung more suited to point and shoot people such as my wife...

The appearance of different light conditions is probably more to do with how much light the sensor receives, not the actual amount of light available.

I agree with this statement. The one Indoors where the person passes the camera would cause the camera to "refocus" and not have the same shot as the others.

These results make sense. On a personal note, I used to love the photos coming from the Lumias, but in the past couple years Samsung and Apple have really upped their game, while Microsoft retrenched and then finally exited the consumer market. The Galaxy S7 delivers very sharp pictures, and a good color balance. Might be my next phone. Loved this survey, only thing that might've been better would've been saving our individual results so we could tell our personal winners in each category. (I know I can do this now, but that requires re-doing a very long survey, and diving into 4 full-rez pics for each category is a chore. Plus, at this point it's no longer a blind survey for me.)

I would agree with this if you say that Samsung camera app is the best out there. W10M camera app is just bad in to many things, if you look only to the hardware the 950 is the best. The the all thing again with the 950 and lumia camera app and you will se the big diference.

I'm not sure I'd agree the camera package in the 950 is the "best" anymore. I will say you're probably better off getting something like ProShot than using the default camera app.

Works for me. Don't care for all the saturation.

Agree. And saturation you can always add later with a basic editor. Take out high saturation, on other hand, is more complicated due to the dark and bright areas. Always better to have a well balanced original picture than an automatically pre-processed (like Samsung does).

I have proshot that's why I say that the one year old 950 is still the best, the software fails in many situations in comparison with the competition and ok the overall package (hardware/software) maybe is not the best mas with other software it tells a diferente story.

ProShot is also on Android.

I really like proshot as well, it produces better pics than stock Camera app in W10M. Except their HDR where ProShot's pictures can come out pretty surreal and grainy. Otherwise, ProShot is really nice and I prefer it for most of the shots.

Actually when it comes to the camera app, the LG camera has the best UI. Posted via the Windows Central App for Android

"Most" People love oversaturated photos...that's what this "contest" proves. Not what camera is actually the best. Oh well.

Not to mention many people viewed these pics on their phones and not a full monitor so they couldn't possibly see the differences aside from color saturation... pretty terrible test IMO

I think that this test did exactly what it was intended to do - to show the picture on phones people commonly carry and view them on devices they use most often (smartphones), then see how those people "felt" about it. A real world test.
​If they wanted to do a proper test, they'd have shot grey cards in a controlled environment and assked people to view the results on hi res monitors properly calibrated to RGB specs. That was not the point of this test. ​It proved a lot, actually. It told us that Samsung is overly saturated and the middle of the spectrum phones (iPhone and 950) are probably the best overall when it comes to photos for print or web viewing.


What's funny is that when nokia came out with the 808 people complained about the "more natural" look of the photos then they came out with the 1020 which oversaturated the photos and then people still complained. But as soon as samsung does it its somehow okay and the best.

Disappointed in MS. Posted via the Windows Central App for Android

Haha. Don't be disappointed in MS because "most people" enjoy heavily oversaturated photos...

the problem with the Lumia 950-950XL is called windows camera, is so bad, sometimes choose an wrong white balance, while the Galaxy S7 and LG V series in the manual setting let you choose metering point , focus mode Continuous,single, manual, white balance expressed in Kelvin temperature thing that the old Lumia series 10x had via camera Extras thing that in the reebot of Microsoft lost such features in the camera application and the Android phones took the lost features of the camera for add it, so i see we been losing features

As a 950 owner, I'm not at all disappointed. The fact that the 950 is in this list and almost indistinguishable between the top flagships on the market is a really good thing. It shows me that MS is just as competitive at making a camera as Apple or Samsung. Seriously, while the S7 got the most votes here, look at the differences. These are all great images. There were a few oddballs from the 950 though - like the weird red tint on the selfie. Something weird going on there. And the out of focus salad - these are things you would just take again and they would be fine.

I wonder if the 950 was trying to use Hello? Only rational reason for so much red light, haha

The selfie has a background problem that the others don't have: The lumia background has 60% white, the others has only 50% white... This is not a fair test.

Don't get this results. IPhone only got 2 best photos but is better than Lumia that have more 1st places?

I never got a portrait with my lumia so red as the photos on contest! Strange...

The best photo is always the more balanced, not the one with more contrast because this will turn an headache on editing stage.

I enjoy more natural photos.

Have friends with Galaxy S6, S7, other friends with iPhone 6 and 7 and they keep and will keep asking me to take the pictures because my phone take the best pics, guess what phone i have? ;)

950XL... but my old one was a 1020 and was the first option also for all my friends and family. Also this article needs to change the name... When I record videos on my 950 XL the audio is flawless... especially on a concert, and that on Instagram is GOLD!

I currently have a S7 Edge and when I go to a livbe event, I will sometimes charge up the old 1020 just for the video quality. Can't be beat, although I am the type of person that thinks photos/videos should all be shot in wide screen so maybe I am the weird one...

I almost always shoot pictures and videos in landscape as well, so that doesn't make you weird. Most people prefer landscape images\videos because they have more stuff.

In photo it depends on the subject for the video, you are doing right. Video shouldn't be shot on portrait since when viewing it on bigger display like computer monitors and televisions, they're all widescreen/landscape. Honestly I hate those portrait videos since they're just plain bad to view at. Video recording needs to be locked on landscape using accelerometer, so even you hold the device on portrait orientation, the video is still landscape.

The camera apps should automatically rotate to landscape when you go to video mode. Portrait should require some kind of manual override.

I get told the same thing with my 950XL. Everyone loves the photos from it. Just for a change I used my old HTC M9 as my daily driver for the last 3 days. I now know why I left android for Win10 Mobile. I'm back to using W10M again. It's simply just better (even with the app gap).

I tried a Moto X and then an M9 to see if I could adjust to Android. I hate it. I may have to try an iPhone if I start losing the apps I use at some point. My wife's phone (830) got a cracked screen, so I gave her the M9 (there were a few apps she was interested in). After a week she said she didnt care about the apps, just give me the Windows Phone back. About that time the 950 went on sale, so I picked one up and she's happy now.

I believe that. I did some indoor test shots with the latest iPhone 7 Plus and was underwhelmed. I could not literally tell much difference from the 6S. Based on their keynote, which I watched twice, the 7 does not live up to that hype and gaving taken shots with a 950, which I do not own, the iPhone absolutely did not feel better than the Lumia.

My Lumia 950 in comparison to this 950 seems to take better photos all around. Although I will admit the front camera does leave something to be desired. Even my friend I work with likes my cameras pics over his s7. Maybe this one is faulty? Or my friends is faulty? I dunno. But I will say on my road trip through Yosemite over the summer my lady stopped using her iphone 6 and our older dslr (60d) and told me to just use my phone. (admittedly i do need better glass for it.) That has to say something about the camera in general on my 950.

I'm surprised, becaue EOS 60D is an excellent camera. What lens did you have on it? The kit 18-55?
You just need to get their cheap prim 50mm f/1.8 or if you feel particularly upbeat, try their 24mm prime. ​You'd see yosemite through different pair of eyes and neither of the above phones woudl have held a candle to it.
​But, I do get your point. I too find myself too lazy from time to time to pull our the DSLR, because I know that my Lumia will take pictures excellent enough to justify not pulling the DSLR out. ​Of course, I shoot a lot with ND filters or most often a polarizer, and a true polarizer effect (removing glare from water or glass) cannot be done by software. That's where my Canon comes out of the bag. ​Still, it is incredible to see how far the phones have come in the last 3 years alone...
​My Lumia actually takes photos so satisfactory for my needs that I've decided to have my DSLR gutted and converted into IR photography, becase for the normal day to day shots, I know my Lumia will do just fine.

I have the 18-55 kit, the 24mm f2.8, 50mm f1.8, and the 55-250mm f-something lens. The main problem was switching lens So much. But my 950 pics were just so much more crisper. If sigma made an affordable 24-70 art is be all over it. Affordable meaning under 1k.

The wife and I love our G5 cameras. Colors are more life like and greater detail than our old icons and they had great cameras besides being a great phone. Posted via the Windows Central App for Android

As I said before, the 950 camera was a lame effort by Microsoft, clearly showing they don't give a rat's you-know-what about it. I don't want a camera on my smartphone that you even have to think about whose is better. I want one that so clearly dominates that no more than a second is spent looking to tell it's better. There's just no excuse at this point.

Not gonna happen, I'm afraid. They've all gotten so good that it is harder and harder to tell them apart. ​Same with DSLRs. You see more and more comparison reviews where the differences are so small that the main recommendation ends up being - pick the one, which you already own lenses for. In phones, the days of an L1020 with a long line of nothing behind it coming even close are long gone, I think. ​And that's really exciting for all of us, because that's pushing all of them to get even better. That's a win for us in the long run.

I think there are still a lot of gains to be made for low light photography. MS could have designed the whole 950 body frame around a large sensor like the 1020 did (but maybe more "elegant"). That could have been a strong selling point, but of course wouldn't have made a difference in the big market share picture.

..........le sigh........... :-\

first the Lumia shot in the coin is with motion blur, too much shake on hands that can manage the stabilization, if were not motion blur would be very clearer , i see in the letters of the coin the blurriness, also the indoor pictures are not an valid to me test should been done the test with all the phones at same time with an setup tripods on the 3 or stacking etc, and shot at same time for not variation in time by example in the bar shot the television brightness can dramatically vary the settings taken by the phone also i see certain blur caused by hands shaking and low shutter speed, by the way there is an little error in the macro shot if all phones shot at 16MPX as highest why not set in 16:9 format the Lumia for make shot at 16MPX too althought would not be good way of test but would been closer and accurate to the comparison to the others 3.

I really wish I could get in on this...but my luima 635....takes a pretty good photo....with over 8000 photos on one drive...n many photos in pinest...no one has never said what a lousy pic

I'm just to poor to afford a top end phone...

My L1520 still takes good photos,my wife's L930 takes great pictures, it all depends on how the camera is setup. Snapping pictures in auto mode is what people use mostly. Taking time to set up the camera and avoiding hand shake , setting exposure time, is what makes or breaks a good picture. Recently my wife hired a professional photographer to take pictures of her fashion collection. Meanwhile, I stood behind at a distant and snapped photos from 4 different phones, L1520,L930, 950/XL. The results were amazing. In most cases I snapped better pictures than the photographer. To each their own. We all perceive things differently, even photos.

I understand most people only snap a photo on there phone for social media and some basic sharing on a smaller screen. Did you look at developing or blowing up the images in the test? I would be interested in that aspect as well.
I didn't think about it to much until the other day we were comparing shots with my daughter who has a iPhone 6s plus, the pictures on her phone were outstanding until you zoomed in or cropped the image, they were pixilated and blurry.
I have noticed the pictures on my 1520 taken at night are pretty poor if enlarged, but during the day it really shines

Bravo Sammy, very well earned the title.

Thanks for this comparison, WC!
​I was very interested in seeing how Lumia fared against the other major brands and it did not do badly at all, which is a big testament to how great that camera really was back when it came out a year ago. Even as an avid DSLR hobbyist, I care about phone cameras a ton, because I do not carry my DSLR on me all the time (unlike my Lumia) and as the old saying goes: "...the best camera is the one you have on you at the moment.." That, and my second favorite saying: "...there are no bad cameras, just bad photographers..." :-)

Honestly this editor was paid off cause The real camera publishers love the lumi 950's camera that they put it up against a dslr cannon and Nikon and it came in second Posted via the Windows Central App for Android

This was voted by us. How could the editor be paid off. This was a fair and even vote. I am sure the S7 could also go up against DSLRs...

RAW to RAW the 950 (or any phone) will never beat any legit DSLR... don't know what you are talking about. The only way is if you happen to view broad daylight pics on some small screen and happen to like the auto post processing of the phone.

So the camera that goes boom wins? My daily driver is a 950xl but my previous 1020 would blow all of these away... although it would miss quite a few shots cuz it had an underperforming processor and needed updated software that it never got.

Nope...that's the Note 7...the S7 is fine.

I have a Lumia 950XL for DD, plus a 1020 (with matching yellow Camera Grip), 1520, 925, and 900 (among others), and each have their own strengths and weaknesses. I personally would love it if my 950XL had the lens system from the 1020 (my longest DD to date) as its loading, shot-to-shot speed, software, and expandable memory make up for the imagery shortcomings quite handily. Its predecessors knock it out in terms of design, though.

What i need is an eye transplant, Uchiha Clan megapixels of course, a Sharingan aperture, an Infinite Tsukuyomi mode, coz rite now i can't see the differences, all nice & great pictures.. Sigh!

950xl after the latest update of windows camera it performs outstanding

Is the 950XL using the exact same camera as the 950. If not they should have gone with the XL for testing if it has a superior camera.
Otherwise I did enjoy this unbiased comparison.

All of these photos are unedited...so your point is...? Posted via the Windows Central App for Android

I dont know man. I am checking out the pictures and it looks like some one has swapped the pictures of L950 and S7. I mean the pictures of L950 looks faded. Pictures from older Lumias looked exactly like the ones taken from S7. Either S7 has copied Lumia camera or someone swapped the pictures by mistake.

Your tin foil hat is slipping off.

I say bring back Lumia 1520 or Lumia 1020 and rerun the test. They are still sufficient for all the newcomers!

Does not come as a surprise. I have the s7 edge and the camera is really good and is insane fast. But i i got the chance to choose a phone again it would definitely not be a s7. The batterylife is just so bad... Posted via the Windows Central App for Android

We really need a reference DSLR or two for these. It's easy to pick the most pleasant option, but, as in life, the most pleasant may not be the actual best or truest. Also a ranking system would be better than a single pick from each, be it a "number 1-4 by preference" or a scoring scale such that, for example, in the night photo over the water at the bridge and stadium, the iphonie7 would have scored badly and the Lumia highly.

I know this is nitpicking, but... "Sensor size is the literal physical size of the sensor." Not exactly. When expressed as fractions of an inch (e.g. 1/2.4"), it's roughly 1.5 times the diagonal of the sensor. Emphasis on "roughly". So while the overall rule of thumb is indeed that a smaller denominator means a larger sensor, two sensors with the same "size" (as expressed in this archaic notation) do not necessarily have equal area. "Aperture is expressed as a fraction (the "ƒ" stands for "1")" Actually, the ƒ stands for the lens' focal length.

If u will search the camera battle between Samsung s7 vs lg g5. The lg g5 won the competition.the windows central did not include lg g5.i don't know why ???

You know some folks know what Samsung's photo's looks like (oversaturated look). So it wouldn't suprise me if most of these votes would be of people who though "these photos looks like sammy's so ill vote for it" it has happened before.

It's possible considering the large viewership of Android Central... or equally as likely- people just think that a photo is better when all the colors pop out

Where is OUR GIANT LUMIA 1020 :) A camera test without lumia 1020???????????????

But the main question remains: How happy are you with the camera of your smartphone?
I'm truly happy with the Lumia 950 camera.
Recently, I have shown a couple of pictures to some people and said: Look, taken with iphone7... Amazing, right? And yes, everyone agreed and added comments like "see, iPhone has the best camera again".

I am truly unhapy with my L1520, it became a horrid mess with W10...

The 1020 is NOT there because its an old phone thats way past it's prime thanks to w10m. My 1020s def took better photos than my iphone. HOWEVER, that would be slow moving or stationary objects. anything you need speed for the iphone completely destroys the 1020. I can bang of a huge burst of photos , or focus and snap picutres WAY WAY WAY faster than the 1020. But both my wife and I agree the photos from our 1020s were better than the iphones. The OS / APP / WEARABLE / ACCESSORIES situation is not even a contest. WP has nothing.

HA! here is the proof that Microsoft camer software is horrible, no matter how good is the harware, MSFT made it bad by their inablility to write a proper camera app.

Yes i agree... MS broke everything... They seems to be confused all the time... mainly the decisions they took in phone business in last 7 years...

And they left out the Nokia Pureview808 also... lol :P :)

Can't wait to see camera Xperia XZ in action!

It's too bad there isn't an easy (and cheap) way to shoot our own comparison shots with various phones we are interested in. Maybe something like a phone fair where there are booths/tents set up by each manufacturer where you can sign out a trial phone for a ten-minute shooting run. Would have to be in someplace with a variety of scenery, inside and outside, and have a system that sends you the images afterwards or allows you to log in to access them.

GSMArena has the option in their website. They have a tool for comparing shots from many smartphones. Go to www.gsmarena.com and use their tools.

This competition it's incomplete without 1020:-)

Going to have to do this again in a couple months. Nokia C1 and P1 are coming. I hear they have pretty sensitive sensors, what that means I don't know. Curious to find out if they are still king of smartphone cameras.

Next one that you guys do like this could you also take a full sensor DSLR along with to give us a real to life baseline for the scene as well? I think that could be super valuable. That way we could see just how much bonus saturation the Samsungs are really adding.

Taking it again, my tallies were:
1. Lumia 950
2. Galaxy S7
3. Lumia 950
4. Lumia 950
5. Lumia 950
6. Galaxy S7
7. Galaxy S7
8. LG V20
9. Lumia 950
10. Galaxy S7
11. Lumia 950
12. LG V20
13. Galaxy S7
14. Galaxy S7
15. iPhone 7
16. iPhone 7 For a total of:
Lumia 950 - 6
Galaxy S7 - 6
iPhone 7 - 2
LG V20 - 2 My take is pretty accurate, I think (shocking, I know!) based on what I've seen from friends. The S7 and 950 are very close, the rest of the pack lags behind. Of course, none of them hold a candle to a 1020 ;-)

I am so unimpressed with the iPhone 7 camera. Samsung does have a good camera bit a couple of the pics o wouldn't choose as the best cuz it's so saturated sometimes like the outdoor pic I think the LG won that one followed by the Lumia. The indoor I think the S7 came in 2nd with the lg winning but that was really close. The Lumia either looked pretty dang good or not at all but still did really well in comparison to the iPhone in many pics.

Hmmm...this is tough, reviewing photos this way can be pretty subjective. If there's unrealistic saturation or poor white balance setting, I personally would count that against the camera (software usually). I ended up with Lumia 950 slightly ahead of S7 (otherwise a toss up). For example, the third indoor picture at the bar, the dynamic range in the Lumia 950 shot (look at the windows) is significantly better than the others (one of the only differentiators with the S7 shot). As I'm considering an S7 purchase, it's good to see. I'm surprised that I only picked one iPhone 7 photo (the well lit portrait, seems to have the best skintone colors and sharpness). I didn't know what to expect fo the V20, I think I also only picked one of those photos. Overall, it's not too complicated...sensor size is king (any type of camera, phones, dslr's etc.). It allows the camera hardware to do more with less (light). From there, your just comparing the capabilities of the camera software, which can be hit or miss in improving photo quality depending on the situation (and hit or miss to personal taste/preference).

What this really proves is that most people don't know a good photograph when they see one. They like things that are unatural and oversaturated, probably brought on by TV shows that use color filters. Good phtography reflects what you would see in the natural setting with the naked eye.

Since when has that been the purpose of photography? Posted via the Windows Central App for Android

Cool! All but five of the ones I picked were the ones that won. I didn't know who to expect for the winner, and even only had a vague idea which phones were even represented in the first place. But as I said in the comments on the first article where we picked, I LOVED THIS APPROACH SO MUCH because it nullifies the biases of all but the most hardened fanboys (and the comments section certainly revealed what would surprise none of us, that they definitely showed up). For all of us "normal people" who can see and think further than the logo on our phones, this set everything level, and even, where instead of trying to pick the best phone, we could pick the best picture....which is what we were supposed to have been doing all along, right? :-) So, which ones did I pick that were not the winner? I'm using the picture order listed in THIS follow-up article. Here's the list below (for all the ones not listed below, I picked the winner): Picture 4 (Outside - the trees and yard): Winner: Samsung. My pick: Lumia. Picture 7 (Nighttime skyline across the bridge): Winner: Lumia. My pick: Samsung. Picture 8 (Nighttime skyline panorama): Winner: LG. My pick: Samsung. Picture 13 (Salad with rare tuna): Winner: Lumia. My pick: iPhone. Picture 16 (Macro - coin close up): Winner: Lumia. My pick: Samsung. So, cool! I was mostly in step with the majority here. Sure, I'd like to have seen the Lumia rank higher, but hey, it's the oldest phone here by far, and it still hung perfectly well with the others. Indeed, even though it came in a respectable last place in terms of overall votes, unless I'm very much mistaken, I believe it came in 2nd in terms of individual category wins. So not bad, MS...not bad at all! I can't wait to see what we'll get out of the Surface Phone! Also, kudos to Samsung for a historically magnificent phone camera maker keeping their streak of awesomeness alive! I'm actually quite surprised by the iPhone. I had really high hopes for it, but found it mostly to be pretty disappointing. I don't have much to say about the LG, except of course, that the evidence speaks for itself, and that it tells us that it has a really good camera! Now, I'd love to have been a fly on the wall as all the Samsung fanboys discovered they had picked iPhone when they were confident they were picking the Samsung or the iPhone people who picked Lumia confident they were picking the iPhone. Neener neener! XD Cheers!

i think iphone 7 has d best camera

what about video? Microsoft Lumia 950 XL WIN

what the f***? ML 950?
try microsoft lumia 950 XL is not 950

Is there an update to this showdown? This one was done back in Oct 2016, now it is Jan 2018. Just wondering.