Best Solar Chargers for your Phone
Wait, there are solar chargers for your my phone?!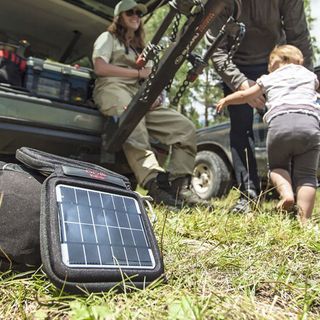 Our yellow sun is what gives Superman his powers so, of course, it can also keep your phone charged while you're on the go. It's weird, right? Using nature to keep technology working. What a beautiful melding of the old and the new. If you can't find an outlet (because you're camping or whatever) then grab a solar charger and take advantage of the biggest power source the Earth has to offer! These are your best options.
Note: Yes, the sun is powerful. No, the sun will not charge a solar battery bank or charger as quickly as a wall outlet. So you will have to be patient with these products.
Anker PowerPort Solar Lite
Why you can trust Windows Central Our expert reviewers spend hours testing and comparing products and services so you can choose the best for you. Find out more about how we test.
The Wirecutter's top choice for best battery bank is also at the top of our list. Anker makes excellent charging products and the PowerPort Solar Lite fits in well. This 15W charger is very thin (0.7 in. folded or 0.2 in. open) and lightweight (12.5 ounces), making it perfect for long treks where lightening your load is imperative.
This solar charger is so efficient that you can charge two devices simultaneously, and it can charge at up to 2.1 amps in direct sunlight, making it about as fast as a regular charger under ideal conditions. Without an actual battery, you don't have to wait for the PowerPort to charge up — just grab it and hit the trails.
It also comes with a three-foot Micro-USB cable and costs about $50.
Dizaul 5000mAh
Dizaul's solar charger is one of Amazon's best sellers, and 73 percent of its reviews are five stars. Its size makes it ideal for camping or hiking, and it's waterproof, so if you're traversing waterfalls, you won't kill it. The 5000mAh battery is handy just in case you have to hide from a bear in a cave (worst place to hide, by the way) — just don't expect it to charge quickly. By opting for a smaller solar charger, you compromise on the size of its solar panels, meaning it'll take quite a while to charge fully (even in direct sunlight). That being said, if you're looking for a portable option that can hold on to a charge in battery form, definitely check this charger out (it's only about $20).
Voltaic Systems Amp 4000mAh
Voltaic Systems' Amp solar charger is a neat little device that features a removable 4000mAh battery, which can be charged by sunlight or via USB. The Amp has two solar panels that are waterproof and covered with a self-healing plastic that can withstand some abuse (kind of like some screen protectors). About 3.5 hours in direct sunlight should fully charge your phone, according to Voltaic Systems, which is pretty quick for most solar chargers. That is probably under ideal conditions, so you'll wanna be patient with this one, as with all solar chargers.
Designed for the rugged life, the solar panels and battery are housed in a rugged and lightweight, water- and UV-resistant fabric made from recycled soda bottles.
If you need your solar charger to withstand a bit of the rough and tumble, go with the Amp. You can grab it off Amazon for $99.
Ayyie 10000mAh
At about the size of a larger phone, the Ayyie solar charger is another awesome option made with portability in mind. This charger is perfect for the happy wanderer, being water, shock, and dustproof, and it features a two-LED flashlight with multiple settings, including S.O.S. Five indicators show you the status of the internal 10000mAh battery, and once full, you'll be able to charge most phones at least twice. Again, a smaller unit means smaller solar panels, so it'll take a long time to fully charge the battery on sun juice alone.
Grab it for only $20.
Goal Zero Nomad 7
This foldable solar charger is rugged and made for the adventurous. It won't weigh you down since it has no internal battery, but it will charge your phone quite quickly, usually within an hour or two — very fast for solar charging.
You can simultaneously charge USB and 12V devices via the three ports, and when you're finished, it folds up nice and flat for easy portability.
It's also weather-resistant, making it perfect for camping and any other outdoor activities that might keep you away from a power outlet for a while. Check it out on Amazon starting at $80.
RAVPower 16W solar panel
This foldable solar panel charger from RAVPower features two USB ports, so you can charge a couple devices simultaneously, and RAVPower promises that 21.5 percent to 23.5 percent of solar power is transformed into free energy, hopefully meaning a faster charge.
You can fold this charger up and toss it in a backpack or laptop bag, and it's waterproof, so you can take it with you absolutely anywhere and keep your devices topped up. It even features four hooks so you can hang it where you need to in order to take in as much sun as possible. Check it out on Amazon for about $50.
What's your favorite solar charger?
Do you have a great solar charger for your phone? Let us know in the comments below.
Updated January 25, 2018: We updated pricing for each item and added the super compact RAVPower solar panel.
Get the Windows Central Newsletter
All the latest news, reviews, and guides for Windows and Xbox diehards.
Mike is a staff writer at Mobile Nations and fancies himself a musician and comedian. Keep dreaming, Mike.