Best Surface Pro 4 Cases
Protect your Surface Pro 4 from damage with one of these awesome cases.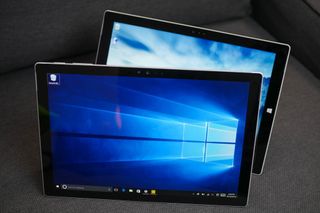 The Surface Pro 4 is not a cheap piece of equipment. That magnesium-alloy case is strong and light, but it's also easily scratched and dented. So you might want to consider a case to keep it protected.
Here are some of our favorites.
Waterfield Designs Sleevecase
Why you can trust Windows Central Our expert reviewers spend hours testing and comparing products and services so you can choose the best for you. Find out more about how we test.
Waterfield Designs make some great looking, highly durable bags and cases for many devices, and the Surface Pro 4 is no exception. Your expensive equipment will be protected by soft and cushioning neoprene, with either a ballistic nylon or waxed canvas shell.
It's also got a commodious rear pocket for your non-digital paperwork and a pen loop, so you never misplace your Surface Pen. Throw in some customizable options like having it horizontally or vertically oriented and whether you want a shoulder strap or not, and you'll have the perfect case for you.
Prices start at $69.
Fintie PU leather folio
For the business professional, the Fintie PU leather folio is the utmost in sophistication for holding onto and protecting your Surface Pro 4. It's specifically designed for the Surface Pro 4 and fits like a glove.
If business isn't your thang and you just want a nice-looking leather folio, it comes in 11 colors and patterns. (Our favorite is the All Nighter).
You get a handy stylus loop to hold onto your Surface Pen, and the folio is keyboard-friendly, folding back into a convenient stand. It represents great value at around $12.
See at Amazon (opens in new tab)
ProCase tablet sleeve
ProCase's sleeve is just this side of being a laptop bag. It zips around your Surface Pro 4 and protects it from scratches with its soft interior and durable, almost denim-like exterior, and it has a convenient handle so you can grab it and quickly get going.
This sleeve features an external zip-up compartment for books or adapters or whatever you need to carry, though space is limited, keeping in line with the fact that this is only a sleeve and not a full-on laptop bag.
ProCase's sleeve comes in dark gray with orange trim, light gray with a mint trim, and teal with orange trim. (The last option is borderline hideous.) Whichever you go for it'll only cost you $18.
See at Amazon (opens in new tab)
Kensington Black Belt 2nd Degree
They might have gone a little overboard when naming this one, but that doesn't make it any less of an excellent heavy duty option for your Surface Pro 4. It meets military drop-test standards, so your tablet won't be horribly disfigured in the event of a short drop.
The Black Belt's hard polycarbonate design will protect your Surface Pro 4 from bumps and scratches, so you can feel safe tossing it in your backpack or laptop bag, knowing it'll be safe and sound.
The flip-to-open kickstand on the back is convenient and practical, so you can attach your Type Cover and have it secured in place by the built-in strap. All of your ports and buttons are totally accessible, and your Surface Pen is held firmly in place by the holder on the side of the case.
If you need a functional, rugged case that'll go anywhere with you, go with the Black Belt. It's around $35, but it'll do a damn fine job for the outlay.
See at Amazon (opens in new tab)
Urban Armor Gear Feather-Light composite
Urban Armor Gear (UAG) makes tough cases that are built to protect your devices from some harsh stuff. If the main reason you want a case for your Surface Pro 4 is protection, the Feather-Light composite is the right choice for you.
Made with an aluminum exterior and a Frogskin soft core, this case prevents damage not only from scuffs and scrapes but also from impact, since it's been military drop-tested and meets standards.
It is compatible with the Type Cover keyboards, and its kickstand lets you position your device at five different angles.
If you're looking for a truly protective and practical case and don't mind a little bulk, pick up a UAG case. This ultimate protection is yours for around $53.
See at Amazon (opens in new tab)
Updated August 13, 2018: We've checked our list and these are still the best cases for your Surface Pro 4.
Mike is a staff writer at Mobile Nations and fancies himself a musician and comedian. Keep dreaming, Mike.
can u windows central ppl make an article that shows all the useful bags for surface pro device that includes all the pockets for the surface device, display dock for mobile, display dock for surface, power brick, phone, chargers, usb/hdmi/minidisplay cords etc

Sure, we can look into that.

Yeah, you "windows central people." Posted from PornHub

Include the Samsonite Hip-Style #2 tablet messanger bag. The dark variant is the same color as the surface pro dark grey cover. Everyone thinks it's official surface pro 3/4 bag :)

How about surface book cases?

Look at Everki. I have their Titan Backpack, it's extrmely useful for carrying all my gear.

What about MOKO Ultra slim case on http://Amazon.com?tag=hawk-future-20&ascsubtag=UUwpUdUcU2437954 I tried the Manvex but like the MOKO because its slimmer.

Kensington Black Belt, please add it

The Incipio ORD sleeve is excellent - slim and fits the SP4 with type cover, power adapter and an external mouse. Has a loop for the Surface Pen too!

Missed a really good one made for the Surface Pro 4 by Brenthaven, BX2 11 inch sleeve http://www.brenthaven.com/products/bx2-11-inch-laptop-sleeve Love the not too tight but still snug fit and the substantial magnetic flap with custom holders.

The Urban Armor Gear stand is also metal, and it can easily scratch sensitive surfaces (tables, not tablets). I had/have one for my SP3, and the stand lost its ability to stay completely closed.

I use the Snugg leather sleeve for my Pro 4. It feels very well made and protects the device well.

My review of 6 different SP4 cases - https://docs.com/brian-hoyt/9367/surface-pro-4-protective-case-reviews

Don't forget about the SkyTab case for SP4 http://skytab.net/products.asp?cat=15

My Snugg does a great job. Very well made.

Maroo Woodland - looks good, sturdy and has a pen holder.

Guess the Manvex review is a retread from a previous review for the SP3 as obviously the SP4 has no windows button and we stopped swiping in from the edges with Win10 ;)

UAG- Urban Armor Gear is legit! I work in the oilfield, and my SP4 is alive and well only because of this awesome product. The stand is a monster and very durable, fit is perfect and the pen will not run away on you. This is hands down the ultimate protection for your SP4 investment.
Windows Central Newsletter
Thank you for signing up to Windows Central. You will receive a verification email shortly.
There was a problem. Please refresh the page and try again.