Best Windows Phone Apps for Hurricane Season
Windows Phone Central takes a look at apps that will help during the upcoming Hurricane Season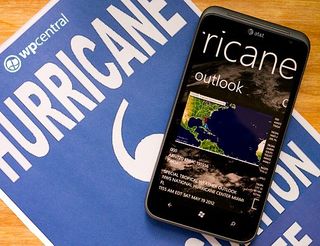 For many Windows Phone owners, June 1st marks the start of summer. For some, June 1st marks the start of Hurricane Season. If you live along the U.S. Gulf Coast, Atlantic Coast, in the Caribbean or any other area that could be impacted by hurricanes, there are a few apps for your Windows Phone that can come in handy.
These apps keep you informed of the tropical systems as they develop into hurricanes, monitor the storms track, help you weather out the storm, and pick up the pieces when the dust settles. Hopefully this Hurricane Season will be a quiet one but if not, maybe these apps will help.
Weather apps are the obvious choice to help keep track of developing storms and hurricane tracks. We've taken a look at some of the best weather apps for you Windows Phone but these focus a little more on hurricanes.
Weather (free): The Weather Channel's Windows Phone app, Weather, stands out amongst the other weather apps for your Windows Phone because it has an section dedicated to Severe Weather Center. The Severe Weather Center provides a tropical summary that offers the latest information on all the tropical systems on the radar. Add the weather alerts the app provides, Weather does a nice job of keeping you up to date on things. You can find Weather here at (opens in new tab) the Windows Phone Marketplace.
Hurricane Tracker ($.99): Hurricane Tracker provides a comprehensive look at tropical activities. The app covers tropical disturbances in the Atlantic, Pacific and Indian basins and you can filter out those areas that may not effect or interest you. Hurricane Tracker provides information on specific storm systems, the National Weather Service's storm outlook, the NWS discussion on active storms, and animated satellite views for regions as well as storms. You can find Hurricane Tracker here at (opens in new tab) the Windows Phone Marketplace.
Hurricane Software($2.99/trial): Hurricane Software is another comprehensive hurricane tracking app for your Windows Phone. It's a little more comprehensive app than Hurricane Tracker but is also a paid app. As storms develop, Hurricane Software will provide you with NWS discussion, tracking information and predicted path data. There is also satellite and IR maps available and historical data is maintained on the current seasons' storms. Hurricane Software is currently still listing storm data from the 2011 season and once June 1st comes to pass, we should see 2012 data. You can find Hurricane Software here at (opens in new tab) the Windows Phone Marketplace.
Hurricane Tracking Center (free): Hurricane Tracking Center is another comprehensive hurricane information app but is limited to tracking Atlantic and Caribbean systems. It offers a selection of guides on hurricane preparedness, evacuation routs, seasonal outlooks and much more. You also have access to satellite imagery, hurricane tracking and a weather blog provided by NBC2 out of Fort Myers, Florida. Hurricane Tracking Center is a free app that you can grab here at (opens in new tab) the Windows Phone Marketplace.
AboutOne (free): We're going to throw this app into the mix just in case your area receives damage from a hurricane and you need a central location to find all the emergency information for you and/or your family members. While AboutOne lets you document milestones, memories, and business dealings it also is a nice way to document emergency information about yourself and family members. In a crisis you may not be able to remember all the particulars about a family members medical history. AboutOne is a easy way to keep all that information handy. Should you lose your Windows Phone, the information can be retrieved through AboutOne's website as well. You can find AboutOne here (opens in new tab) and AboutOne Family here at (opens in new tab) the Windows Phone Marketplace.
Flashlight App: Take your pick, but as trivial as a flashlight may come across these simple apps can come in handy should you loose power. Ideally you should have a separate, battery powered light source but your Windows Phone can light the way to find it.
Along with the above apps, here are some helpful tips should your area receive damage from a hurricane.
Should your area lose power, remember to use your Windows Phone conservatively. There are various backup batteries available at the Windows Phone Central Accessory Store. You can also charge your Windows Phone from your car with your handy dandy car charger. Remember to run your car for a short period to replenish your main battery. Just don't do this from your garage.
If cell service is interrupted, try contacting family and friends by text message. During the April 2011 tornadoes we lost power and land line phone service. Traffic on the cellular networks created delays but data transmissions went through without problems.
If your house/apartment or car receive damage from the storm you can document the damage (for insurance purposes) with your Windows Phone. Take pictures of the overall damage and work your way closer to record specific areas of damage. This comes in handy if you have to remove debris to prevent further damage to your property. GEICO

(opens in new tab)

, USAA

(opens in new tab)

and Esurance

(opens in new tab)

all have Windows Phone apps that should help you document any damages as well.
Lastly, the National Hurricane Center has put together a nice list (opens in new tab) of items they recommend for a disaster preparedness kit. These items will help you beyond what your Windows Phone can do and the list is worth checking out.
For those who experience hurricanes annually, we hope this season is a quiet one and everyone stays safe. If you have any Windows Phone hurricane preparedness tips, feel free to share them in the comments.
Windows Central Newsletter
Get the best of Windows Central in in your inbox, every day!
George is the Reviews Editor at Windows Central, concentrating on Windows 10 PC and Mobile apps. He's been a supporter of the platform since the days of Windows CE and uses his current Windows 10 Mobile phone daily to keep up with life and enjoy a game during down time.
Great idea for an article George. Thanks.

Was just going to post the same thing...

Good tips here, I live in Texas off the Gulf of Mexico. Thanks for the article guys.

Any chance you can do the same for tornado/thunderstorm warnings? My wife isn't happy with AccuWeather and some of the alternatives on that point, and it'll help me stand my ground with all those iFolks all around. ;-)

The last time we had tornadoes, Accuweather and Weatherbug actually provided severe alert notifications while Weather Channel didn't provide a single notification. But I do prefer Weather Channel's content layout and live tile.

My Accuweather crashes the app if I enter it through touching the alert notification. It works fine if I open it normally, but the notification way it just opens the app for about ½ a second then closes it. Anyone else experience this?

Agree - this would be great to see for tornado/thunderstorm weather too. You have at least a day warning for hurricanes! Severe Thunderstorms & Tornadoes don't give you that type of advance.
I was not in 3G coverage on Saturday and did not get alerts through Accuweather and I also found that as many times as I turn alerts to on, the next time I go to the app it is off. Microsoft weather also stopped updating after a couple of weeks. Weather Channel does okay but not great.
I found an app called My Radar last night - not any bells or whistles, just radar. Loads quick, gives about an hours worth of radar animation with the most recent shot within ten minutes.
Windows Central Newsletter
Thank you for signing up to Windows Central. You will receive a verification email shortly.
There was a problem. Please refresh the page and try again.