The best Windows Phone you can buy - August 2014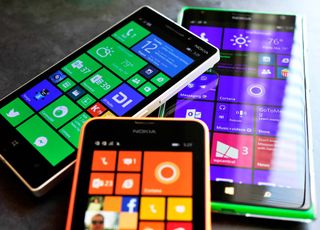 Last December we looked at the best Windows Phone you could buy, concluding that the Nokia Lumia 925 was the top choice for Windows Phone shoppers. The svelte profile, sexy looks, and beautiful display make the Lumia 925 one of our favorite Windows Phones. However, it's hard to recommend buying it brand new today when it's well over a year old at this point. So it is time to refresh on our best Windows Phone recommendations.
Today we're going to look at the Windows Phone landscape and select the best Windows Phone you can buy right now.
The best Windows Phone you can buy – the Lumia 930 / Icon
Why you can trust Windows Central Our expert reviewers spend hours testing and comparing products and services so you can choose the best for you. Find out more about how we test.
The Lumia 930 is the best Windows Phone you can buy right now. It was introduced in the United States as the Lumia Icon on Verizon in February 2014. At Build 2014, the Lumia 930 was announced as the international version of the Icon and became available in June 2014.
Our pick as the best Windows Phone you can buy right now goes to the Lumia 930 because it places some of the best-available smartphone technology into a package that isn't too big nor too small.
Inside the Lumia 930, you'll find a 2.2 GHz quad-core Qualcomm Snapdragon 800 processor and 2GB of RAM. In terms of performance, the Lumia 930 will keep you happy for the foreseeable future. With those internals, you'll be able to run all the latest games and apps with no problem.
You'll view those apps and games with a 5-inch 1080p display. This large display and high-resolution results in a Start screen experience that isn't cramped with the third Live tile column. Colors look good, but you can customize the brightness and color profiles in the settings.
We're also big fans of the camera included in the Lumia 930. It doesn't have the same 41 MP sensor found in the Lumia 1020, but it does feature some of the same imaging technology. A 20 MP PureView sensor gives you pixel oversampling technology for better photo cropping and zooming. You'll find Zeiss optics, optical image stabilization, dual LED flash and more. All of this adds up to a stellar photography experience.
32 GB of storage is what you get with the Lumia 930, plus 15 GB of OneDrive cloud space. The omission of a memory card support is the one flaw in the Lumia 930. While 32 GB works for most, your individual needs might differ. The fixed storage will result in you needing to watch your space a little more closely.
In conclusion, the Lumia 930 is the best Windows Phone you can buy today. It has technology that won't make it obsolete tomorrow, but will keep you happy for some time to come. It's also an attractive phone that feels good in the hand and comes in a variety of colors.
The best Windows Phone you can buy with a huge screen – the Lumia 1520
Need a really, really big Windows Phone? Then the Lumia 1520 is for you. It has the same specs as the Lumia 930 above but puts them into a larger package. That's right; it's a phablet, and one of the best around.
You need to see the screen on the Lumia 1520 to appreciate truly what Nokia managed to do. A 6-inch 1080p IPS LCD makes up your display on the front giving users ample room for reading and gaming. The ClearBlack technology makes images and content seem to float on the surface of the glass. The Lumia 1520 has a stunning display that needs to be seen in order to be appreciated. Do you need a Windows Phone that will double as a tablet and media device? You won't find a better device than the Lumia 1520.
If you are missing expandable memory in the Lumia 930 you won't need to worry about storage on the Lumia 1520. You'll find a microSD card slot on the device that accepts cards in size up to 128 GB. Making sure you never run out of space for your movies, music and photos.
Imaging is equally excellent, and we've captured some of our best shots on the Lumia 1520. In short, this is the Windows Phone you get when you want a big phone (or little tablet).
The best Windows Phone you can buy on a budget – the Lumia 630
Inexpensive handsets and emerging markets are where Microsoft has seen a lot of success with Windows Phone. A lot of that can be attributed to last year's Lumia 520 – one cheap and capable smartphone. Earlier this year the Lumia 630 was announced. And while not a direct follow-up to the Lumia 520, it's a worthy successor in a few areas.
The Lumia 630 has a lot going for it. It's affordable, stylish and runs Windows Phone 8.1 without any issues. Pictures don't do this little phone justice. You need to hold the Lumia 630 to take in the design that went into a phone at this price point. The colorful shells are removable and can be made to match your mood or outfit.
A 4.5-inch IPS LCD makes up your display on the Lumia 630. It's running at a resolution of 854 x 480; those extra 54 pixels allow for the onscreen navigation bar to go back, go to your Start screen or launch Cortana. Inside a 1.2 GHz quad-core Snapdragon 400 processor is running everything with 512 MB of RAM. We'll be the first to admit, a full gig of RAM would be nice, but you won't encounter too many apps or games that you won't be able to run.
Speaking of apps and games, 8 GB of onboard storage comes in the box, but you can add an extra 128 GB with a microSD card if you want. The Lumia 630 has a camera with 5 MP and auto-focus to help you capture memories on the Lumia 630.
The Lumia 630 can be found for about $130 USD, though your price may vary by region. It's a whole lot of phone for very little cash.
The future
These are the best Windows Phones you can buy today. But in the coming months we're expecting to see an explosion in the number of available handsets running Windows Phone. Microsoft is expected to announce and release two new Lumia handsets sometime in September – the Lumia 730 and Lumia 830.
HTC just released the HTC One (M8) for Windows as an exclusive on Verizon. It's currently limited to just one carrier in the United States, but it is coming to AT&T sometime in the near future. It wouldn't be too hard to guess that we'll see the HTC One appear on more carriers around the globe as well. Early speed tests suggest it is one fast phone, with equally impressive hardware.
For emerging markets, you can look forward to an even bigger number of available Windows Phones. Earlier this year Microsoft dropped the licensing fee for the Windows Phone operating system. Windows Phone 8.1 also introduced a few changes that allow smartphone makers turn their existing Android hardware into Windows Phone hardware with minimal effort. These two semi-recent developments should produce more choice for consumers around the globe. New Windows Phones from Yezz and Blu are just two on the immediate horizon.
It's an exciting time to join the Windows Phone family.
Get the Windows Central Newsletter
All the latest news, reviews, and guides for Windows and Xbox diehards.