The best Xbox Windows Phone games of 2012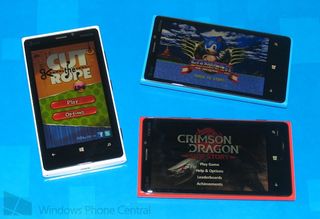 For many gamers, Xbox Live functionality is one of Windows Phone's most compelling selling points. Windows Phones allow people who already own an Xbox 360 to log in with their existing Xbox Live/Microsoft ID and receive instant access to their Xbox Live profiles, friends lists, messages. Existing users can customize their Xbox avatars directly from their phones, while new users can create them. The SmartGlass app can even sync with a handful of Xbox 360 games and apps right now, with more titles to support SmartGlass in the future.
Sure, you can many of those features on iOS as well, but they aren't nearly as integrated as on Windows Phone. Most of the functionality is built right into WP8; WP7 users need the Xbox Live Extras app. The SmartGlass app requires a quick download on both WP7 and WP8. After that, you'll find it all conveniently located in the Games hub.
Head past the break for more of Windows Phone Central's Xbox Live primer plus our picks for the best Xbox Windows Phone games of 2012!
Xbox Games
Why you can trust Windows Central Our expert reviewers spend hours testing and comparing products and services so you can choose the best for you. Find out more about how we test.
Even more exciting for a sizable portion of Xbox gamers is Windows Phone's curated portfolio of Xbox games. These are analogous to Xbox Live Arcade games on the 360. Each one offers built in system-wide Achievements worth (in most cases) 200 GamerScore.
Unlocking Achievements that contribute towards the existing profile you've had for years is way more meaningful than other Achievement systems, especially now that a growing library of Windows 8 tablet and PC games use the same system. Anyone on your Xbox Live friends list can view your profile and compare their Achievements against yours, adding an addictive social element to it all. Not everyone buys into the Achievement system, but for people who do the added value is unmistakable.
On the other hand, the Xbox Windows Phone lineup shows a lot of room for improvement compared to XBLA and mobile competitors. There is a shortage of diversity, big name games, and WP exclusives. We didn't even get a new Xbox release three weeks out of the year, just like in 2011. We'll expand on all those criticisms (and more) in a future article.
Best of 2012
All complaints aside, the Xbox Windows Phone lineup still looked a lot brighter this year than the previous one. After a very dry 2011, major publisher Electronic Arts and its Chillingo subsidiary really stepped up with strong support - especially if we count Nokia exclusives (which this article doesn't). A few long-time holdouts like Square-Enix, Capcom, and Cut the Rope's Zepto Labs finally joined the fray. If these trends continue, 2013 will be an even brighter year for Windows Phone.
Without further ado, here's our Best of 2012 list, divided by category. Some categories have runners-up, but the first title listed is always our primary choice for best in category.
Best Casual Game
Cut the Rope - $.99 – Released: November 7th - Store Link - Our review
This is one of those super popular games that a mobile platform needs to offer in order to appear legitimate to the masses. Thankfully, it arrived just in time for the Windows Phone 8 launch and works great on both WP7 and WP8. Among the game's hundreds of short stages, the goal is always to deliver a piece of candy to the adorable little monster Om Nom. To do so, you'll cut countless ropes strapped to said candy, pop bubbles, and manage other stage-specific devices and hazards along the way. Considering this holiday season's big Cut the Rope merchandizing push (including snacks, toys, and board games (opens in new tab)), it's a good thing the actual videogame can call WP its home.
Best Exclusive Game
Chickens Can't Fly - $2.99– Released: February 15th - Store Link - Our review
It's getting harder and harder to find WP-exclusive Xbox games, as even Microsoft-published titles have been jumping ship to iOS lately. Thankfully, Amused Sloth has so far chosen to keep Chickens Can't Fly squarely on WP. The game puts players in control of a hapless chicken as he plummets down obstacle courses set up by cruel scientists. Great tilt controls, sharp artwork, and a subversive sense of humor make Chickens Can't Fly a joy to play.
Most Artistic Games
Contre Jour - $2.99 – Released: September 19th - Store Link
It's hard to say which is prettier: Chillingo's Contre Jour or MangoLabs' Mush. I eventually chose Contre Jour for its effective use of light and silhouette and far superior musical score. Besides, it's also a longer and more challenging game. The goal is to get the tentacled protagonist Petit to each level's exit while collecting all the lights along the way. Instead of directly controlling Petit, players manipulate the environment by stretching the ground and activating various gadgets. Technically this is a physics puzzler, but the bold art direction and unique gameplay puts it in a separate league from other genre entries.
Runner up: Mush - $2.99– Released: - Store Link - Our review
Best Thinker's Games
Final Fantasy - $6.99 - June 13th - Store Link - Our review
This category would be called best RPG, except there is only one pure RPG on Windows Phone: Square Enix's remake of the first Final Fantasy game. While the basic game design and simplistic story are somewhat dated, the game otherwise holds up extremely well. Take control of the four Warriors of Light as they embark on an epic quest to save their world from disaster. With some tough Achievements (see our guide) and multiple vast bonus dungeons, you can easily spend more than 70 hours with Final Fantasy.
The runner-up in this category is a strategy game that shouldn't be missed either.
Runner up: Civilization Revolution - $2.99– Released: - Store Link - Our review
Best Shoot-em-ups
Crimson Dragon Side Story - $.99 – Released: - Store Link - Our review
All three of 2012's shoot-em-ups are stellar titles worthy of purchase, but Crimson Dragon wins out thanks to its low price, superior art design, and ample replay value. The companion to an upcoming XBLA game, Side Story feels like a full console game and is the spiritual successor to SEGA's Panzer Dragoon series. Ride atop a dragon and battle fantastic creatures in humanity's far future, all while completing missions and unlocking new skills. Side Story was recently updated with WP8 compatibility and runs better than ever.
Runners up: Shoot1UP - $2.99 and Dodonpachi Maximum - $4.99
Best Platformers
Sonic CD - $4.99 – Released: November 14th - Store Link - Our review
The Windows Phone remake of this 16-bit Sega CD classic was quite long in the making, but every bit worth the wait. Sonic CD is one of the blue hedgehog's finest 2D outings, with fully animated intro and ending, vast levels to explore, and the unique ability to travel to past and future versions of each stage. This updated version boasts improvements like a fully playable Tails, dual soundtracks, true widescreen display, and lots more.
Sonic CD may be a full console title expertly squeezed onto WP, but Little Acorns is a made-for-mobile platformer that works great in short sessions and won't break the bank.
Runner up: Little Acorns - $.99 – Released: - Store Link - Our review
Here's to 2013!
How'd you like our top picks, dear readers? Don't miss our Worst Xbox games of 2012 article either. Leave a comment and let us know if we missed your favorite game of the year!
Windows Central Newsletter
Get the best of Windows Central in in your inbox, every day!
Paul Acevedo is the Games Editor at Windows Central. A lifelong gamer, he has written about videogames for over 15 years and reviewed over 350 games for our site. Follow him on Twitter @PaulRAcevedo. Don't hate. Appreciate!
I'm sure the best exclusive was supposed to be Wordament but then it appeared on iOS :)

I think the Windows Phone community is a little angry at the Wordament crew right now.

The way I see it, the devs will make a lot more money on iOS, which means more money to develop things for WP too.

I don't know why, its an ok game but it's not exclusive worthy.

I love Wordament, but it's always felt weird as the headline exclusive. iOS users are mad over Letterpress, and Wordament looks like an ugly college experiment next to that game.

Why? Wordament is nice but it's a niche game for a niche player-base. It doesn't have the general appeal as many of the other exclusives.

I don't know; anybody who speaks English can play it - even grandmothers. Word games like Words With Friends, etc. are pretty popular on all mobile platforms.

Wordament actually supports 12 languages, so there's no problem there. It's a simple game executed well, but I wouldn't call it a flagship game or one of the best. It doesn't push boundaries in terms of performance, graphics or gameplay, and even its UI could be better. And word games don't apply to as many people as games such as Chickens Can't Fly.

I couldn't disagree more.

Was hoping Gameloft would have released Nova or any of it's other titles but nothing :-(
Emailed and tweeted them about WP8 and not even a reply :-S
Guns 4 Hire is probably my fav at the mo

They replied to me and they said (from the Microsoft game maker) that they are working real hard and it is coming soon. View this thread:
http://forums.wpcentral.com/marketplace-games/209126-gameloft-games-wp8-...

Daniel, can you guys find out what happened to all these "Kinect" games? They were promised years ago now.
Like where you can control balls on your phone when friend plays kinct adventures, etc.
http://www.youtube.com/watch?v=2mktWd0-WGs
And where are all the promised 'holiday' games of 2012? Joyride, gameloft games, etc? They promised and did not deliver how many times now? Same with Photosynth where is it?

I think these were more like concepts, I don't think they were supposed to be out before smartglass.

Own and enjoy all those games!

Cut the Rope was the very first app I purchased when I purchased my Lumia last month I recently purchased geoDefense Swarm and Contre Jour (which I am terrible at, but I am determined to conquer them) and Mush.

But Cut The Rope is definitely a very enjoyable game. The newness of WP is still there for me after a month, but I really hope that more apps and game come aboard in 2013 for the enitre platform.

Great article. Well thought out. I think Angry Birds Star Wars should've won for Best Casual though. But it does show that Windows Phone has a long way to go in the games department. Surprising since the connection with Xbox.

Those are three sexy phones :)

Crap games all around. Thank god at least zombie killer is released. First real game that packs action and actual graphics. Come on lets see some flagship games. Ea I'm looking at you

What I would like to see is integration between Xbox live friends and your contacts. That might not be ideal for everyone but id like to have my Xbox live friends linked to my contacts. That way I know who everyone is even if they change their name. My friends change their gamertag all the time so I don't even know who is who anymore.

Too bad geoDefense and Rocket Riot are not available in my region. :/

What about best free game ?


I heard "Right Hand" is pretty good.


Great list, I agree with almost everything (I'm not a Sonic fan, definitely would have gone with Little Acorns for best platformer). Also, I loved Zombies on teh Phone!

Man, looking for new big name games this year.. The new temple run, subway surfer, things like that.. Also waiting for the 7.8 update.. HTC better surprise us with your little customization to 7.8 :)

Ok, while Final Fantasy is a good game on the phone (and i I do own it, and agree it is good), it does not even remotely compare to Dragons Blade, which is RPG based on the same Final Fantasy / Dragon Warrior genre. If you have ever played Final Fantasy or Dragon Warrior, you will absolutly LOVE Dragons Blade.

I installed Dragons Blade X when it was free. Haven't played it, but I will. Looks even better then FF.

Thumbs up to Dragons Blade, even though it isn't an Xbox title. I bought the game a long time ago on sale and finally got into it this holiday. It's a load of fun, especially online play and the dev is always adding improvements.

That is completely untrue. Final Fantasy is leagues above Dragon's Blade. That game was a massive disappointment. It started out fun, and like you said, just an old school RPG experience. But I soon found out the enemy encounters were incredibly boring and most character classes were useless. Simply create a team of mages, and you are set for the game. Horribly designed.

definitely waiting for order and chaos online, cant wait for its release on WP8 to buy it.
hope it gets released on wp8 and wp7.8

Best Racer: Red Bull Kart Fighter World Tour.

I know this is a bit off topic but I thought that I'd post it here since we're on the whole Xbox Live thing.
Xbox Live was created with the Xbox in mind. Meaning that gaming has always played a crucial part. However, let's remove the gaming aspect for a second and let's make it a purely social thing like BBM. You pay a minuscule fee and you could have the ability to text your buddies, send pictures, videos and audio notes as many times as you want in a month. Plus you can create an avatar to take the "social" experience to another level and make it better than bbm. What do you think? Of course the gaming aspect won't go away. It would still work the same. You can even alter the paying methods if you want. You could just give the bbm like service on Xbox Live for free just to attract a younger audience and you still make them pay to have the "gold" experience which is the full gaming experience. I mean these are just ideas but you see where I'm going. What do you think?
The bottom line here is to make WP more attractive to potential buyers and also promote the Xbox at the same time. If this is well implemented Microsoft can even charge people for the service like RIM does.

These are good ideas, but I would prefer to see this as an augmentation to the Skype service (which is already free IM) rather than having two core Microsoft services offering similar functionality.

This year I enjoyed the Xbox Live games Contre Jour, IonBallEX, Mirror's Edge, Pac-Man CE DX, and Spider Jack. Of the non-Xbox games I enjoyed MonsterUpAdventure and Belts and Boxes. And if anyone has missed it I highly recommend one of the first games available for Windows Phone called Krashlander. Still one of my favorites!

Out of those Xbox games, only Contre Jour was considered because the others came out in 2011 or are Nokia exclusives. Fine games though.

Great, every time I look at a list like this, I end up spending money.... Mush looked good, never tried it but, for $0.99, What the heck, right ?

I just think Live should be free across all platforms.

That's how I feel about food and alcohol!

Mush should get an honorable mention for its exclusiveness and art. Yeah its a simple game, but there is a lot of people who love its charm. Maybe most charming game of 2012 :P

We did give it the Runner-Up status for 'Most Artistic Game.' You're right that it'd be a good fit for the Exclusive category as well, but I didn't want to list games more than once.

would've put shoot 1up as best shooter, but aside from that, spot on guys

I definitely disagree with Crimson Dragon and Sonic. Same goes for Final Fantasy...it was a good game almost 30 years ago and it has held up pretty well, but there were other games far more worthy (also, I don't know what it has to do with "thinking" because it doesn't require much strategy). Wordament and AlphaJax would've been good for this list, but I don't know when they originally released (before being rebranded as Live games).

RPGs tend to be more cerebral and less action-packed than action games. In fact, only people who like to read really seem to enjoy them, especially older ones with no voice acting. We considered AlphaJax and Wordament, but left them off for the reason you mentioned (originally releasing earlier than 2012).

going to buy Crimson Dragon... the Panzer Dragoon feel is just too good to not have.
Windows Central Newsletter
Thank you for signing up to Windows Central. You will receive a verification email shortly.
There was a problem. Please refresh the page and try again.