Big gMaps update brings driving mode, Simple Latitude integration and more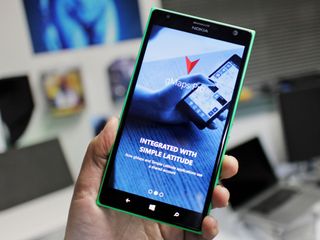 Unofficial Google Maps app for Windows Phone, gMaps, has received its first big update in a while. The latest update pushes gMaps up to version 3.2 and brings some great additions to the Google Maps alternative.
First up is the addition of integration with one of gMaps other apps, Simple Latitude. The team says that if you're using Simple Latitude, you can now simply log in to gMaps and see your friends and family right on the map. Those who haven't signed up for a Simple Latitude account can register an account from within gMaps and start using the service right away.
Next up is a new driving mode, allowing users to plot routes and head off to any location with built-in navigation. And finally, gMaps has tweaked the interface to improve the user experience with things like full-screen maps (hide controls by tapping once), a single page to view in-app purchases, and the ability to sync your purchases when you switch Microsoft accounts.
If you're interested in checking out gMaps 3.2, hit up the Windows Store link below. And be sure to check out the source link to read the full blog post on this update.
Download gMaps from the Windows Store (opens in new tab)
Source: gMaps
Windows Central Newsletter
Get the best of Windows Central in your inbox, every day!
Dan Thorp-Lancaster is the former Editor-in-Chief of Windows Central. He began working with Windows Central, Android Central, and iMore as a news writer in 2014 and is obsessed with tech of all sorts. You can follow Dan on Twitter @DthorpL and Instagram @heyitsdtl.
Wow, that is great! I'm glad to see the developers revisit the app and update it. I tried it a couple of years ago and preferred Here, but this should be great for those who like to use Google Maps.

Google Maps would also be great.

Thank you, we glad you like it. And it's just a beggining. We have plenty of features to be released soon. Stay tuned!

People like you will help WP to win!

Nice! Wonder if driving mode is pulling data from waze.

Thought you'd made an error in the title there, Bin Gmaps

Does this app use our downloaded maps?

No, however Gmaps+ does. I wonder if this one is better though

it doesn't, for now. Stay tuned, that feature is under development.

Tried it earlier in UK whilst driving to London, but it never changed or updated the route once due to traffic. So am back to Waze

Don't even get me started...
.......
Yes! The company that wouldn't be shit if it weren't for MS... The company that Founded it's services on PC, but doesn't have the respect to pay it back to MS with their apps... That's literally called "scavenging".... SMDH

All I read is blah blah blah and excuses excuses. But yea having OFFICIAL Google services on WP would be awesome and would make the ecosystem and the platform seem more viable to consumers

We still don't have an official youtube app for gods sake

Yeah! And MS wouldn't be nothing without IBM. Did MS respected IBM in mid-80?
And how MS handled several small companies in history which had competitive products? They either provided small amount of money or sued them, so small companies ran out of money. And what happened to Netscape?
You really should read the history of MS better before talking abaut respect. Posted via the Windows Central App for Android

Wow! Good point, and information.. I'll look up on it.

Doesn't matter. Here Drive+, MapFactor, Sygic are better.

HERE isn't great, MapFactor is buggy, and I haven't tried Sygic but I'm about to go dl it

HERE is working fine for me, even after the latest update

Here functions fine but it makes very, very poor routing decisions.

Lol.. This is kinda true..

When I leave my university it thinks there is a toll and tells me no way to avoid it.. but there isn't one :)

I know that. It just thinks there is one

Have you sent feedback to report it as incorrect?

I have seen that a couple times. It is rare for me.

Unfortunately this is very true. And I'm not the only one in my family to experience this. It's quite disappointing, really. I don't know why such a large mapping company can't get this functionality right.

Well, HERE was sold this year to Germany Cars Manufacturings. Last couple of years I believe Nokia doesn't put much money on it. Now let's see what's going on from now.

Yes like an intersection by my house it says I dnt turn left but for 30 years you have been able to

Even worse is they ask you to report stuff like this and then never do anything about it or even acknowledge it. Whereas, I've reported several similar map issues to Google and after a few weeks they email me to thank me and let me know they fixed it. Posted via the Windows Central App for Android

Here maps seems to make bad routing decisions for me here in ireland

For Sygic, if you're on WP10, get the link to the universal windows platform (uwp) beta app online - has rerouting and a few more features than the one of the app store.

HERE maps in Brasil is just terrible! Completely outdated. Traffic update is a joke. Google maps (Waze) works like a charm.

W10 maps are pretty awesome......Waze still works fine for me as well.

Location in Lumia 730 not working

I used to like gMaps+ (we are talking about gmaps+ right?) but it leads to crazy battery drain even after leaving the app, has incessant 'donate' splash screens right when you want to use the app for the first time in months, and I can't figure out who 'map remedy' really are. Maybe Wincentral can do a profile on the developers? There used to be an @stanford.edu support email, but that info has since disappeared.

No, GMAPS+ is a copycap app. We do not have any donate screens in gMaps. Check it out http://drmtm.us/gmaps

Yea no + just gMaps... Dreamteam mobile guys, it's good. but wow, huge # review for GMaps+ , Map Remedy guys.

We will work it out by providing new special features for our customers like Simple Latitude, InApps sharing, etc.

Oops, my mistake. Copycat apps, one of the biggest problems in the WP store.

Gmaps is not on store . Im using wm10 build 581

Same for me, only pro version..

Please try the following direct link: http://drmtm.us/gmaps

Issue with wm10 store search fixed. Now it appears in store results.

Where is the download link?

Need to fix the UI, more user friendly.. I'm almost dizzy using rhis app

@Chris, would you be kind as to contact us through the app and say what's wrong with the app in your case?
We would appreciate your feedback and would love to update the app in order for you and other people use better when using the app. Thank you

Does it have offline maps?

Does it reroute you around traffic mid-drive? If not, anyone know of a navigation app (not Waze) that does?

Navigon will with addons. Sygic will with the live traffic addon. Copilot will with their premium addon. For free it's just Waze, but hoping MS build it into their maps.