Mobile World Congress (MWC) 2019's biggest news announcements
HoloLens 2, Lenovo laptops, and more. These are some of the biggest bits of news to come out of Mobile World Congress 2019 for Windows fans.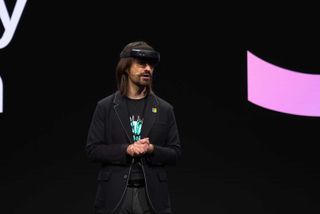 Mobile World Congress (MWC) is wrapping up in Barcelona, which means there's been an absolute truckload of news in the world of mobile tech. And even though MWC typically isn't a major launch event for Windows devices – CES wears that crown – this year's show was a very different story.
Whether you've been tuned out of the tech world all week, or just want to recap some of the most notable announcements, here's a rundown of some of the biggest pieces of news to come out of MWC 2019.
Microsoft's HoloLens 2
We knew something big was in the cards when Microsoft revealed that it would host a keynote at MWC 2019, and the company delivered with the much-anticipated second iteration of its augmented reality (AR) headset, HoloLens 2.
HoloLens 2 takes everything that was revolutionary about the original and ratchets it up a notch. The headset has been redesigned to make it more comfortable to wear, adding more padding and making adjustments to more evenly distribute its weight. The visor can also now flip up and down, which should make wearing the headset a much better experience for HoloLens 2's target users: first-line workers.
On the inside, the HoloLens is powered by a Snapdragon 850 chip, replacing the Intel Atom processor found in the first HoloLens, Microsoft has also added eye tracking, which opens HoloLens 2 up to a whole new mode of interaction. When combined with the device's more granular hand tracking and an increased field of view, interacting with holographic models present on the screen should be much more comfortable.
HoloLens 2 is still very much a product targeted at enterprise scenarios, ranging from product design to manufacturing, but it's impressive for some of the advancements Microsoft has made in the few years since the first HoloLens was introduced.
For more, check out our hands-on with HoloLens 2 from the show floor.
Firefox and Unreal Engine 4 come to HoloLens 2
While HoloLens 2 may not be targeted at the consumer market, there were a couple of promising signs of what the future may hold for Microsoft's AR strategy at MWC 2019.
First, Mozilla announced that its Firefox Reality browser is coming to HoloLens 2 later this year. Firefox Reality first made its debut in 2018 as Mozilla's bid for a VR browser. For HoloLens 2, Mozilla says that it's working closely with Microsoft to "ensure that the immersive web works for all users, regardless of which device they are on."
In addition to the Firefox news, Epic Games' Tim Sweeney took the stage to reveal that Unreal Engine 4 support is coming to HoloLens as well. Sweeney was quick to add that Epic doesn't currently have any games in the works for HoloLens 2, but Unreal Engine 4 will be used to create 3D objects in AR apps. Still, Sweeney pledged that "in the years to come, Epic will support HoloLens in all of our endeavors."
Both announcements reflect a broader push by Microsoft with HoloLens 2 to make it an open platform, and Mozilla and Epic are some of the first major names to take part in that vision.
Lenovo and Huawei bring some laptop love – and more
It's true that MWC typically isn't a big show for laptops, but both Huawei and Lenovo were ready to shake things up this year.
For Huawei, the company introduced a new and improved MateBook X Pro and MateBook 14. Both laptops offer a premium feel, with the MateBook X Pro, in particular, pulling off some cool NFC tricks to instantly transfer files between your phone and laptop.
Lenovo, meanwhile, brought a whole barrel of PCs to the show floor. For the business crowd, the company's latest ThinkPad lineup took center stage, while a refreshed IdeaPad range introduced new budget options for the rest of us.
Also tagging along was the new Lenovo IdeaCentre AIO A340, an all-in-one (AIO) PC with a design that's definitely unique. And if you find yourself in need of a portable display while you're on the go, the company debuted the ThinkVision M14, a fairly affordable USB-C display that can be toted around.
Folding phones, Samsung flagships, and much more
While HoloLens 2 alone may have been big enough to make MWC 2019 a satisfying show for Microsoft fans, there's even more to catch up on in the phone world. Our pals over at Android Central have all of the coverage you could ask for. Whether you're interested in Samsung and Huawei's folding phones or the latest flagships from Samsung and LG, there's plenty to check out.
Dan Thorp-Lancaster is the former Editor-in-Chief of Windows Central. He began working with Windows Central, Android Central, and iMore as a news writer in 2014 and is obsessed with tech of all sorts. You can follow Dan on Twitter @DthorpL and Instagram @heyitsdtl.
What percent of field of vision can be an augument reality projection? I tried hololense one... was good but field of vision was too small...

Meh not impressed with the galaxy fold opens up to only a 7 in screen which is small for a tablet and it runs Android so its Meh. I think they made the right move for limited roll out. I really hope Andromeda comes and blows it out of the water. I am really impressed with the Windows on arm tablet experience they've made great strides to make it a work and home device. I hope Andromeda continues this effort and combines the phone and tablet experience.

I would be worried about it breaking,
i am not sure what you expect it to run since there is no other mobile Os around apart from IOS. The idea of a folding screen have been around for years, but i still don;'t think we are ready yet,.
#

- i am not sure what you expect it to run since there is no other mobile Os around apart from IOS.
- I hope Andromeda continues this effort and combines the phone and tablet experience. Why do you ask a question that's answered in the post you're replying to. Sure, Andromeda is not out but this is still the OS he, and many more, "expected" foldable devices to run.

Sounds like Hololens might actually be a product for Microsoft. They've done a version 2, and it sounds like companies actually want to use this thing. There's hope.

I know people working on huge oil rigs using HoloLens during inspections. With the HoloLens some of the routines takes one or two hours, where they used to take one or two days due to the size and complexity of these rigs. Building a robust industry standard platform where the Money is, is not a bad thing if it's actually used and working this well. It enables Microsoft to continue developing the Device and platform while not having to bleed on a consumer Product. And When they are in the right Place, the consumer Products can be released in the form of sleeker and cheaper Products.

Hm, wondering. What's the ods of MS releasing an Andromeda Device on the next event, probably due october?

Maybe. Makes you wonder why WC threw news into this article about Android foldables even though they hilighted it as being Windows MWC news.

Probably because Microsoft has some apps there.

Let's see...
HoloLens 2: It's and enterprise thing and far too expensive, so I don't care.
Laptops: Once I moved to Surface Pro, I don't care about laptops.
Folding phones: LOL.

Looks like you are on acid in the first seconds of the video, hahaha! :D

I have never seen such a useless laptop in my life. lenovo uses very useless and cheapest material, this machine is totally useless.
Problem I faced in lenovo 330
1. volume adjustment problem, not a good sound system.
2. I can't get any of lenovo drivers from any website even on lenovo website, driver provided by lenovo are not installed in their own machine.
3. Battery is very useless.... battery timing is maximum only two hours.
4. lenovo uses very cheapest hard drive in the world. Too much slow hard drive provided by lonovo. Mostly very slow hard response.
5. Major problem is this system is designed for left handed persons. Headphone jack, and usb ports are only on left side, there is no port on right side. what the hell is this. Also the touch-pad is on left side how can we use that machine. Over all too much slow system with highest specification. I have never seen such a rubbish machine in my life.
Windows Central Newsletter
Thank you for signing up to Windows Central. You will receive a verification email shortly.
There was a problem. Please refresh the page and try again.