Bing and Cortana are ready for the Indian Premier League 2015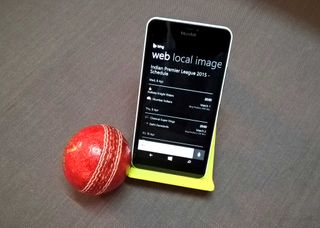 The eight edition of the Indian Premier League, the premier club tournament of Twenty20 cricket, is upon us, and sure enough Bing and Cortana are ready for it. Microsoft offered similar extensive coverage for the recently concluded ICC Cricket World Cup 2015.
You can find the schedule of all the matches on Bing or using Cortana on your Windows Phone devices. You can check out the entire schedule of the tournament or just the matches of your favorite team. For a particular match, you can find the time and venue, as well as the overall head-to-head score of both the teams and head-to-head score on the venue of the match. And then, of course, you have the very popular 'Bing Predicts' telling which team has the edge over the other.
On the Web though, there's so much more. Searching for 'ipl 2015' on Bing, for example, brings up anchor content for the tournament featuring match predictions, standings, stats, polls, and trivia.
Bing predictions for match winners are usually pretty reliable, but I'd recommend rooting for your favorite team instead. If you win despite the prediction, more reasons to cheer for your team, but if you lose, you can always fall back to 'Bing said so.' So, let the games, or as they put it – India ka tyohaar – begin!
What's the procedure to add I'll schedule in the calendar

this should help http://www.bing.com/search?q=add+ipl+calendar+to+outlook+calendar&src=IE-TopResult&FORM=IETR02&conversationid=

Was gonna comment this, thanks to you both helping me out :D

The easiest method is to subscribe the IPL calendar and synchronise with.... Wait..... Unfortunately As always.... Not with Microsoft's outlook..... But with google calendar

it takes 1 click to add the calender to outlook.....wait.....unfortunately looks like you are trolling

I would be highly obliged if you could do so especially in one click

I'm waiting for today's game result

I'm waiting for my semester result... :(

If Anybody has .ics file link for the IPL SCHEDULE please give me ...

Go on their official website it might be there.

I was ready too until I found out YouTube isn't streaming it this year, and Sky have the TV rights in the UK. Now there is no live cricket on free-to-air TV here at all.

Use start sports app or starsports.com

Oh really?? I didn't know

Use Flash Sports app...you will never miss any sport.

Yes! That's the thing I waiting for :D Luv you Bing

I searched in the sports but not found this section... But last time icc world cup cricket was available

It's not fully operational

Wohoo! Just in time for the beginning of the tournament! Good to know Bing is going global.

I love how Bing could do this. She's usually correct too.

Cortana is ready for the IPL but not if your phone country/language is India. Lmao

Yeahhh..... Mumbai Indians....❤

Yupeee. Is he actually using hindi world at the end?? 0_0

I hope Yuvi performs and make a comeback in our national team..

That Ball in the pic makes me eager to bowl inswing

Predicting 50 overs game is difficult.. Predicting 20 overs game is insane.. In cricket anything can happen

Exactly, but Cortana is up for the challenge, I'm rooting for SRH

We want the italian serie A

Korbo lorbo Jitbo! Go Knight Riders

Hopefully not US only :-P

Cortana doesnt work in India

change speech to uk and u get cortana alpha version for india.

Surprisingly there's no "wen in India?" Comments yet!

Coz this is already in India :)

Even though its expected from Indian trolls :p

Can anyone tell me how to check ipl matches in cortana and how to add matches to my phones calender thanks in advance

Great! Now maybe people will stop bashing baseball whenever there's a story about MLB.

Premier League teams were not good enough to continue in Champions League. Did they move to India and started to play cricket? Most likely a good move for them :)

This reminds me, how well did Bing predict the Cricket World Cup 2015?

Hey Cortana.. Book a ticket for Chennai match.

Mumbai Indians, Cortana says "Sorry there is something wrong", lol classic... ;)

You mean bing cortana are ready to predict the fixed matches...

CSK, watching ipl only for Mahi

Still waiting for Major League Soccer support for Cortana. :(

Still no NHL predictions...boo

@All IPL fans: Follow this link to add IPL 2015 Fixtures to your outlook calendar. And troll those idiots trying to reign the supremacy of google calendar!
Posting a wmpoweruser link, nice piece of info missing from windowscentral articles! http://wmpoweruser.com/ipl-2015-how-to-add-the-fixture-schedule-to-your-...

Frost...if ipl sucks why do Aussies play in it? Learn to respect others.

Abhishek, you could have said that the predictions can go wrong, because the IPL is fixed. At least you would be speaking the truth.

Not into cricket but that looks fantastic!

What's the point if Cortana doesn't work in india

Why are there no more predictions. Whenever I search for IPL l, it doesnt ahow any schedule like before?!

Are those Sport features from Bing/Cortana only work in US
I live in Germany and Bing(Desktop) or Cortana doesnt Show me those things

such ugly UI. Let me ask you guys what makes you choose limitation, ugly UI over the the freedom from other OSs? Fanboism really causes blindness

Viewers from all over the world can watch Ipl 2017 live score on official website along with ipl 2017 live streaming and full match highlights telecast live and exclusive for national and international viewers
Windows Central Newsletter
Thank you for signing up to Windows Central. You will receive a verification email shortly.
There was a problem. Please refresh the page and try again.