Bing's Cricket World Cup coverage includes predictions, polls and more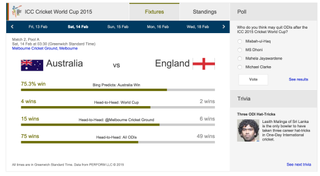 The 2015 Cricket World Cup in Australia and New Zealand is almost upon us and Bing will be giving you some great coverage of the tournament. Searching for "ICC World Cup 2015" on the Bing homepage will bring up the content shown up top where you'll get match predictions, standings, stats, polls and trivia on a day by day basis as the competition progresses.
Microsoft's predictions for match winners are usually pretty reliable, not least with Cortana correctly declaring the Patriots would win the Super Bowl. But it's not an exact science, and at least one person here feels pretty strongly that England won't lose to Australia!
If you're following the World Cup closely, definitely bookmark the page at the source link below.
Source: Bing
Richard Devine is an Editor at Windows Central. A former Project Manager and long-term tech addict, he joined Mobile Nations in 2011 and has been found on Android Central and iMore as well as Windows Central. Currently you'll find him covering all manner of PC hardware and gaming, and you can follow him on Twitter and Instagram.
On phone, search and write ICC world cup 2015 for prediction

Now We know in advance the winner of the coming matches ! We can rely on Bing for the correct predictions.

Just saw that but..Tables can turn anytime as we have seen in the previous editions..!!
#WeWon'tGiveItBack

Table doesn`t matter, We can goto quarter finals easily, Then it matters. "WeWon`tGiveItBack"

It's a saying 'Tables have turned..'

I think Bing predictions are different cause they actually analyse every player venue previous clash outcomes,etc but the cricket predictions are entirely based on only the team's previous track record and not of the players whom many have changed from last world cup. So these predictions mostly can't be true

And now the power of Cortana is really tested

Be the first to comment, I am cricket Fan!

Yes, But when I open this page it didn`t shows any comment!

Fatal fail. Now you can lock up yourself in a room and regret for the rest of your life. And also, you won't get cookies.

That fixures and standings in Bing is Awesome! "All the Best" to Team India! Bing predicts as India will beat Pak in their first matach, lets hope for it...!

Damn right!!! ...*I mean just predicting!

I sure hope so! But I don't think they can stand a chance against Aus/SA this time... :/

He was too busy I think..

Yuvraj ke bina world cup kaise jitoge :(

Jadeja aurr Axar ke sahare

only if we had official app from ICC

Yeah, even Cricket Australia left us Windows fans out in the cold again this year. At least NRL and AFL have official apps here in Australia that allow subscription services to watch live matches. I don't understand when cricket is so big in areas such as the sub continental amd Australia that ICC and Cricket Australia completely dismiss Windows as a platform to promote and sell their product. Having a Nokia 1320 I love being able to keep up to date and watch live streams with a subscription on the NRL app.

ESPNCricinfo desperately needs an update.

Android n iOS apps just received gorgeous updates

All cric apps on WP need update.
Yahoo cricket,Cricbuzz,Espncricinfo and more

Love the way it looks currently, but live tile and notifications are nothing but unreliable.

Try this app. http://www.windowsphone.com/en-in/store/app/cricket-world-cup-2015-unoff...

LOL bhai AUS-NZ Mein h India m nahi
Nayaa theme song aaya h usse sun bhai :P

The timings when showing full schedule are wrong. They show PM instead of AM

Hey Richard couldn't you just ask espncricinfo team whether they are planning to update their app on par with iOS and android or not?

Does Cortana answer these questions?

Cortana not officially available to cricketing countries till now!

Yes. Cortana can do predictions on phone

She'll predict. But don't expect her to come up with her voice.

Best answer. Thanks :) [currently using L630 cyan]

Richard isn't going with the result till the match is over..?

Still waiting on a proper Formula 1 app. I guess its easier to make apps for a wooden bat and leather ball.

Ya need one for that too..Races start next week..!!

Nah, not easier then than making apps for just a sheet of aluminium on 4 wheels. But nobody cares.

Carbon fibre buddy. Living under a rock??

Unfortunately bing sports app doesnt show in depth scores for cricket nor stats like other sports ,discrimination

I think South Afrika will win the world cup.

Well, you are Cortana Part 2.. :P

Maybe they should also update the Sports app to support detailed cricket score views and real time score updates.

Here is an answer to all those ppl who whine about "When in India?" for Cortana prediction capabilities

Cortana still not available in India(Despite WP is 2nd largest marketshare in India), How they will expect cortana prediction?

Well, with Denim its available. I guess you haven't got Denim yet.

I don`t have Denim yet, waiting for it to come..!

Awesome...india beats Pakistan....wiating for d peediction ind vs aus,ind vs eng....

Wonder why MSN Sports app doesn't pull these predictions from Bing. That would make the app much more interesting.

Truly. MSFT has many beautiful services. Its doesn't know how to integrate them. Sad that..

LOL
Star Sports Ki Ad phir sach hogi
Pakistaniyo apne ptake(crackers) andar lakhlo phir dubara moka nahi Milne vaala tumme :P
#WeWon'tGiveItBack

Please before prediction provide us official world cup icc app in windows platform.will be very useful.

IndvPak 15th Feb, bing predicts India Win.

ICC released Official World Cup app, unfortunately no windowsphone app

Had been waiting for it. Cool..

This is Cricket. No one predicts the end of a cricket match :D

Cortana predicts India will win India vs Pakistan match... lol that is too obvious... ;) #WeWontGiveItBack

head on over to bet365 fellas, get rich cause of Bing's Predictions

Ind Vs Pak >>>>India Win :)

England are so losing this by a mile just one week back they lost the final and Australia are in pretty awesome form, I would go on to say that will beat England for sure then win the world cup and then beat England in England for the ashes ,

and still msn sports doesn't show cricket score board

only the Windows phone verison the pc version does show. yaa but windows phone is imp.

Wow this time world cup will be more beautiful....

All cricket apps on Windows phone are not updated since ages. Please wake up ! It's world cup for cricket fans !

How to see bing predictions on phone ?

#Wontgiveitback ... ( #JustTakeitAway ) ;)

Yep poms will get smashed by Aussies. Onya Bing

Cool, good to see cricket finally making its way. Hope store cricket apps can give us reliable notifications and score updates on live tile.

England will lose to Australia. It's cricket, England are a joke.

And they made cricket. So stfu pls.

Even my dog has predicted this...India (Defending Champs) gonna lose the WC... Cortana still needs some work to be done..

You understand what your dog says..?
I know why..

Where's the match fixing app???

Now if we can get NRL predictions for 2015 in Australia with Bing I will be a happy camper! :-) Oh, and the person at Windows Central thinking that England will win the first match against Australia... "Tell them they're dremin" :-) https://www.youtube.com/watch?v=dik_wnOE4dk

Astrology based Toss & cricket predictions for T20,ODI & TEST, World cup 2015 cricket & toss predictions for details visit www.astrokey.info

repeat the history of world cup 1992

The polls are really great thing to know the people interest about the teams, players, games and everything about this ICC cricket world cup 2015.

All are right in the comments. I love CCL 6 live How we can get rid of this Mr. John. I believe this is annying if someone is following you everwhere :P
Windows Central Newsletter
Get the best of Windows Central in in your inbox, every day!
Thank you for signing up to Windows Central. You will receive a verification email shortly.
There was a problem. Please refresh the page and try again.