Bing announces new search features to add more zing to the T20 cricket season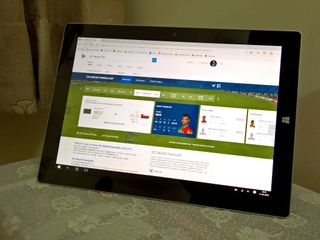 With the onset of Twenty20 cricket season starting with the ICC World T20 in India, Bing has announced a refreshed set of search features such as Bing predictions, polls and quizzes designed to give cricket fans an enhanced search experience.
Searching for Cricket World Cup or similar keywords on the Bing homepage brings up the content to the top where users will get match predictions, standings, stats, polls and quiz on a day-by-day basis as the competition progresses, as well as comprehensive cricket content such as live score, news, videos, photo, stats, previews, commentaries, and more.
Speaking on the refreshed features, Sundar Srinivasan, GM, Bing Search, said,
Bing Predicts
The intuitive Bing Predicts feature makes in-match predictions, updating winners every five overs. Bing uses search, social, and other relevant data to make intelligent predictions about upcoming events, like sports games, reality TV shows, and more. Last year, 83% of the predictions made by Bing Predicts for the ICC World Cup 2015 matches were accurate.
Cortana
Cortana keeps all Windows 10 users stay updated with the latest and best of cricket matches. By simply asking her about 'cricket scores' or scores of the favorite team, one can check the entire schedule of the tournament or just the matches of their favorite team. Cortana also test users' knowledge about the game and one can engage in a lively quiz session by asking her for a cricket challenge.
Ball-by-ball Updates
The search engine will now show users the most recent results and updates starting from match schedule to point tables with a simple search. This helps in eliminating the need to hop between different websites to check match updates. Bing will also have all the information one needs for the matches all in one place with in-depth features including match schedules, results, and top player statistics.
Daily Cricket Quiz
To add more fun to the cricket season, Bing offers users the opportunity to play a daily cricket quiz to test their skills and voice their thoughts in the daily poll. Additionally, it helps enhance their knowledge about the sport's history. Users can share their score card via Facebook and Twitter and can challenge their family or friends to take up a quick cricket quiz.
UC Cricket
UC Browser, leading mobile browser on Android, also announced partnership with Bing earlier this week. As part of their revamped UC Cricket platform, users can now enjoy Bing's unique analytical features and big data and stats about cricket games. Bing will provide predictions to upcoming games via Bing Predicts. Read more about the partnership on Android Central.
Awesome! Posted from Windows Central for Windows 10

Good news for cricket lovers! and also Cortana is improving...but still she can't understand my accent. Also, what's with UC browser, are they going to update it for WP10? Currently, can't login to many of social sites.

When you ask Cortana "what is the next match in the cricket world cup" she says, "here are the latest 20 forward slash 20 World Cup games". So close haha. Posted from Windows Central for Windows 10

Thanks for reminding me that I miss Big Bash League.

Haa... Exactly what I needed...

I just took the quiz and scored 0 out of 5. Bing then called me "just sad". Way to rub salt into the wound :-)

Haha...same here. Bing's essentially calling me a loser. Although, when it comes to all-things-cricket...it might not be wrong. *sigh*

impressive new design and new features.. (:

Okay so how is it better than cricbuzz ?

Half of the Indian population wouldn't know that bing does even exists. We'll use Google forever. Bing sucks.

I'm in the other half. :)
Bing is not bad for regular searches. Maps is horrible though.
Windows Central Newsletter
Thank you for signing up to Windows Central. You will receive a verification email shortly.
There was a problem. Please refresh the page and try again.