Bing developers show off...Bing for Windows Phone 7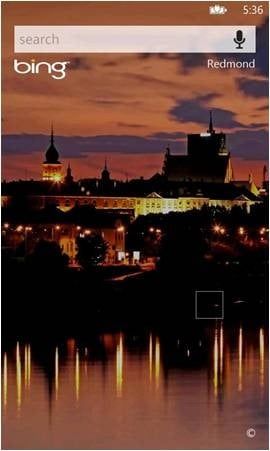 After all of those tech-previews of Windows Phone 7, if you're like us you already feel you "know" the new OS in and out. Likewise for Bing on board, which while currently lacking turn-by-turn directions (boo) promises to build off of what looks to be a solid search platform.
Heck, even the Bing folks think so as they posted a few screen shots to gaze at. Credit is due: it sure looks real nice and we're excited to make daily use of it and finally ditch Google-everything.
Other than that, nothing new, just preetty. See more shots here at the Bing blog.
Daniel Rubino is the Editor-in-chief of Windows Central, head reviewer, podcast co-host, and analyst. He has been here covering Microsoft since 2007 when this site was called WMExperts (and later Windows Phone Central). His interests include Windows, Microsoft Surface, laptops, next-gen computing, and for some reason, watches. Before all this tech stuff, he worked on a Ph.D. in linguistics and ran the projectors at movie theaters, which has done absolutely nothing for his career.
Another failure for Microsoft and Windows Phone 7 1. No turn by turn directions with Bing
2. No side loading of apps
3. No copy & paste
4. No swappable memory cards
5. No 3rd party multi-tasking
6. No threaded email There are so many "no's" I'm sure I've forgot a few. With our existing 6.5 phones, all those no's are changed to yes. What compelling reason is there to move to Windows Phone 7?

1. No turn by turn directions with Bing
Fair enough 2. No side loading of apps
Market Place so I don't get cab which slow my phone down and don't work and freeze other programs and constantly time out! Side loading is crap until YOU can PROMISE that the app with at least friggen load every time shut up. 3. No copy & paste
I don't use now nor have I EVER used in the last 3 year of having my WinMo phones. And they said it'll be fixed shortly after launch. 4. No swappable memory cards
Awesome now I don't have to spend EXTRA MONEY on buying memory when they should have put more to begin with. 5. No 3rd party multi-tasking
Will be fixed but would you rather have it like the ROMs now where you can see the battery decreasing. Yeah thats awesome right. wrong. 6. No threaded email
It annoys me in Gmail it would annoy me on my phone. Though this is easily fixed and I would prefer a toggle.

You've never used copy/paste in 3 years? Seriously? Why do you even own a WimMo phone? Or any smartphone for that matter? I think I used that feature 3 times just this morning.

Since when is a specific feature you might use every day the same for everyone? Maybe he has a smartphone for apps/games and to get online with? None of that needs copy/paste support does it? Honestly, some of you seem to think that the way you do something or what you use is what everyone else does it seems.

1. It may not be ready at launch but it'll be there in an update in the near future.
2. Overrated and not needed by a majority of users if the marketplace is used properly.
3. See #1
4. Again, overrated. If OEM's provide adequate internal storage this isn't an issue and I'm sure they will.
5. It will eventually be available.
6. See #1 or #5 What compelling reasons? Zune integration? Hubs? The great looking UI? Have you read the reviews? There are a lot of pluses to it. Yes it's missing a few things but IT IS A BRAND NEW OPERATING SYSTEM! Microsoft could have waited another year to release it and added much more in but you same whiners would be here bashing Microsoft for that. So what would you rather them do? Also why do you people act like upgrades aren't happening in the future? The missing features will be available down the road. I really don't understand the need some people have to freak out and overreact about everything. The question is do you like the phone and can you live without those things for the short term? If yes, get the phone. If no, go to Android or iphone and we'll see you back here in a year.

I can agree with you guys on every counter except #4 (and, even then, it's really not a deal-breaker). I already have a 16GB and a couple 8GB microSD cards from previous phones and I'd really much rather use that than have to pay extra for a 16GB- or 32GB- or a 64GB-model ala iPhone each time I upgrade to a new phone ($100 for 16GB more... really?). I can only hope they support (and don't depend on) expandable memory later down the line. Oh, and on the "coming soon" thing, don't forget one important 'Yes'; model/carrier-independent software updates. Unlike now, where updates like 6.5.x have been dangling in front of our faces for quite a while after MS releases them or twin sister models get updates months before others, WP7 updates will just happen across the board.

mike - you could equally make a list of things that had 'yes' as well.. the difference is that the next major update to WP7 will add some of the abilities you are mentioning to WP7, whereas the 'yes' items will never come to 6.5.. be more forward thinking, and realize that NO - WP7 may not be everything you want it to be today, but MSFT is committed to moving the platform forward the next several years.. here is a sample of yes's:
1. Support for developing in Silverlight with Blend
2. Support for developing in XNA
3. Standardized minimum hardware spec
4. Compelling user experience for larger platform adoption
5. Support for Zune
6. Support for Xbox Live

I thought the Bing app on 6.x devices had turn by turn directions. It's a mistake not to have it at launch on WP7. I have been pretty blown away by Google Maps 3D navigation product. Navigation is a killer app, and a reason I got WM in the first place, all those years ago, with TomTom and an external GPS unit.

Not to be a grammar nazi but it's "Heck, even the Bing folks think so"

It's cool and fixed. I write these things around 4am, usually under the influence of some spirits, so mistakes are to be expected ;-)

An example of the huge probem with no multitasking: I have a fitness tracker program that I use on WinMo 6.5. I currently listen to the radio on my phone while using the fitness tracker program. If I happen to get a call, no problem, the fitness tracker and radio program keep running. With Windows Phone 7, my fitness tracker program is terminated (thus not tracking anything I'm doing) while I'm on the phone. I have a big problem with that.

another thing is I will no longer be able to listen to the radio while I'm using the fitness tracker program.

The Radio should keep playing since it's part of Zune and that infact multitasks being a MS app. If you have an app that needs to multitask to work, from what I understand, when MS opens up the marketplace to WP7 app submissions you can contact them about it and see how it goes. If the app is good and there is no other way they could give you access, that's how it sounded to me.

I sat throught the developer's webconference this week. They stated more than once that when press either the start button or the back button, your 3rd party app is terminated. That means, if I'm using my fitness tracker program, and I want to change the radio station or change the volume, then my program will be terminated.

Still, with Zune running as the radio you should be able to drop down the radio control menu and change the radio station w/out exiting the program. Currently, on the Zune, when you hit the volume control button it allows you increase/decrease volume, pause/play, skip or back track. When in radio on the Zune HD, it allows you to change station (instead of skip or back track). WP7 will behave the same way.
Windows Central Newsletter
Thank you for signing up to Windows Central. You will receive a verification email shortly.
There was a problem. Please refresh the page and try again.