Bing on Windows Phone 8 getting a "refreshed experience" over the coming weeks, including word definitions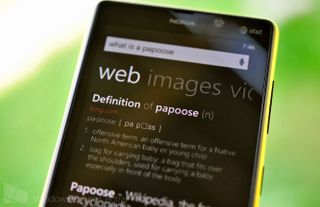 Windows Phone Central has had few isolated reports recently of changes to the Bing search results on Windows Phone 8. We can now confirm that they are real and coming to all Windows Phone 8 devices soon. The changes include a new layout and appear to be the result of usability feedback to Bing.
One of those changes that was brought to our attention is the ability to receive a direct definition of a word in the results (seen above), as opposed to clicking a link to a dictionary site. The biggest change though is in the number of pivots, dropping from the previous four to three: Web, Local, Media, and Shopping versus the new Web, Images and Video. In addition to that change, the pivots themselves have been re-designed with a new layout for information.
The site Windows Phone Daily detailed the changes last night, noting that the Web section is more "context heavy" with local results, including maps, being intertwined with the general web results. Likewise, product cards for items searched will also be merged into the Web results. The resulting change appears to be streamlining the search process so that users have less pivot changes to make when doing basic searches.
Finally, Images and Video, previously both under "Media" now each has separate pivots as well, with larger image previews and a new two-column video layout.
Not everyone has it, yet
We have to second-hand report this information as most Windows Phone 8 devices, including our own, do not yet have these modifications. When the alterations do happen, users won't need to do anything as it will all be pushed from Bing's backend servers to the device. So far it seems limited to only those in the U.S., though even there it is only a minority of users.
We reached out to Microsoft on the matter and we are able to now report that these changes will go worldwide:
So there you go. These changes are official and are confirmed as rolling out, though it may take a few weeks to propagate. We think the updates make more sense and obviously the Bing team is making them to better align with the web version of the search tool.
Have you noticed the changes? And if so, what do you think? Let us know in comments.
Screencaps via Windows Phone Daily; also thanks to aphrophyre
Windows Central Newsletter
Get the best of Windows Central in in your inbox, every day!
Daniel Rubino is the Editor-in-chief of Windows Central, head reviewer, podcast co-host, and analyst. He has been covering Microsoft since 2007 when this site was called WMExperts (and later Windows Phone Central). His interests include Windows, laptops, next-gen computing, and for some reason, watches. Before all this tech stuff, he worked on a Ph.D. in linguistics, watched people sleep (for medical purposes!), and ran the projectors at movie theaters because it was fun.
Define definitions please.

no [ nō ] indicating negative response: indicates a negative response, used to refuse, deny, or disagree with something

Missing local? That sucks! It was such a nifty feature, one that other OS' as far as I know didn't have...

Read closer: that info is merely integrated now into Web.

Can't expect anyone to actually read the article, Daniel....

Ouch! I can't believe I actually became that guy that gets punked by Dan!

I still safe with this. hahaha

Hey Dan, any word on how long the whole update should take on the backend? I noticed that I don't have an local results showing even under web. All that pulls up is links to websites find stores for Seattle. I'm not even close to Seattle. Haha

Ooooooh yeeeeaaah...now I see it...

lol maybe you don't need glasses after all :P

Had to read it closer a couple times until I found it. It would be a great improvement if a search for something like 'starbucks hours' produces a more relevant local search under web.

If you wanted people to read the article you should really consider using fewer pictures.

Local scout is still there, and local results will show up in "web" results.

the feature has yet to work on wp8(non nokia build) instead it seems to only work if you download here maps & still works flawlessly on wp7

I agree. The Local results come in handy. Will suck to have to search through the Web results in order to find the local list.

...they come at the top of the result. Look at the screenshots.

yeah, but it's not the same. People liked them being separte. These results are onlly local, These results are from the wider Web. It was intuitive. Collapsing them ito 'web' is not. That's confusing.

Glad to see they're finally working on something for wp8

Yes! Although I use Voice Butler on occasion and I set the voice command as Cortana. Ready for a smarter built in Cortana though!

Does it give unit conversions on the results screen or do you still have to click a link?

Bing really needs an equivalent of the google knowledge graph, thats really cool and should be made a priority for the bing team.

Yep, I just typed "5 liters to ci" and the conversion popped up, first thing

Now all it needs is to be able to allow me to get my points for searches done on my phone.

+928 on this!!!!!!

That and KEEP Local!!! I use Local almost once every other day!!! I like the to distinguish between web and Local...bummer.

It's not gone, read the article and look at the screenshots. Calm down.

Very calmly, I would have still liked the local results separate.

I would love this, but I guess they still need a reason for us to go to the full site.

Whatever it is, it will never come to India, that's for sure. Bing hasn't even come out of Beta here, shame on you Microsoft.

Seriously.. No Xbox music, no Xbox videos..

You still have Zune? MS makes no sense...

No.. We have nothing.. We just have apps by the name Xbox music n no store to stream music and videos.

Does Xbox 360 and Windows 8 have Xbox Music/Video stores in India?

No, there is no Xbox Music or Xbox Video in India.

Bing is in beta worldwide.

Absolutely not, it is long out of beta in the U.S. and a few other countries.

More like windows 8.1 search. I like

Search heroes would be really cool if they could make that a feature in wp8.1

Well, I'm glad. I like the way Bing is in WP 7.8 and don't want Microsoft changing it for me based on other people's preferences. To me this is just another reason to stay away from WP8. I use the Local pivot in Bing quite a bit, but NEVER look for pictures or videos. Now, if they could make this customizable then that would solve everyone's problem. Why the fuck can't this be customized???? I remember the MSN app in WM goddam 5 years ago you could customize your start page to the topics that interested you. Maybe it's time I go back to my Tilt II...

They really need to bring back the weather results to the top of the list, whenever I say weather, it gives me the useless apps first, then I gotta scroll all the way to the bottom to see the city's weather. Also the local scout needs some serious update.

There are many good weather apps that are much more useful than having to search for the weather.

I get the weather on top of the list when I search "weather [city]".

I don't even have Local Scout here in Canada.

I get local weather if I just type weather. That said I was updated to the new Bing so that many have something to do with it.

I think its new then, I'm on the old layout and when I type weather it gives me apps first then weather channel website then local news website etc.

On the old layout you had to scroll all the way down for snapshot-like results. I still have the old layout, and both snapshots for The Conjuring and Weather were a good 3 screens down (even after "related searches")

it didn't always use to be this way, though. FOr whatever reason, those snapshots got bumped down a few months ago from where they used to be, right at the top.

Well, how about bringing the most basic features to other countries instead of improving it in the areas in which Bing is good anyway?

Yea I noticed when I looked up xvideos it showed blurred videos like it was from youtube

Yay! I had to work for that mention! Hope you didnt mind the repeated emails Daniel.

Not at all, appreciated the follow ups! Thanks.

I wish they could add local news to the local scout, that will kill that Google now BS.

You know this is coming to Google Now soon, right?

I've received these changes here in Sweden.

Strange. What search language do you use? I use Swedish and local results is still separated (the way I would have wanted it) Sad to see Microsoft only is changing the things that actually works.

Still no Bing rewards integration? Bah!!!

Update the Bing App for Windows 8/RT to act similar. Right now it is pointless because it does no more than the web page does and is just one extra step to achieve the same thing.

There is no Bing app anymore integrated into search in 8.1

The app is obsolute, 8.1 has a whole new search that integrates bing.
The Final version of 8.1 should be out in about 1-2 months for download.

Cool. But 1-2 months? I thought they were talking about the consumer version being available by end of August?

No rtm in August then should be rolling not long after

RTM has already started from what I understand. Of course, as you mentioned, those devices won't be out to consumers until at least the end of August.

No, that is incorrect. Windows 8.1 has not RTM'd just yet. They're still finishing it. It's supposed to RTM by the end of August. :)

Yep, you even get Bing Suggestions right in your Start menu search. Pretty cool.

I wish the news search was improved or put in its own pivot. I don't like having to scroll down to look for news, and then have no way to sort it like any standard app would be able to do.

I dint have the new refinements, but it seems to depend on what word you search for, when I search 'Iraq' it has news up top.

About local scout...

I have noticed a wierd difference between WP7 and 8 devices. I am in India but have set my search region to us. On the WP7 Samsung Omnia W, local scout works correctly and shows proper results but on my WP8 Lumia 820, it does not show any data asking me to try again...
Anybody else facing this?

I have the same thing in Canada where Local Scout is not supported. When I used WP7 I changed the browser & search language to US to enable Local Scout. But when I got WP8 I did the same thing and Local Scout has no results. Microsoft must have blocked it in WP8.

I think this is for the best. To say that the Canadian Local Scout results were woefully inadequate would be an understatement (at least here in Kitchener-Waterloo). Case in point: on my old Focus, Local Scout suggests a restaurant that was closed >10 years ago. Also, it puts this restaurant's location in a municipal park...in the middle of a stream. That's just embarrassing.

I just noticed that it mistakes a water treatment facility for a museum. Ah, Local Scout.

Already have the update. Am in France

I was thinking that "Media" was Great! All pics and vids in One place. Curious about the new look

They changed to save your data.

My Bing doesn't scroll to movies or anything unless I set my location to US

Same in here, Costa Rica :(

I have it. Any relation to how slow the Bing picture updates my lock screen? That's been bothering me for a while. The search results are much simpler than they were a few hours ago. Edit: the Bing definition only shows up first in the results if you type "what is [word]" I've noticed. When just typing the word it shows up third or fourth.

You can also "define [word]"

Awesome. See the changes already. Needed the direct definition bit!

I don't see how this is better.

Already on my unlocked Ativ S.

I think I'll set by location to US until I see the update. What drawbacks will this leave me with through the OS since I'm in Canada?

Searching for images was a little annoying im glad it looks like you dont have to press see more images anymore.

cant wait for bing to introduce streaming mode.

http://www.youtube.com/watch?v=iY4S5BQWTMA

Just noticed it on my T-Mo 925.

I've been hating its updates. I draw from Bing images. And when I select certain ones it says I need to try again later. :(

Local doesn't always show up at the top. I think it was more useful as a separate pivot.

You should be able to select the order of what shows up in settings. Would make everyone happy.

I love the built-in definition search.

Only thing I don't like about the changes so far:
-images load at a lower quality and don't load better quality until I zoom in
-the whole movie theater/ movie search is worse. I like the old way where each theater would have a showtime pivot with the passed times grayed out. Now it just not as good Overall though I like it, especially the wikipedia/ IMDB integration when looking up movies and other stuff. Generally saves me from having to open a web page or the subpar IMDB app

Also, Lumia 920, USA. Showed up about a week ago when was back home in CA, still here now that I'm back in SC

Kinda sucks that it still doesn't support the web symbols to properly show the pronunciation though.

They need to add more options like changing the search engines search while not restrict all of that the doesn't help them also let other competitive browsers compete with internet explorer letting the operating system grow some more already!

Changing the default search engine.? You mean like pressing the Search button and Google shows up instead of Bing..?

Just checked, I've got the updated version already. Verizon Lumia 928 located in south central Texas. I like it from what I can tell. Definitions is a nice addition that I'm glad came around. I think I'm definitely going to like having the local results come up right away in the first search pivot with more use. Most the time, the only reason I search is for the Local use.

The local section was my favorite part..

Example searches "Starbucks" and "Kanye West". Bing results: "probably right beside you" and "who cares?"

personally I need a News tab, the news show in the web results and it doesn't show to ALL searches.

but these fixes are the ones that I badly wanted.

Binging "heavy" on the browser and clicking on the 'news' section, I get results about heavy rain and all that.

binging "heavy" on the bing search on my Windows Phone 8 (Lumia 920) doesn't bring a news result.

Bing still has a long way to go, like WP8 itself, but it's getting there. Nice to see some better integration.

I have the updates on my device fyi. Vzw Lumia 928 here. Also add my voice to need for rewards integration and a desire for a news panel dedicated. Just my opinion.

More improvement for Bing please. I'm now starting to become a frequent user of this engine. Slowly detaching myself from google search.

I would love to be able to use Bing as my primary search engine, but right now, it's just a joke here in Belgium. Everytime I defend Bing, people give me very strange looks because the functionality here is nowhere that of Google. That's a huge problem because even if Bing came out of beta tomorrow, nobody would switch because they have tried it and it just sucked so much that people won't bother trying it out again.


I, for one, found the local results to be irrelevant to my searches most of the time. And often times, even if my query had no real local context, the local "pivot" would show up first. I like the changes and am happy to see the platform evolve. But WP users find a way to complain about everything. "Where are the updates? Have you forgotten us?" And then, "WHY DID YOU CHANGE IT?" -_-

I think it should be more consistent to Windows 8.1 search.
I mean, colorful searches, more intuitive and communicative interface.

Now please tell me this update is international and not just for the US

Not seeing the changes yet (North Carolina) but I think I will like them. Sometimes it is unclear in the old version why it chooses to show you Local vs. Web. Having them on one tab with Local results at the top is good. Also, for each local result, you can tap to call or tap to drive from right there, rather than clicking to go to the contact page and *then* clicking the phone number or drive. That's one fewer click 90% of the time I use Bing for local search.

I'm not getting local results in the web tab. :(

You are not alone.

Seems I got all the changes except for local results, which sucks because I used that feature quite often instead of opening up a GPS app first.

Anybody received the change in India?

I've got the update on mine.
Long Island, NY. Nokia Lumia 920 (AT&T) user here.

So not for 7.8 despite this being a change on the backend? This wouldn't be as bad if AT&T didn't screw over Lumia 900 owners by eliminating early upgrades.

Now if we could just search our phone.

Nope. Still haven't got it. Unlocked Lumia 920 in India

Will local scout finally work in Canada?

No 7.8?!?!?!?!?!??!
Fuck you Microsoft!

I used this extensively over the weekend while travelling and I can say that the removal of the local pivot sucks.As an example, try to use the new UI to find a sushi restaurant.


This doesn't work quite right. For example, I searched for the pizza hut in my town to get their phone number. Usually it shows up in scout, no problem. Now it doesn't show at all and I can't find anything but websites in the web section of bing. I really liked having the local view and would roll back the update if it was humanly possible. Stupid move Microsoft.
Windows Central Newsletter
Thank you for signing up to Windows Central. You will receive a verification email shortly.
There was a problem. Please refresh the page and try again.