BitTorrent Sync coming soon to Windows Phone, currently in private beta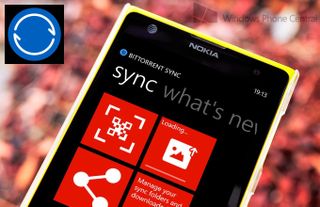 BitTorrent Sync is coming soon to Windows Phone. The app was discovered in the Windows Phone Store and appears to be undergoing a private beta at the moment. Fans of BitTorrent will be pretty excited to learn about their new Sync service. Ready to access your files from anywhere on the planet for free? How about sharing files with a free and not having to worry about upload limits on the size of the file? You can do all of that with BitTorrent Sync.
What is BitTorrent Sync (www.bittorrent.com/sync)? Think of it as cloud storage like OneDrive or Dropbox. The difference is that your files never end up on servers owned by companies like Microsoft, Google, Dropbox, Box and others. Instead your files are only ever on your machine. It's basically a private cloud that you control. Remember Live Mesh? Like that.
The Windows Phone app is currently in a beta. No, there is no public sign up. The app appears to have started a beta test sometime in mid-December. That's at least when the official BitTorrent Sync twitter account started looking for beta testers. Judging from screenshots in the Windows Phone Store, the app sports a spartan look, but appears functional.
Here's what you can look forward to when the app goes public.
Access all your Sync folders and files from your Windows Phone device.
Add photos from your Windows Phone device to any of your Sync folders.
Automatically back up your Camera Roll to a folder on your computer.
File transfers are encrypted and protected by secure keys.
Your information is never stored on a server in the cloud.
Connecting the Sync application to other Sync folders is as easy as taking a picture of a QR code with your camera.
We reached out to the BitTorrent team to learn more about the app and when we can expect it. We'll definitely let you guys and gals know when it comes.
Thanks for the heads up Robert W!
P.S. It won't do you any good just yet, but this is where you'll find the app in the Windows Phone Store. You were going to ask anyways.
Windows Central Newsletter
Get the best of Windows Central in in your inbox, every day!
Yeah definitely excited to see apps like this coming to Windows Phone. The iOS/Android apps aren't that old either. Few months I think.

I'm able to download it now. is that right? Because the link is live
Edit: I'm being such a noob. I didn't even try the link. I can't download it sorry for my stupid behavior :)

No, its in private beta. You see an install button but it will tell you permission denied if you try to install it.

Can't believe MS killed this (mesh). Glad to see someone picking up the slack. Goodbye SkyDrive! Hello owning my own data again!

Soon I'll be able to easily access my pirated movies! :D

You can already do that with Plex.

Already doing this with curte y DNLA and Bittorrent remite for WP.

I can install it. The download link is live

I'm being a noob Dan, sorry I didn't even try the link. I actually can't :)

Nice. You're not in the beta right? You'd be the first. It's totally possible that this will be the public link and it's slowly rolling out in the Windows Phone Store from beta to public. Enjoy!

Lol I'm only in the beta for toib not this ;)

Interesting...following download link, app is already available to install or am I missing something? Update: clicking Install gives an error - Can't download...sorry, you don't have permission to download this app. :'(

What can i do with this application bit torrents?

Nah. The app teaches you how to read articles though! Very handy tool ;)

Your own private cloud using the bittorrent protocol.

Yeah download link is worked ng u can download

Did you actually try clicking install?

Click install, it isn't. You will get permission denied.

I would remove the link to the beta, as it seems to be causing a lot of confusion. Generally when the app goes live to the public, they end the beta and submit the app - and it would have a different appid/link

Please let us know when this goes live... I sooo want this!!!

I've been using BitTorrent Sync to sync family photos, videos and recorded television between family and friend for a year already and love it.
Fast, efficient, graceful - great when want to back up your data on a distant location.

FOLKS!!! WINDOWS PHONE 8.1!!! Check this out: http://www.windowsphone.com/en-us/features Offical Page is TESTING and Publishing 8.1 features so SOooooon :) hahah https://onedrive.live.com/redir?resid=C9E24AE1FE2D5F1C%213726

No the 8.1 page isn't live

maybe WP page team preparing smthg for tomorrow..:)) let's see

What's special about tomorrow?

WP8.1 update for Preview for Developers, who knows :D

I like my OneDrive, but personal server is way better! Now the question is, Win 8 app available? Love to have this on my Surface 2

Well... This is one reason to switch from utorrent..

I'm still waiting for the official utorrent or Bittorrent download client which we can use to download torrents.

Have you tried WPTorrent?

What about telegram?? It was uspposed to come in jan but telegram isnt getting a declining response in other os coz ppl have spread the word trojan horse

Awesome, this is exactly the kind of thing I want especially if it'll let me transfer/stream music from my pc.

Hope they wrap it up into the suggestible search function era.

I'm in the beta, Theres a gallery link in the news discussion, and here: http://postimg.org/gallery/1f8rb6uze/
This app is pretty awesome right now, and its only going to get better with windows phone 8.1 and the file picker.

Yes even now prettier and awesomer "new" lines are coming to your Surface Phones.

I love articles like this because they inevitably out those who read articles and those who don't and just comment on them.

AWESOME!!! I really love this app for my Nexus 4 and am so happy it will be available for my 1020 soon. Finally one place to store all my videos and photos from my mobile devices...my own home server!!!! :)

Has anyone tried the western digital my cloud system?

Is anyone concerned with security with this app, or is it just me? I know it has authentification, but are our files in any way going to Bittorrent?

When I try to download the app I get a message that says I don't have permission to download the app. Why am I getting that message?
Windows Central Newsletter
Thank you for signing up to Windows Central. You will receive a verification email shortly.
There was a problem. Please refresh the page and try again.