CEO of BlackBerry hints at BBM going 'beyond handsets', maybe going to desktop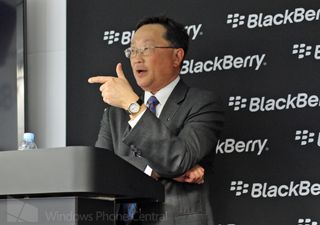 Barcelona, Spain – BlackBerry Messenger (BBM). While not many Windows Phone users are too familiar with the popular and secure messaging service, things will change later this year as a Windows Phone 8 client is launched (probably for 8.1).
This morning, BlackBerry held their press conference where the company is certainly far from the grave that some have proclaimed. Indeed, the company announced two new devices (Q20 and Z3) and mentioned they're working on some new high-end devices for later this year. In addition, they announced BES 12 and more on enterprise services coming to, more of which you can read at CrackBerry.
During the Q&A session, John Chen, CEO of BlackBerry, was asked about the Facebook – WhatsApp deal. Considering the $16B transaction, it looks like BlackBerry missed a bit opportunity to be 'the' universal mobile messenger. As a reaction, Chen – who's very candid – said that they're thinking "beyond handsets and the phone" for BBM, strongly indicating that putting their messenger on desktop was on the table.
This makes sense, from a development perspective. Windows Phone 8.1 and Windows 8.1 will share around 70% of programming libraries, making co-development on both platforms much more streamlined. The argument is, 'if Windows Phone, then why not Windows' (or vice-versa)?
Will BlackBerry make a desktop BBM client? They should. And they better. WhatsApp, which is tied to your phone number, has a more difficult time leaving the mobile world. BBM though is based on a PIN and ID system, making it transferable to other devices. Desktop should, in theory, be trivial (one issue though is BBM can only be 'active' on one device at a time).
It will certainly be interesting to see where things head later in 2014. Stay tuned.
Windows Central Newsletter
Get the best of Windows Central in in your inbox, every day!
Daniel Rubino is the Editor-in-chief of Windows Central, head reviewer, podcast co-host, and analyst. He has been covering Microsoft since 2007 when this site was called WMExperts (and later Windows Phone Central). His interests include Windows, laptops, next-gen computing, and for some reason, watches. Before all this tech stuff, he worked on a Ph.D. in linguistics, watched people sleep (for medical purposes!), and ran the projectors at movie theaters because it was fun.
I hate blackberry phones for the high price for no reason but i give them respect for not killing themselves

BBM easy.... deleted whatsapp as soon as it went cross platform and everyone downloaded in my circle of friends. Feature wise, BBM blows it out of the water right now.

For that reason alone i salute them.

The Z3 will be priced below 200$(5 inch 1.5 gb ram 8 mp camera) and thats a great achievement considering Deal with Foxcon went real good.John Chen is a real good CEO for Blackberry considering all the changes he bought for good

1.5 GB of RAM? Good Lord, why would a budget phone need that much RAM? Does BlackBerry not understand what a budget phone is?

It's a budget "smartphone". Gee calm yo tits.

So? The Lumia 520, 620, and 720 all have 512 MB of RAM. Can Blackberry not optimize code to run on that much RAM?

Lol so what that they all have 512mb? Z3 is still a budget "smart phone". Maybe higher end budget device.

Even if you dislike BlackBerry phones, you might like BBM, especially if it's cross-platform.

That is the main reason ppl used to buy them but now it will be available on all smartphones including wp8 in a few weeks.I haven't actually used bbm b4 but im glad its spreading since almost 40% of my grade had or has a blackberry.

Only if its going to be Modern. A port, and I am out! I am keen on Skype leading the market though. They have the best benefit currently if they play their cards right.

Skype should have eaten up the messaging market but they executed far too slowly, Merging Skype with MSN Messenger should have killed off any competition. Instead it was a mess and drove people away from both products. I realise they had to change their structure from P2P to cloud based and that's far from trivial, as I'm sure was merging MSN into Skype but they should have put more resources into it to get it done faster. It's typical Microsoft, grand visions, but the execution fails. I'm looking at you Windows 8. They will get it right eventually, but it's always "wait for sp1" before looking at it, and "wait for sp2" before using it in anger. I know as a programmer how hard it is to get things done right first time, and it's almost not fair the weight of expectation of perfection we have of companies nowadays. But with there being so much competition in the messaging and OS space these days they cannot fail to execute perfectly first time anymore. Oh yeah, sorry this was about Blackberry. Yeah, quite impressed with how they seem to be turning things around. If WhatsApp is worth 19Bln then, they have a chance to leverage BBM and make the company profitable again. A few clever partnerships, get it on every OS (almost there) and they can live off that and almost forget their phones (which face it everyone else has).

I've been using Lync 2013 at work for about 6 months now, and I believe that this should have been Microsoft's messaging platform. They should have kept the Skype name, but the back end should have been Lync

Windows 8 is great. People who don't like it are a bunch of prehistoric crybabies.

It would be quite good if a person can use the same bbm account/pin across their devices.

perhaps the diehard bb fans might switch to wp platform. most bb users are either are a fan of bbm, physical kb, or the berry fruit. either way i hope bbm being on wp helps more bb users switch to wp.

I used to be a diehard Blackberry fan. When it was time to change, WP was my choice. I'm glad I made this choice.

After BB I had to learn the hard way...had a GSII Skyrocket for almost 2 years, after that a 920 and I'm never looking back... :)

Eventually bb will die I don't see innovation

The reason why because they lost imp investors from bb. I don't know y but they withdrew from blackberry and might have invested somewhere

Nor with Apple, but thier still kicking around too.

imagine BBM on windows 8.1 pc , which syncs all your chat history , contacts from windows phone 8/8.1 ; WOW i will kick whatsapp :D

Is Skype on surface a good app??

No, just like windows phone, lacking features and unreliable.

If your phone is unreliable you've got bad hardware.

Troll. Windows phone is fantastic. give it a try before you wimper.

it lacks file sharing :\ otherwise good for video/voice chat ;)

Ask me the same question on 3rd April ;)

Noted in my cal. Haha I know 8.1 will open new API

Yep. Skype works great on my Windows Phone/RT and PC.

Wow. That's alot of "what-ifs" for a product that's not even in testing.

Cool. Chrome gave me a good giggle for the past few years. Need a new shtick.

I think bbm will be the only social networking app which switches from phone to pc instead of pc to phone.

Isn't it messaging app instead of social networking? Does it recommend pins to add after you add a certain pin?

A Windows Store app would be great!

Nigga you just went full retard

Well, there's an appropriate comment. /s

From a Wigga straight out of the suburbs 'yo.

Bbm, whatsapp, Skype...and others..
I think it's too much...

Choice is a good thing, it fuels competition and innovation otherwise it would become stagnant - this applies to any sector. The moment anything becomes stagnant and remains stationery, it becomes irrelevant. Case in point BBM stay confined, that's why whatsapp became a hit. If BBM went cross platform with voip when blackberry was THE talking point, then whatsapp most likely would not have been such a big hit. However Blackberry should also have slashed their fees as well otherwise they wouldn't have lost many of those major clients i.e the NOAA. Something is better than nothing, unfortunately some companies fail to see that.

Choice is a good thing, but unification too ;)
Open 3 applications to follow a conversation, it's too much....

And therefore, the widest availability makes BBM the most unified communication experience. If BBM goes windows, it wouldn't be hard to pick em as a preferred service amongst you and your 3 friends.
It literally nails it with security, it has very little bugs (even on the cross platform release), and operates fast, with video and voice.... I see my friends who hate blackberry to their core of their soul with the BBM icon ontop of their android device - because of this "unification" many of us desire. All that other stuff like security,groups, channels, and read reciepts are just features.

Not bad , but on the other hand if making new phones,I thought bb is long gone

BBM gets a lot of attention. I for one couldn't care less thou.

Feel the same way about iPhone...

Bb 10, came to late for blackberry... Their OS was soo bland for so long. I don't see them bouncing back to the same level they were at years ago. The curve series and bold series brought nothing new in terms of innovation after each iteration. They had a golden opportunity with the playbook but failed to capitalize on it with half-assed software. The blackberry torch should have been released alongside the initial blackberry storm imo, that was a no brainer. The other thing that killed them was apps, they were insanely expensive - at £2.99 whereas the same or comparable app cost £0.79 p on the app store. My last blackberry I used constantly as a daily driver was the bold 9700. The others were just for troubleshooting and spares. In a month i was bored to death with my bold 9700. Returned it for a full refund on amazon, couldn't handle the blandness lol even trying to make a custom theme didn't help. If they can figure out how to have multiple instances active at the same time, then maybe they have a chance - as a pin is unique to an individual blackberry - unless they changed that?

I had wondered a while back why they don't do this.

Never used it, but nothing can replace google talk for me.

WhatsApp being tied to your phone # as opposed to BBM using a PIN is not really an issue; Viber is on desktop and uses phone #s as well.

Another long wait.....this app has already used by android user, for them this app is little old and for us it is brand new......what the hell type of feelings.......

Dan, Whatsapp is tied to a phone number, yes indeed but so is Viber. Your Desktop app simply sends a code to your phone and you are good to go. I have Viber on L625, Toshiba, AT100 and on desktop and all work harmoniously, unlike Skype. Tried to use BBM on android it just does not work. Easy of use MUST be considered seriously in this day and age.....

Maybe someone will buy them for $19 billion.

And then BB became a services company and they didn't go under.

Hi everyone! I'm quite disappointed with this MWC 2014 windows phone related news. I love windows phone. Last year was great, with lumia 520, 720, nokia glam me... announcements. No news yesterday, even not today. BBM it's ok, but when? Hipstamatic (which was announced with lumia 925) is still buggy, same thing with instagram... I think that it's not only Nokia's responsability to bring apps to windows phone. But they have miss a great chance to be noted... I hope lenovo, HTC, samsung, and other boost app development. We are hungry (some may be angry) and we want apps! :) Come on /build// ! :) instagram @barronjon

This was expected. Had WP 8.1 launched last Fall, the story might have been much different at MWC, but manufacturers, app developers, and Microsoft themselves are waiting on WP 8.1 in April.

Just BBM? I want to see Blackberry's windows phone.

Yasssssss. Aside from Sony, I like BB hardware too. I like them all hard and tough!

Please tell us you have breasts.

BBM on desktop is really smart they should also make an app in window 8 app store it would be used a lot growth would jump if they did both and made an advertisement! On the internet!

Finally BBM for WP... Now that FB is supposedly going to ruin WhatsApp with ads :/ I'll have an option.

Both Facebook and Whatsapp CEO'S have said that they are not going to change whatsapp :)

Firstly, I hope so.:) :P
Secondly, The servers were down in between.. Some said it could be cuase they were bringing changes to the core of the app.. Still I hope I read that wrong..

I guess BB sees potential to claim back the messaging market. They have a reputation of being secure and distrusting Whatsapp is in fashion. Which is probably why they suddenly do care about Windows Phone. Can't be the number 1 if you don't support the entire market. Hopefully this means Telegram will quickly respond as well. I wonder if BB actually thinks the messaging market is worth 19 billion or that they just hope to boost their value the next time they try to sell themselves.

I hope they don't think BBM will save this company.

I'm just glad they finally got over the fact they are no longer a mobile phone company and certainly not #3 by snobbing WP.

Don't care about BBM. Just BBM can't save black berry.

This company needs to die already. Sorry but it needs to go

Good thing they're listening to you... Oh wait Posted via the WPC App for Android!

Blackberry too expensive like car

bbm going to desktop . i think its no good
Windows Central Newsletter
Thank you for signing up to Windows Central. You will receive a verification email shortly.
There was a problem. Please refresh the page and try again.