Review - Blackjack Assassin, a no-frills universal app for Windows Phone and Windows 8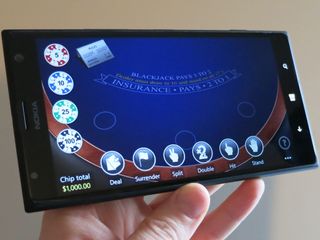 We have several blackjack games to choose from on Windows Phone and Windows 8, most being of the free-and-supported-by-ads variety. But hey, ads can be annoying!
With that in mind, I recently checked out a paid universal game called Blackjack Assassin from DeadCode Software (the trial is fully featured and ad-supported). With a name like that, you might expect a cool and quirky approach to the traditional game of Jack Black, I mean blackjack. Blackjack Assassin is actually a very straight-laced blackjack simulation, but dedicated fans of the card game might not mind. Head past the break for our full review.
Simple game, simple simulation
At start up, Blackjack Assassin zooms past its title screen and directly into the game of blackjack. No menus to deal with or multiple modes to select from, for better or worse. Players start with $1,000 worth of chips and simply try to win as much as possible by playing against the AI dealer. You can play till the money runs out, or start a new game at any time. Assassin always saves your progress in the current game, so you needn't start from scratch when resuming the game later on.
The playing field on Windows Phone consists of a clean-looking table whose color can be set to red, blue, or green. Your cards appear near the bottom, with the dealer's at the top. Along the left side of the screen are the four types of chips with which players can bet. At the bottom you'll find your chips total, icons for betting, hitting, and standing, a hint button (which appears as a question mark), and the menu button (ellipsis).
What you won't see is the actual dealer, or any other character. Despite having a great title and nicely drawn Store icon and title screen, Blackjack Assassin itself just doesn't have any personality or flair. That's not a crime for a blackjack game. But when you give the game a creative title and icon/title screen to match, that creates an expectation for some assassin-themed imagery, characters, and maybe even game modes. Even the Win/Lose/Surrender visuals are completely plain and underwhelming (plus they need sound effects).
Options and references
Missing assassins aside, Blackjack Assassin is still a good no-frills single-player blackjack simulator. During the game, you can tap the hint button to view an evaluation of the odds and recommendation for staying or hitting – quite useful. The menu button brings up three choices as well:
Table Rules: Toggle six different options. The terminology is difficult to decipher for this casual blackjack fan, but I guess serious players would understand options like "Decks in shoe."
Preferences: A few simple preferences like table and card back color. Users can swipe between Preferences and Table Rules pages without returning to gameplay.
Strategy Chart: A color-coded chart that recommends whether to stand, hit, etc. based on your hand and the dealer's hand. Swipe left or right to check out the legend for the chart.
All three screens are formatted for portrait orientation only on Windows Phone, even though the game itself uses landscape orientation. Landscape support for the menus and charts is a must, so hopefully those get added in the near future. On Windows 8, the chart is formatted for widescreen and the Rules and Preferences are tucked away in the Options sidebar rather than within the game's UI.
Universal and off to a good start
Even though Blackjack Assassin's presentation is a bit of a letdown, the game still looks better visually than most of the free blackjack games on the Store. It brings a fast and authentic recreation of the card game to the table, without unsightly ads or IAPs marring the experience. The hint feature could even help you improve your game.
Hopefully DeadCode continues to improve the UI and push the game towards the potential of the "Assassin" title. A few more game modes wouldn't hurt, either. But if you're serious about blackjack, this game is already a good buy as-is. Especially if you use more than one modern Windows operating system...
Blackjack Assassin is a universal app, so you can buy once on Windows Phone, Windows 8, or Windows RT and get access to all three versions. However, the game does not support cloud saves so progress doesn't transfer between platforms. Considering the lack of long-term goals or modes, the absence of cloud save support is not a huge loss for this particular game.
Blackjack Assassin – Windows Phone 8 – 4 MB – $1.49 – Store Link (universal app)
Blackjack Assassin – Windows 8 and RT – 6 MB – $1.49 – Store Link (universal app)
Windows Central Newsletter
Get the best of Windows Central in your inbox, every day!
Paul Acevedo is the Games Editor at Windows Central. A lifelong gamer, he has written about videogames for over 15 years and reviewed over 350 games for our site. Follow him on Twitter @PaulRAcevedo. Don't hate. Appreciate!
You need to beat the dealer by scoring closer to 21 without going over.

Does blackjack even need frills? You don't get anything fancy in real life, so why in game? It's a simple game with simple rules.

Does GTA need all of what it offers?.. Real life isn't like that so why not just have a driving game with a long road for miles, and miles, or a game where you just sit in traffic, on a highway, on an average commute home.... IDK, maybe because some people play games because of what you can't do in real life... Wow! Their lives must be really boring...

GTA is a franchise that was built like that from day 1. So if they want to sell record number of copies, yes it does. People expect all of it from GTA, nobody expects anything special from a blackjack game.

So, you're saying that there are any BJ games with a twist?

I'm loving these universal apps... Best way to get more apps on both platforms.. It's a no brainer!

How can one enjoy a game when one has to suffer having no WhatsApp?

No Xbox, no buy. #SaveXboxWP

Universal app - will buy for sure!

I just bought it on Windows Phone, do I have to buy it again for Desktop? So 2X out of my pocket when the developer only has to write the code once?

Nope that's the whole reason

Why would you have to buy it twice? Do you not know what a universal app is, and you didn't read the review?

Based on the screenshots, you can get advice for your hand, see basic strategy charts and customize all the rules of the table (number of decks, dealer stands on soft 17, etc.)...I think the reviewer may be missing the point a little bit, this looks like a combination of a game and a training utility, more than just a simple game.

I knew it. It's not all about Whatsapp and Xbox People! U like the game or not. It does not need to be Xbox to enjoy it. WhatsApp naggers should learn to read news about when to expect it. So rude.

anyone know if there is a decent online multiplayer blackjack? I used to play in real life just for fun (nothing serious) and did quite well. I just find it entertaining, but playing against a machine isnt all that appealing.

Sweet I can brush up on my blackjack skills

I wish they would make a category for universal apps if I am looking for a certain kind of app I will pay for these before others

Yeah, that would be really useful. Maybe someday!

Maybe some one can keep a list of known universal apps if there is one in the forums maybe post a link

Maybe I missed it, but I'd love to see an app roundup of the Blackjack options on both Windows Phone and Windows 8, paid or not. Love it when you all do the heavy lifting for me - I certainly don't have the time to download a dozen apps to choose my favorite. Would also love to see a Minesweeper roundup and a solitaire/spider solitaire roundup!

Those are all great ideas. We'll see what we can do!