Blizzard president apologizes following Hearthstone Hong Kong controversy
By Carli Velocci last updated
"Blizzard had the opportunity to bring the world together... and we did not."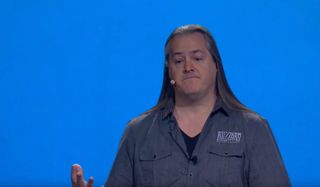 (Image credit: Blizzard (screenshot))
What you need to know
Blizzard president J. Allen Brack began BlizzCon with a statement on the Hearthstone controversy.
He apologized, noting that the company acted too quickly in regards to the incident.
Protestors gathered outside of BlizzCon Friday.
BlizzCon kicked off Friday with what was arguably the biggest topic of discussion: the controversy surrounding the actions taken against Hearthstone player Blitzchung.
The keynote began with a statement from J. Allen Brack, the president of Blizzard Entertainment, where he addressed that the company moved too quickly when it initially banned Hearthstone grandmaster Blitzchung
"Blizzard had the opportunity to bring the world together in a tough Hearthstone esports moment about a month ago and we did not," he said on stage. "We moved too quickly in our decision making and then, to make matters worse, we were too slow to talk to all of you."
Brack continued by taking responsibility for the company's actions, but not mentioning the specifics of the situation or Hong Kong or China.
"When I think about how most unhappy I am I think about two things. We didn't live up to the higher standards we set for ourselves. Second, we failed in our purpose. For that I am sorry and I accept accountability."
Opinion: Activision-Blizzard's Chinese-censorship controversy, and why it's time to take a stand
It was inevitable that Brack would make a statement at BlizzCon. The biggest story for Activision Blizzard over the past few weeks was in regards to this controversy, wherein Blitzchung (whose real name is Ng Wai Chung) was banned and stripped of his prize money for making pro-democracy statements in an official stream. Hong Kong is in the middle of civil unrest as the country works to stay independent from China.
The two commentators, who did not make any political statements, were also fired.
Almost a week later, the punishment was downgraded to a suspension and he was re-awarded his prize. The commentators' punishment was also downgraded. The company iterated that its dealings with China (Chinese corporation Tencent has a five percent stake in Blizzard) were not a factor in the decision.
Even so, the damage was also done to Blizzard's reputation. Following Blizzard's initial statement, many employees staged a walkout. Multiple U.S. lawmakers also condemned the company for taking a "concerning" stance, especially "in light of the Chinese government's growing appetite for pressuring American businesses to help stifle free speech." Pro-Hong Kong protestors also took to BlizzCon Friday morning.
After the statement, the keynote continued with multiple expected but huge announcements, including Diablo 4. The crowd cheered as Brack appeared to have tears in his eyes. He followed the apology with positive notes about the convention and its international diversity. He said there were 59 countries represented.
"That is the positive power of vieo games, to transcend divisions that surround us," he said. "We will do better going forward but our actions are going to matter more than any of these words. As you walk around this weekend, I hope it's clear how committed we are to everyone's right to express themeslves in all kinds of ways in all kinds of places."
The crowd cheered again.
Carli is the Gaming Editor and Copy Chief across Windows Central, Android Central, and iMore. Her last name also will remind you of a dinosaur. Follow her on Twitter or email her at carli.velocci@futurenet.com.
Well look. If they change their actions on a situation. I Mean genuinely change then that can only be commended. And everyone deserves a 2nd chance. Here's the thing. They are attached to Activision. And Activision have said sorry about 40 times over this generation. And keep going back on what they say. Is this a concern since they are ActiBlizzard? Absolutely. But I'll see how thr Blizzard half of this equation plays out. I'm not hopeful. There is a reason Bungie got out of there. Ironically Bungie left MS in 2007 to move away from corporate. Then they joined one of the worst controlling corporations in gaming under Activision. So I'll hold judgment for now.

No forgiveness. Mega corporations have a responsibility.

Then don't forgive. Nobody has to forgive. But don't pretend they're trying to dodge accountability.

Hardly a sincere apology when they didn't undo all the bans they made

Please correct the two typos in the final quote.

There's nothing they should be apologizing for. The idiot kid violated the clear rules and used Blizzard as a platform for politics (doesn't matter how good the intention is) when he was supposed to be talking about a game.

Said like a truly privileged person. You're able to simply say "no politics" because your life isn't on line due to a political issue.

@rld082982 Only a person who has no understanding of ramifications of certain aspects will make such a statement about Blitzchung; who remarked about the political situation of his home country and he had every right to make such a comment about the situation because it needs greater exposure.
Windows Central Newsletter
Get the best of Windows Central in in your inbox, every day!
Thank you for signing up to Windows Central. You will receive a verification email shortly.
There was a problem. Please refresh the page and try again.