BLU Win JR also grabs Windows Phone 8.1 GDR1 update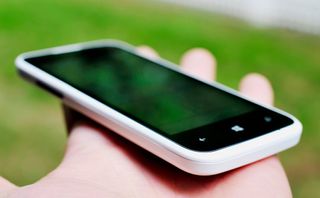 Besides the BLU Win HD picking up 8.1.1 (build 14203, which came out last month for Preview users), its smaller and cheaper sibling the Win JR is also getting the same update.
Heading into Settings > Phone Update and owners of the dual-SIM budget Windows Phone will be greeted with an impending OS update.
Much like the Win HD, the Win JR does not appear to get an accompanying firmware upgrade, so this is just meat and potatoes as an OS update. Still, for those who bought this phone, you are most likely not in the Preview for Developers program, so this official update is indeed welcomed.
We are still updating our phone, so besides Live Folders and some other 8.1.1 enhancements, we will have to wait to see what is new.
Thanks, Cristhian C., for the tip!
Daniel Rubino is the Executive Editor of Windows Central, head reviewer, podcast co-host, and analyst. He has been covering Microsoft here since 2007, back when this site was called WMExperts (and later Windows Phone Central). His interests include Windows, Microsoft Surface, laptops, next-gen computing, and arguing with people on the internet.
Omg! When is it coming to Lumia?? I am happy for u blu!

Forget about it if you are on Verizon :)

I have an unlocked Lumia 1520 in india:P

If they keep it up, blu might come second best OEM for support. Or the best non Microsoft

When its coming to HTC? I mean 8.1 not 8.1.1.

This article made me hungry by mentioning meat and potatoes.

Ohhhh..
................
Back to business... 1520+Denim.

Nope.. That's why I'm whining.

People have reported a bug in the Extras+ Info page in settings. My 520 apparently has Lumia Denim. XD

No, no you dooooooo not❗❗❗❗

That's what I told my phone, but it was like - No you have Denim. Whatchu gonna do about it?

Just keep telling it that, because it looks like its coming soon.. Very soon.

Later this week for Lumia. Probably tomorrow.

A lady at work just bought two Blu HD phones. Spent lunch time showing her around the WP OS. Some serious screen response issues compared to my Lumia 1020. Not a bad price but the responsiveness was very noticeable.

Didn't the last article mention that the update fixed a lot of that?

If it did,I didn't catch it. The placement of the power and volume buttons is weird too. The lack of a camera button threw me. I am REALLY appreciating my Lumia now. Now I've got 10 new Windows Phone owners that I'm sending daily tips to.

Good for you man! I'm still working on converting my first Windows Phone user. Had some bites so far but so many people seem hung up on the fact that iPhone must be better since everyone else they know has it.

Fully updated both phones. MUCH better. Actually a nice little phone. Camera is average but amazing how smooth the OS on this thing. Kudos to Microsoft. However couldn't install Here Drive or MixRadio. Wasn't available for this phone it said.

Try sleeve music. Its powered by mix radio and better. Just downloading option not there but hey you get music directly from soundcloud.

Thanks. When I get to sending "Music tips" I'll include that one

Is it strange that a lesser known brand like this seems to get it but phones from Samsung and HTC haven't? I know Lumia haven't but they will eventually.

Not really.... There's no firmware to go along with it

My Samsung Ativ S Neo got the official update last week..

My Samsung ATIV S i8750 is running the official WP8.1.1 for almost 2 months now, most ATIV S's do now.

My phone still says its up to date

Shouldn't the 1520 get the update first?

1520 needs FIRMWARE aka Lumia Denim. This update does not contain firmware, so it was not slowed down (also no carriers).

All phones need firmware. FW+OS. The problem is that the Denim is taking too long, and I'm thinking that's 'cause the New Lumia Camera is really ready yet. They want to release together.

Samsung and google can die! Worst companies ever..

Samsung has windows phone Ativ series. And remember one of the first companies to adopt windows mobile OS. But yes Google is the bitch.

Daniel, I know you hate the "seems faster", but it honestly does feel faster to me.

nope. it will be "feel faster". he used "does" before it.
it's either "it feels faster" or "it does feel faster".

weird, my dad's WinJr from the MS Store already came with 8.1.1

Mine came with 8.1.1 when shipped Cyber Monday but also received this latest update yesterday. Live battery tile and Update schedule time. See Wikipedia - Windows Phone version history article. NTP time sync I'm not sure about but time properly set without sim installed. Lock sound seems missing and I can't install phone language English (Canada).

When will it come to lumia 635 t- mobile?

I have the latest update for 630 from dev preview and let me disappoint you.the new 8.1.1 it's fantastic but our battery it's not big enough to worth it ​ ​

Lumia please.....
'seems slow'

Just went down the page sweet.

It would be nice if I can have folders on my phone 1520 AT&T. They take forever! Lol

Why don't you just get the developers preview I can prom is you its smooth and bug free. It's the same os as you will get with denim just without denim. It will give you all the new features minus what denim brings and help you wait till denim finally comes out you will have the folders and everything else that win Jr and win HD got and no it ain't buggy got it on my Nokia 635 at&t and it works fine well I go through cricket with a att go phone but that really don't matter just try it you won't be sorry.

Well you know, I was just kind of weary about downloading that on my new Nokia Lumia 1520 because of bugs, but I'm tired of waiting on updates, so I may just go for it.. Thanks for the recommendation.

When will it come to Lumia 625.i live in India

Me too waiting in India with 630

This must put Verizon to shame.....Despicable Verizon. But May 2015 is fast approaching.

And still it hasn't arrived for most of the Lumias.....

lag update for my 1020 :\

Guess what? I found a site that's giving PSN codes away for free! freepsncodes .cc

You're my boy Blu! Posted via the Windows Phone Central App for Android

What is the difference between locked and unlocked?

Locked - It works only with a sim from the carrier that you got it, no other carrier's sim can't work with it. Unlocked - Work with what ever SIM you throw in the phone.

Dependent on carriers, not dependent on carriers.

Gestures beta is really going be a big Lumia feature for sure Thumbs up for the App using Lumia 730 from India

yeah your right. they will surely improve that app.

Earlier than Lumia phones!!! Wtf!!

I wish these BLU phones were sold in India.

I am impressed with Blu. If they make a phone with an upgraded processor in the future (Snapdragon 400+) I'll be buying a phone from them. The Blu WinHD ran a little slower than I would have liked when I was checking it out at the Microsoft store. They got almost everything else right on that phone except for the processor.

To the contrary of what is announced, there is indeed a firnware update, bringing it to 00510.24500.20001.11251. Open up your eyes folks, it is just there!
Windows Central Newsletter
Get the best of Windows Central in in your inbox, every day!
Thank you for signing up to Windows Central. You will receive a verification email shortly.
There was a problem. Please refresh the page and try again.