BLU Win HD grabs official Windows Phone 8.1 GDR1 update!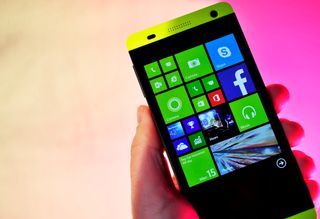 Update: The BLU Win Jr also has the same OS update available.
Those who own the affordable – and highly stylish – BLU Win HD Windows Phone will want to force-check for an OS update. BLU in conjunction with Microsoft is pushing out Windows Phone 8.1.1 build 14203, one the latest versions of the Windows Phone OS. By comparison, the Preview for Developers program is up to version 14219, so as an official update, this one is quite close to the newest edition of the OS.
BLU Win HD users will find an exciting surprise upon installation: three-column support is now the only option for layout of the Live Tiles on the Start screen. Some users may not like this, but from our experience, it looks great on the Win HD's dark black display.
Additionally – and I hesitate to say this – but the OS really does feel faster. This is actually a very big deal as the BLU Win HD ships with a modest 1.2 GHz Snapdragon 200 CPU. In terms of graphic performance, this is as low as you can get on Windows Phone, but this puppy is pushing a 5-inch 720P display. With today's OS update, it certainly feels more optimized for low-end hardware, with fewer hesitations and pauses when scrolling or loading apps. Indeed, it almost seems like a new device. Even the new OneDrive app comes pre-installed, which is a nice touch.
Live Folder support is also included as well, plus the other 8.1 Update 1 features (more information about that update can be found here).
Note: There is no corresponding firmware update, so this is just is just a straight OS refresh.
We are still digging around for anything else that is new, but for now, go ahead and grab the update. Sound off in comments or check out our BLU Win HD forums for more information.
Thanks, Chad F., for the tip!
Windows Central Newsletter
Get the best of Windows Central in in your inbox, every day!
Daniel Rubino is the Editor-in-chief of Windows Central, head reviewer, podcast co-host, and analyst. He has been covering Microsoft since 2007 when this site was called WMExperts (and later Windows Phone Central). His interests include Windows, laptops, next-gen computing, and for some reason, watches. Before all this tech stuff, he worked on a Ph.D. in linguistics, watched people sleep (for medical purposes!), and ran the projectors at movie theaters because it was fun.
Been using this phone as my daily driver for the past two days and install the dev preview, you realm can't go wrong with it, yes you will miss some of the Nokia Lumia apps, like I couldn't get gester this morning, but other than that it's performing better than my Lumia 920.

Get it to the older lumias man!!!! Quick! A Christmas gift from MS Santa!

Microsanta
Santasoft? Satansoft!

Nice! End of 4th...nice "tough"?

Guess that answers the question of whether Blu would update their phones. Nice!

OMG!!! December is for Windows Phone

Guess thats one benefit of owning an hspa variant phone getting updates quicker

This is one if the advantages of buying an unlocked phone...

It's funny, because most everyone dogs on these non-Lumia phones because "they won't get timely updates or support."

I carry a1520 but purchased two of these one for my wife and over for my daughter as Christmas gifts (1-hot pink, 1-florescent orange). Good to see blu is faster than all other OEM's, this is how you support a device..... Cellular carries better take notes!

What US carriers does this phone work on?

And therefore Cricket as well.

Works on ATT, no LTE, only H+

How is taking away the option of using two columns an "exciting surprise"?

Want two columns back.The tiles are way to small with three column setup.

Was expecting this complaint, congrats on being first!

A big load of bull crap:)

Well an off contract phone is well worth losing an extra column of tiles to me s mattress Mac would day,"it's saves me money"!

Love the h-town rep on this site!

Exactly. Not to dog on Daniel but adding a feature while taking away one at the same time isnt my idea of exciting. I dont see why we cant have the option for 2 or 3 column. Peoples home screen preferences vary from person to person.

Does the Jr have gdr1? I'm giving one as a gift.

My dad bought one and his came with 8.1.1 already installed.

Wow even before some lumias, hope the update comes soon, and hope it solves the heating issues, and then make our phones feel faster

WTF!! and no love for the mouthpiece devices of WP. This is truly an android world as BLU are one of the android advocates and they get the update before LUMIA!!

No firmware in the update makes things...easier.

Yeah, but Blu is broadening its portfolio by adding WP and supporting it! That's how you increase user base and get people to try something new.

True np with that but we WP users still want to see some improvement with features that we should have gotten a while now.

Even before the 1520... Well Microsoft, Q4 it's almost over and we've heard absolutely nothing from you about plans to actually fulfill that promise. Still in Coming Soon™ status? You guys should pull a king.com and try to trademark that.

Ahhh, isn't it nice when the big fat bloated carrier isn't involved in pushing updates? Oh so nice

Excuse us.. Their are still Lumians alive.. Don't miss us out okay.

knock knock! Lumia Denim are you there?

Actually looks like a beautiful device.

Bought one last week for 99.00. Awesome phone

Does this contain a firmware update too? I'm running the Developer Preview, but not sure if I'd get firmware updates; checking for an update doesn't find anything (presumably because I'm at a higher OS version). My "Firmware revision #" is "00510.24500.200001.09021". Thanks.

Thanks for the confirmation. (I'd not know how to 'recover' back to a stock version anyway... AFAIK, there's no tool available for BLU like the Nokia one to let you reset things...?). A bit strange they'd enforce 3-column layout instead of giving users the choice. But, anyway, quite happy with the phone nonetheless. Wish Microsoft Canada carried the "W150U" model, I had to go through some hoops to get mine (which works on Wind Mobile). (From what I can tell, Microsoft's Canada Store sells the W510A, which doesn't have support for AWS).

Interesting. I tried calling Microsoft, and using their stupid online chat, trying to determine which exact model number they were selling, and they were pretty useless. Since the frequency bands listed on the product listing page (GSM 850/900/1800/1900 / HSDPA 850/1900) didn't have 1700/2100, I assumed it must be the W510A (and one of the online chat people did eventually say as much). Amazon at least said "W510U", so I went that route to be safe - but had to send it first to a friend in the US, as Amazon wouldn't ship it to Canada. Rather frustrating, as it's a fantastic phone, and if it is the "U" model, Microsoft should make it clear so Wind Mobile users know they can use it (particularly since Wind doesn't sell Windows Phones anymore). Heck, it'd be nice if Microsoft Canada actually listed Canadian carriers instead of AT&T, Sprint, Verizon, T-Mobile, etc. on that page. :/ Blah. Oh well. Anyone know how I might be able to get this ".11251" firmware update on my phone, then?

You are wrong.the win hd model sold on Microsoft Canada website works like a charm on Wind mobile. Got it for$129 for my wife during the 12 days deal..an amazing phone

Yep, someone else reported a similar experience. I am annoyed that Microsoft did not list the correct frequencies or model # on their store website - I didn't want to risk ordering something that wouldn't work for me. But yes, either way, it's a great phone.

Ditto that. I just walked into a Canadian MS store and directly looked at the box (guess they're so cheap they just sit by the demos). It's the U version and AWS/1700 is written on the phone. Bought one and working great on wind mobile. Looks like the website is wrong.

About to pull the trigger on one of these blu hds, seems they are dead serious about supporting their WPs

Hope ms push an update very soon to Lumia 535 addressing touch issue.

Very nice. Postman just delivered my Blu Win HD at the same time this was announced.

Too good to be true! ... Pics or it didn't happen

Me too.just came in from the local fedex pickup shop..setting it up for the wife right now.. She loves it.. Bonus : It works with my carrier

Can't fathom how a phone that is a third party OEM, gets WP8.1.1 before the L520->L1520

First off no firmware second off it unlocked its the carriers that's holding everything up not Microsoft.

Understood, np. It's Xmas and nothing wrong with a bit of good cheer and very welcomed presents. It's been a while since we the WP users were given a very worthwhile gift from both MS and the carriers that made us feel far from left behind. The gestures app made me smile when I actually tested it out and the GS4s in my office couldn't, wouldn't, can't do these features. Or am I getting ahead of myself?

it's ms actually, cause over here most phones, including lumia's, are unlocked, no carrier to delay things

Yep, no carrier here, but still waiting.

That is a damn good looking phone...

*Sigh* at least this one got 8.1 update..unlike htc 8x

That's why I got rid of my HTC 8x because of no support from HTC. BLU had the potential to shut HTC down if they grow in popularity.

Now the bargain basement brands have official 8.1 support.... Still no icon love. This is getting laughable.

Why does some random budget phone gets the 8.1.1 update before the 1520? I paid for a high end phone to get my updates last?

Yep. The 1520 is the supreme phone. Nothing else has everything. Nothing. Don't call it a phablet, niche, or any other malarkey. It's a phone, plain and simple. One could call smaller phones something silly, but in the end, they are just phones too.

That's rude, you wanna tell me that a blu phone is good for nothing?

That's not what I said .... What i said was : I gave them more money why don't I get the update first? But apparently its not about that, it's about the firmware update, so soon we'll have the update too

I also have a 1520, I love it with our without this update though.

Much easier to have an update when you don't update the firmware.

Blame the carriers guys, especially Verizon is horrible about supporting anything that isn't Android.

"BLU Win HD users will find an exciting surprise upon installation: three-column support is now the only option for layout of the Live Tiles on the Start screen." I don't find this surprising. My Lumia 830 running denim (and WP8.1 GDR1 obviously) doesn't have this either. I think Ms has given up on this option in WP8.1.1 for 5" and larger devices. Shouldn't you, guys, know this already since you had the 830 for a while ? btw, does the 735 have this option ? it has 4.7" display.

Are you talking bout 3 column on start screen option?

My Lumia 630 has it, and it's 4.5"

Yeah, even 730/735 has only 3 column option, they have taken away 2 column options in smaller phones too which are being launched now.

I dont think this is true. When i noticed the two column option dissapeared after my update i went to the MS store and one of the guys there grabbed his 830 running the latest Developers preview and he had options for 2 or 3 column support. You just go to the start+theme page, swipe up and its there. He even commented on how weird that was becasue he hadnt seen that in any of the Lumias they had there.

Kills me that some phones are staring to get denim when I'm still waiting for cyan. Fucking Verizon!

The Denim update is on the 830,730,735,535 out of the box.No other Lumias have received a OTH update yet.Verizon is being unreasonable,wanting their crappy apps built into the OS so they can't be removed.

No love for the L930?!?! Ahhhh!

Step version 8.10.12400.899 to 8.10.14203.306 feels smoother, no longer crashes the touch either with the charger plugged. Really feel like another phone

I hope I can bites get Cortana working in alpha in Canada for my gf after this update... Issues with language before.

I'm not a fan of the new columns. I'm hoping that week get the option to switch back to fewer columns in the future. That or we get more size options for the tiles. I don't like how small they are now.

So some rinky dink phone gets GDR1 before my L1520. I hate u ATT!!!!!

Yay. This update made my blu win HD a whole lot better. Thanks blu.

When will it come to Lumia 625.i live in India........ Lumia is supposed to be Microsoft's phone line then why are they not giving the Lumia any updates

There is a noticeable improvement on the Blu Win HD with this update. Before installing this the app list was jittery as you scrolled thru it and swiping often caused inadvertent taps which was a real pain when trying to swipe or scroll. Those issues have all been eliminated with this update. Awesome!

I just noticed that my Blu Win HD is now running at 4g, which it has never done before the update.

Holy moly - it is REALLY fast after the update. This is like some beautiful dream compared to owning my last Android phone on Verizon.

Hopefully this update fix the sluggish video play back. cant watch a single video without a blue pixelated screen.

what the beautiful phone!

I love my BLU Win HD Phone. I actually liked the fact that I had the option for the larger tiles before this update... PLEEEEEASE bring it back.

My BLU HD phone seems to have trouble sending pictures in MMS messages after the update. Has anyone else experienced this? Help!

24 hours later, I REALLY love this update. The phone is faster than it's ever been. The 4G is the probably the best surprise. But the updates to the touchscreen issues is s very close second. Scrolling isn't jittery anymore and I never accidentally open apps while scrolling. This update has really taken this from a budget phone to a great bargain, even at the full retail price. The point thing I do not like is the extra columns. I can't get past it. It messes with the aesthetics Windows Phone. It really takes away from the best feature of WP. Other than that one [major] complaint, I couldn't possibly be happier with this update or my Blu Win HD. I was thinking of upgrading to a 1520, but now I'm thinking of holding off until a new flagship phone is released with Windows 10.

My Prestigio 8500 OS version allready 8.10.14219.314 (DevP).

I bought this phone last week and was worried about the touchscreen issues while charging and other responsiveness glitches, so I was excited to see that the update fixed them. Jury is still out on the 3 columns.. didn't like them at first but it may be just a matter of habit. Question: how do you create live folders?? I've tried dragging and dropping one tile on top of another as explained in other articles, but it doesn't seem to work.. do you have to first enable this or something?


I cannot get this update to install just keep getting the error code 8018830f has anyone else had this issue? I've tried every option I could think of including the advice on different forums. right now I am on 8.10.14192.280

I've received my blu Win HD the last week and as everybody I just got the update notification after connecting to the wifi. Now, I'm facing 2 problems, the first one is that I can't use the SD card to store apps, there's no way to do it because it has a bug and the other minor problem is that when playing music the repeat doesn´t work. I called BLU and complained about this but as I live in Venezuela they no offer guarantee or support out of the US, by now I'm participating at MS Answers as the guy of BLU told me to contatc MS cause the problem is not of hardware but about software. You can read about my problem and make some valid suggestions or comment if youu have the same problem at: http://answers.microsoft.com/en-us/winphone/forum/wp8-wpapps/blu-win-hd-...

Im glad this is being covered by someone, i was begining to feel like i was going crazy searching the web and no one mentioned it. Going from the Lumia 520 to the BluWinHD i LOVE the phone. Im not sure why MS would have done this but im crossing my fingers that 8.1.2 update will correct it.I like the other update changes but i enjoyed 2 column support. It made my icons big enough to see clearly, tap correctly, and it really showed off the gorgeous screen on the larger pins. Some of us dont want 3 columns. For me its acually too much use of the screen real estate (too many apps on the home screen). I was showing my phone off to a friend thats a hardcore Apple fan, but is actually really curious about Windows Phones and he asked what the extra space was on the side of my screen. LOL I had to explain to him the 2 column/3 column thing and i just refuse to make use of the 3rd column,( primarily because of the afformentioned preferences plus once i fill those up ill have to push all the icons to the bottom of my screen when/if i can go back to 2 column). He of course laughed and made some snarky Apple comment and i put my tail between my legs because my big gorgeous phone doesnt let me customize my homescreen any better than the iphones :(

i haven't received this update in my win hd yet

me too >_< and hae a horrible baterry life

realy? my battery duration is about 12,13 hours
Windows Central Newsletter
Thank you for signing up to Windows Central. You will receive a verification email shortly.
There was a problem. Please refresh the page and try again.