BMW and Microsoft partnership bringing Skype for Business to 5 series cars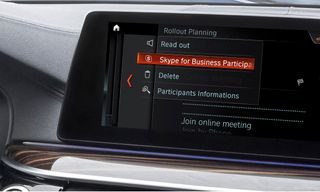 BMW and Microsoft have announced that Skype for Business is coming to BMW 5 series cars. The announcement, made at BMW's Innovation Days event and expounded upon by Microsoft (opens in new tab), expands a partnership between the two companies that first kicked off in 2016 (opens in new tab), which brought Office 365 communications to BMW 5 series cars in December.
From Microsoft:
Skype for Business in the 5 series will allow for business users who take advantage of the service at work to also dial into calls on the go.
Eventually, we might also see Cortana come to the dash in BMW cars. At CES 2017, BMW released a concept video that showed off just that. Volvo, who has already brought Skype for Business to some of its own vehicles, is also working on bringing Cortana to its cars. Mercedes-Benz is also among the car manufacturers that have partnered with Microsoft, having worked on an "in-car office".
Windows Central Newsletter
Get the best of Windows Central in in your inbox, every day!
Dan Thorp-Lancaster is the former Editor-in-Chief of Windows Central. He began working with Windows Central, Android Central, and iMore as a news writer in 2014 and is obsessed with tech of all sorts. You can follow Dan on Twitter @DthorpL and Instagram @heyitsdtl.
Oh great... as if the drivers aren't distracted enough...

No worse than being on a regular phone call, or talking to the person next to you.

Yeah, so thought the young lady that broadsided me last year yapping away on her phone. The real kicker was the fact her car had a very nice built-in Bluetooth system that she was obviously too stupid to use, instead she had her oversized phone plastered to the side of her head. The real issue is the fact most of the people that would use this are too stupid to do it safely. This is why many countries have flat out outlawed cell phone use while driving.

I mean that situation doesn't really equal what I said. I should have been clearer and said no different than when you're on a regular phone call broadcast through your infotainment system, but I thought that was implied. The truth is though, someone like that just plain sucks at driving, phone call or not, if you can't keep your car in the lane while talking, or can't be bothered to look before changing lanes, it's not the 'distractions' that are to blame, it's the person behind the wheel. I can literally hook an Xbox up in my car, did it just for kicks, but I'm not dumb enough to play Xbox and drive. I will say though, I think the best safety feature for all of this, is a manual transmission. Can't text, or hold a phone and shift at the same time. I wish they were a lot more prominant in the US.

Lol I actually saw a guy in a pickup truck that was playing some stupid game on his phone while he was driving. What an idiot!
As for manual transmission vehicles, that's all I drive. I prefer that over an automatic any day of the week.
That lady who hit me was coming out of a side street and broadsided me in my passenger side. Agreed that she shouldn't even be allowed to drive. She was STILL yapping away on the phone after the accident.

Skype has nothing in it to distract the driver lol. *pun intended*

nobody uses Skype anymore, especially after the most recent updates

Tell that to my phone, PC, Xbox...

And then crash your car. 😝
But i see this useful where they use chauffeur driven cars.

Very good news. Microsoft's master plan is working.

yes to destroy their own services. First Windows phone, then Xbox Live on phone, then GroupMe, now Skype

Really smart for MS to get Cortana into cars like BMW, Mercedes Benz etc. The only people who can afford these things in cars are people who drive these models.

Now that's some good news 📰! Especially being integrated in a premium vehicle. Hopefully it trickles into other vehicles too. I enjoyed Sync in my car.

I wonder having Skype in BMW will help when each one are having a laptop or a smartphone
http://alphastreet.com/pf72bf21
Windows Central Newsletter
Thank you for signing up to Windows Central. You will receive a verification email shortly.
There was a problem. Please refresh the page and try again.