Volvo is bringing Skype for Business to its 90 Series cars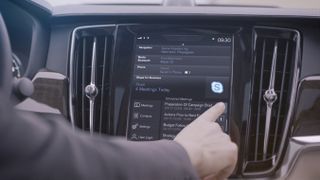 Joining a conference call from your car will soon be easier than ever — if you drive a Volvo 90 Series, that is. Volvo has announced that it's bringing Skype for Business to its new 90 Series vehicles (XC90, S90, V90), making Skype calls and viewing your scheduled meetings just a tap away on the in-dash screen.
In addition to the Skype for Business integration, Volvo says it is also working with Microsoft on the idea of bringing Cortana to the car. From Volvo:
Obviously, Cortana integration may be a ways off, but Skype for Business should make for a compelling addition if you find yourself phoning into conference calls on the road. This is just Microsoft's latest productivity-focused collaboration with a car maker, with the tech giant having previously teamed up with Mercedes-Benz on an "in-car office" solution that helps users navigate to meetings and take calls on the road.
Windows Central Newsletter
Get the best of Windows Central in in your inbox, every day!
Dan Thorp-Lancaster is the former Editor-in-Chief of Windows Central. He began working with Windows Central, Android Central, and iMore as a news writer in 2014 and is obsessed with tech of all sorts. You can follow Dan on Twitter @DthorpL and Instagram @heyitsdtl.
Really? Jesus can they just bring it properly to my Windows Phone please? It's the worst 'performing must unreliable app I am unfortunately forced to use every day..

Skype for business? Or Cortana?

Skype for business is crap on all mobile platforms right now.

It's also crap on the desktop, and on the Surface Hub.

I enjoy it on my corporate machine.

It works great on my work desktop. I havent had any problems with it.

same here!! its been the same app since Lync was still a thing

It's a complete disgrace. Rebadged Lync WP8 app. Takes longer to open than Facebook.. Windows desktop app was updated recently, where is the UWP app??

That's unnecessarily dangerous. A vocie based system ("Hey Cortana, what's my next appointment") would be much safer since you could keep your eyes on the road.

Our even. " hey Cortana, call Bob" then a prompt asking "on cell or on skype?"

My current setup is: Press the Sync flipper: Call Cortana: wait for tone: Text/call/whatever whoever.


Cortana, long ways off? I would have thought it wld be easier to bring a modified version of Cortana, a voice assistant, to a car than make skype work in the car!

Safer still to just sit at home and never leave. Geez, you safety nuts...

If your phone is paired to bluetooth you can already do this. No need to build it into the headunit.

Not everyone has a Windows phone device with Cortana built in. Build it in and people will learn to like Cortana and such and hopefully start using more MS products and services.

Most Volvo's are outside the US....there where Cortana is useless.

Maybe this will be a step in bringing it to other countries.

Breaks my heart to say this, but Cortana can be on android and iOS. So any device the user has could potentially use Cortana. So while you are correct "not everyone has a Windows phone", it is very possible considering almost everyone has a smart phone.

It's great to see Skype integration and hopefully the driver can't view a calendar while driving. BUT... In a litigious world, even those communicating with someone they know is driving may bear some legal responsibility for accidents. I'm sure we'll see how autonomous driving plays out in court in the coming years.

Aren't these the same guys who market themselves as "the safest cars on the road" ... or something along those lines?? Kinda ironic ...

Indeed. My own company has a global ban on all in car communication device use, whether hands free or not. The distraction makes you a dangerous driver. https://www.cdc.gov/features/dsdistracteddriving/index.html

Skype for Business is shockingly unstable, using this and a car surely asking for trouble.

Just the apps are crap, desktop is nice. Apps suck because they are the old Lync apps from years ago rebranded. I would hope and expect this to be a decent experience. Though, I would want WAY more Cortana integration before I would use it while driving .

Yeah desktop client is stable, just remind me; what was that thing that Nadella kept saying, was it 'cloud first, desktop first'??

Are these the types of cars the owner drives or are these the type of cars the owner pays someone to drive them around in?

She sure had to take her eyes off the road a lot. That interface looked difficult to use as well with all those tiny buttons.

the navigation of the userinterface is way too complicated! i very much hope that this is not a final product!

Unfortunately the initiative to make W10M supports MirrorLink and have better integration into it is canned. It would've been great to have it instead of relying to car manufacturers head unit UX that many are clunky and slow. While at it, Cortana needs to speak more on tasks that still requires you to look up the screen. Even asking appointments mostly just shows you the appointments on the display instead of saying it. We even lost the offline speech-to-text capability that Windows Phone used to have, now its just as dumb as iOS and Android when off-grid. Especially on driving that sometimes mobile signal is unreliable to non-existent, this makes Cortana on car is long way to go to be really useful and even safe (especially on regards to stability and responsiveness of Cortana).

"This version of Skype is no longer supported" in 3, 2, 1 ...
Windows Central Newsletter
Thank you for signing up to Windows Central. You will receive a verification email shortly.
There was a problem. Please refresh the page and try again.