BNP Paribas puts out official Windows Phone app to check your bank account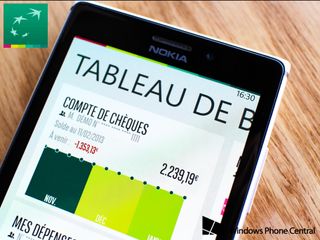 While there are some in the Windows Phone Store, the majority of banks don't have apps available yet. Which is why anytime a major bank joins we're pretty excited for the customers of that particular bank. Anyone out here using BNP Paribas? It's a French bank and financial services institution. It's also one of the largest banks in the world. If you're a customer you'll be pretty happy to hear that there's now an app for Windows Phone.
Head to the Windows Phone Store and you'll see version 1.0 of BNP Paribas. Unfortunately we don't live in France, nor are we customers of the bank, so we can't give you a full hands-on or anything. However the app looks like a solid release from the screenshots and Store description. Here's what you get with BNP Paribas for Windows Phone:
Your operations over the last 3 months and future operations
Your bank card transactions and the possibility of opposition
Automatic classification of operations into categories of expenditure and revenue
Transfer to your accounts and recorded BNPPARIBAS.NET beneficiaries
The score of your operations
Search the last 13 months
Overall it looks like a pretty solid app for BNP Paribas users. Let us know how the app works for you after downloading!
The app is free, but we can't see it having much value to those who aren't BNP Paribas customers. You can download it from the Windows Phone Store.
Thanks for the tip Guillaume!
Windows Central Newsletter
Get the best of Windows Central in in your inbox, every day!
BNP release Windows Phone app.... For a fraction of a second, that is all I saw. UK readers will understand my alarm.

Same here, I thought the BNP had their own bank!!

YES! Finally! They had one a few months ago but it died, thanks bnp parisbas. This French bank is Barclays sister company, which means free withdrawals from Barclays with a card from bnp parisbas, and vice versa if you're in France.

RBC has been promising a WP app for years and so far nothing!

Good app, live tile is temperamental though. Thanks for reporting this! You're great wpcentral :)

Why can't banque populaire release the bred app to all clients???

Did someone test with an Italian BNL account (BNP merged with BNL last year) ..?

I was going to get excited, then got hugly dissapointed when i saw it in the store, please Fortis Belgium release the damn app !!! And ING belgium and Belfius!!

Indeed, waiting also for the BNP Paribas Fortis Belgium branche app, why does it take so long, KBC has it already!

KBC has this app for more then a year already, i love the app :) But i need Belfius app and ING app fast !!

Great! Been waiting for this one!
Windows Central Newsletter
Thank you for signing up to Windows Central. You will receive a verification email shortly.
There was a problem. Please refresh the page and try again.