Borderlands 3 features 30 and 60 FPS modes on Xbox One X (update)
Borderlands 3 is shaping up to be quite the Xbox One X showcase.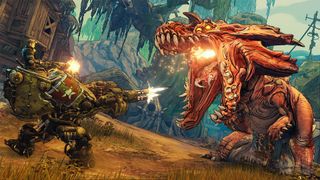 (Image credit: Gearbox)
What you need to know
Borderlands 3 is a first-person shooter from Gearbox Software.
The game is supposed to launch in September.
The title features two graphical options on Xbox One X and PlayStation 4 Pro.
You can preorder the game for $60 on Amazon

(opens in new tab)

.
Updated October 3, 2019: According to a report by Digital Foundry, Borderlands 3 runs at 1800p on both Xbox One X and PlayStation 4. The Gearbox Software listing on the Microsoft Store is incorrect.
Updated August 15, 2019: A spokesperson from publisher 2K Games reached out to us and said that the game features two modes on Xbox One X. Favor Resolution boosts the visuals to 4K resolution, but caps the frame rate to 30 frames per second (FPS). However, Favor Performance lowers the resolution to 1080p, but unlocks the frame rate so that it goes up to 60 FPS. It's unclear if the final build will feature a stable 60 FPS or a fluctuating frame rate, but that's the goal at the moment. We've also learned that the game will come in at 40 GB on Xbox One X and features a field-of-view slider.
A few weeks ago, we reported that Borderlands 3 ran at 4K resolution on Xbox One X and supported variable refresh rates (VRR) over FreeSync. The only question that remained was what the frame rate was clocked at. We were finally able to get an answer at the Borderlands 3 Gameplay Reveal which took place this week. According to Gearbox Software's producer Chris Brock, the team is aiming for 60 frames per second (FPS) on Xbox One X. Unfortunately, the base console will be locked to 30 FPS.
While Brock wouldn't commit to a final frame rate, he added that the developer was trying to let players choose between performance and graphics on Xbox One X. This probably means that you'll be able to choose between 4K 30 FPS and 1080p 60 FPS. However, the resolution of the performance mode may be higher. As Borderlands 3 is still in active development, these figures aren't set in stone. We'll have a better picture closer to September when the game launches.
It's great to see that Gearbox is working on bringing 60 FPS gameplay to Xbox One X. Hopefully this will make its way to the final build of the game.
How would you play Borderlands 3? Would you toggle performance or graphics mode? Let us know.
Loot 'n' shoot
(opens in new tab)
Pandora and beyond

Borderlands 3 is an absurdly fun loot 'n' shooter, filled with raunchy comedy and plenty of action. It features over-the-top weapons and a story which takes you to various planets this time around.
Jump into digital
(opens in new tab)
Xbox One S: All-Digital Edition
Ditch the discs

Secure your Xbox One S All-Digital Edition, Microsoft's new and ambitious disc-less console. It's the cheapest Xbox One ever made, bundled with a trio of downloadable games like Forza Horizon 3.
Excellent and affordable Xbox accessories
Up your Xbox experience with one (or all) of these budget accessories, all of which are approved by the gamers of Windows Central.
PowerA Play & Charge Kit for Xbox One (opens in new tab) ($15 at Amazon)
This charging kit keeps your Xbox One wireless controllers juiced up, and it offers batteries for two controllers. At just $15, this is hands-down our favorite budget charging companion.
ElecGear 4 Port USB Xbox One S Hub (opens in new tab) ($19 at Amazon)
This brilliant little USB splitter hub attaches perfectly to the side of your Xbox One S console. It's ideal for use with chargers, controllers, headsets, and more.
Controller Gear stand (opens in new tab) ($13 at Amazon)
Proudly display your Xbox gamepads with this stylish and functional stand. The licensed design is minimalist and black, and it has a hidden storage compartment, making the price of $13 a real steal.
Asher Madan handles gaming news for Windows Central. Before joining Windows Central in 2017, Asher worked for a number of different gaming outlets. He has a background in medical science and is passionate about all forms of entertainment, cooking, and antiquing.
They should target 60 fps on the base Xbox One. No way games like Halo 5 has done it years ago and a game like borderlands can't

ALL games on the Xbox One X should really be offering 60fps as standard. It's ridiculous in this age where 'the most powerful console on the planet' that can flirt with 4k at ease struggles to offer a 60fps experience (even at 1080p). Games look, play and feel better at faster frame rates. The fact that Borderlands 3 is aiming for a 60fps baseline gives me hope that developers moving forward recognize and appreciate that smooth, higher FPS experiences bring more enjoyment than chasing the 4k meta. As a GAMER I will take 60/1080p over 30/4k every day - any day.

It might even be 4K 60 FPS or 1800p-1600p 60 FPS. We should know more closer to September. Nothing is set in stone at the moment.

Article says its 1080P 60fps pretty sad when the handsome collection runs at 4K 60fps on my pro and x1 is the same I Assume. No excuse should be 4k 60fps

Lots of games on the pro give the option 4k 30 or like 1440P and 60 GOW Horizon ZD both tomb raiders, Last of us Infamous SS And first light just to name a few.
Windows Central Newsletter
Get the best of Windows Central in in your inbox, every day!
Thank you for signing up to Windows Central. You will receive a verification email shortly.
There was a problem. Please refresh the page and try again.