Borderlands: The Handsome Collection will bring The Pre-Sequel and Borderlands 2 to Xbox One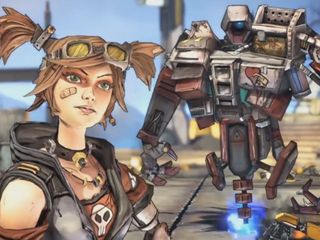 Xbox One owners who have been wanting to play Gearbox Software's acclaimed Borderlands games on their systems will get their chance on March 24. Borderlands: The Handsome Collection will bring both Borderlands 2 and Borderlands: The Pre-Sequel to Microsoft's latest game console, along with Sony's PlayStation 4, for $59.99.
Gearbox states:
Xbox 360 owners of Borderlands 2 and Borderlands: The Pre-Sequel will be able to transfer their save game files, including their characters and rank, to the Xbox One version. In addition, Borderlands: The Handsome Collection will contain all of the downloadable post-release content that was made for both games for the Xbox 360.
In addition, Gearbox and publisher 2K Games will release a limited edition version of the game, Borderlands: The Handsome Collection Claptrap-in-a-Box Edition, for the price of $399. It contains the game itself, plus a remote-controlled Claptrap robot. 2K Games states:
The Claptrap-in-a-Box Edition will come in a special steel case and also contain 12 lithographs that show all of the Vault Hunters from the Handsome Collection. Only 5,000 copies of this special edition will be made.
Source: Gearbox Software
Windows Central Newsletter
Get the best of Windows Central in in your inbox, every day!
Whoa that claptrap sounds awesome!
I probably wouldn't get that edition though. However the handsome collection sounds very appealing. I loved Borderlands 2, and never got around to all its DLC. I also never got to check out the pre-sequel. I wonder if they'll sell them both separately at all, like Saints Row IV or Metro before them.

I didn't even like borderlands 2, it's a poor game, poor story, etc

Can't disagree with your comment more. Handsome Jack was the best character, and loved him in the game. Was so disappointed when GearBox said no Xbox One game for The Prequel.

I played until that guy gave me the purple crystal, on bl2, than I stopped. Since that day, I didn't play that game anymore, I'm not curious about the story, it's not like Crysis or dead space, that have active gameplay

Seems pretty active to me.

Disagree. Borderlands 2 is excellent.

YESSSSSSSSSSSSSSSSSSSSSSSSSSSSSSSSSSSSS

Haven't played Borderlands, but this seems like a good time to!

What's with all of the last Gen rehashes? Bleh

People missed games, and they are known commodities. It's easier to port these than develop a whole new game. It sucks if you didn't like the games or don't want to re-play them, but it's smart for the companies involved.

Now if I could just stop playing destiny..

Tell me about it, I'm my head in thinking I'll put destiny aside when borderlands comes out, but my heart knows that I'll play destiny anyway, just like halo, GTA v, shadows of mordor, and sunset overdrive have been gathering dust this whole time.

Man! I feel you. I'm an achievement hunter, and Destiny has taken over my gaming habit in a ruthless way. I have over 500 hours into it with no signs of letting up. Especially now that Crota's End hard mode debuts tomorrow morning.

Would be great if they could sell it seperately... I already playes Borderlands 2 on 360... Hoping they could release The Pre Sequel seperately because as far as I know it only released for 360... Would be awesome to get it on Xbox One..

The Pre-Sequel was released for PC/X360/PS3.

but you are getting that and BL2 for the price of just the one game... plus all DLC, its a good deal really

U are probably right Robholden ;)

Especially with 4 player local play

Awesome, Borderlands on the One. I'm in. Claptrap sounds cool, but not for 399.

BL2 on my PSVITA will always look the best.

Bring Final Fantasy 13 trilogy as well!

Question: Will the next-gen versions have Physx like on the PC version ?

Are we supposed to pretend the first one didn't happen lol.

Handsome Jack wasn't in the first game and this is the "Handsome" Collection after all.

Whoa. I have over 2 weeks of game time in borderlands 2 alone. This might be the tipping point for me to buy a next gen, and put in a couple more weeks. Hopefully the graphics and frame rate are enhanced, otherwise no sale.

So this is the surprise of the year... /s But that Claptrap edition sounds awesome; I love Claptrap. Don't think I could drop $400 on it though.

Where do I get the $400 edition?!?

I'll pass. Without the first game, I don't care much. I have the first two on PC, and I would either want all of them on the One, or the option to just get the game I don't have.

Cannot wait for this release! Like others, never finished BL2 and never bought the pre-sequel. Would love to keep my progress and play with friends with a much better party chat on Xbox One!

YAY YAY YAY!!! Man... I have to own this game on all the platforms, which is rediculous... but I love to play it with friends on multiple platforms. I just love to co-op and chat with my family/friends... I mean... man... its better than skype, lol! We have each others back althought my family is accross the country and overseas.

This is a great deal. BL2 was awesome. I was never interested during its release and played it this past autumn. Some looonngg hours spent with that one. Haven't played the tPS and will wait to now until buying a new Gen console.

Great! I really wanted to play as claptrap :)

I was really hoping for a remastered Borderlands, not bl2/tps.

I loved this game, bringing in my saves is great. I have a lot of time invested in BL2 from my Xbox360 Great news, I will be picking this up for XboxOne for sure.

Man, that claptrap edition sounds awesome... But the price, that'll cost more than the console over here.
Windows Central Newsletter
Thank you for signing up to Windows Central. You will receive a verification email shortly.
There was a problem. Please refresh the page and try again.