Brain Rush, quite possibly the simplest Windows Phone game in the Store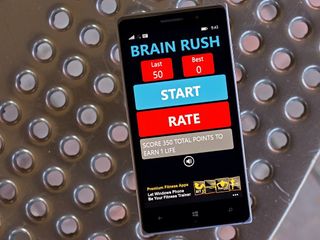 Some of the best things in life are the simplest. The same can be said of Windows Phone games and Brain Rush!!! may be the simplest game on Store shelves.
You are tasked with matching incoming shapes with the shape at the bottom of the screen. The longer you survive, the quicker the shapes move down the screen. Brain Rush!!! is available for low-memory devices and while the game presents itself in a simple manner, the game is a challenging title to have in your Windows Phone gaming library.
The main menu for Brain Rush!!! displays your last and best scores, a tile that will send you to game play and a tile to send you to the Windows Phone Store to rate the game. The only setting available for Brain Rush!!! is a mute button that sits towards the bottom of the main menu.
The game screen for Brain Rush!!! is equally as uncomplicated. Your score is listed in the upper left corner of the screen and your control shape sits at the bottom of the screen. You will earn a gaming life when you cumulatively earn a total of 350 points. Your progress towards that goal is listed in the upper right corner.
Even though there isn't a help section with Brain Rush!!!, game play doesn't take much thought to figure out (plus you can read the Store description to learn what to do). Squares and circles will begin dropping from the top of the screen and it is your job to match that shape with the control shape at the bottom of the screen.
To toggle between square and circle with the control shape, simply tap the shape to change back and forth. If a circle hits a square or vice versa, the game is over. It sounds like a simple goal but as your progress through the game, the shapes falling from the top of the screen will start to move at a quicker pace. You may be surprised how challenging Brain Rush can get.
Overall Impression
There's not much to Brain Rush!!! but what is in place offers up a simple, challenging and mildly addictive Windows Phone game. It is a game that is well suited to help you pass the time while testing your skills at observation and reaction.
It is difficult to find anything to complain about with Brain Rush!!!. The game ran smoothly with no glitches or bugs experienced. You could add online leaderboards or maybe a second gaming mode that has you managing two streams of shapes. But what is in place works well.
Two Quick Housekeeping Notes: First, Brain Rush!!! was updated yesterday to add a second color scheme to the game. On the main menu you will find a button next to the mute button that will toggle between the red/blue theme and a pastel green/blue theme.
Second, we did run across similar games on iTunes and Google Play that are from different developers, much like you will find similar games of 2048 across the various platforms and from multiple developers. After receiving several requests to review Brain Rush!!! we chose to see what all the excitement was about.
Windows Central Newsletter
Get the best of Windows Central in your inbox, every day!
George is the Reviews Editor at Windows Central, concentrating on Windows 10 PC and Mobile apps. He's been a supporter of the platform since the days of Windows CE and uses his current Windows 10 Mobile phone daily to keep up with life and enjoy a game during down time.
Nice, I think I saw a triangle!

I'm on a random game-downloading spree.. Keep em coming WC...

And is not available here in Brazil.
I don't understand how difficult can be read the tip there are in the publishing page stating that PEGI or ESRB can be used to publish games here!!
The vast majority of developers do not read this. :(

Settings>region>usa, what is the difficulty on doing this? You are crying for no reason, this makes no sense, no one will ever listen to you, now, if you please, change the phone's region and be happy.

Man, I don't do this for me. I do for a whole bunch of "normal people", comum users, that don't know that they can do this or do not want to. Beleive in me: us, tech guys, are the minority of the users.

Why does it need access to my music library? I'd like to try out the game but I also try to stay away from apps with unreasonable requirements

OK, and why do ads need access to the music library?

When a dev adds ads to an app, the ads need these requirements to work. (And I don't know why they need them...) :/

Perhaps it can tell what music you have on your phone, and then give you an ad for that artist's (or similar genre artists') next release/tour/merchandise etc?

Game is fun and basic but the ads mess up my streak. They just appear in the middle of a game.

I used this for about 5 minutes before the pop-up ads became so annoying, I uninstalled it.

now app comes with remove ads ...you can remove ads! http://www.windowsphone.com/en-us/store/app/brain-rush/b33a3c4b-dade-439...

Excessive and unnecessary exclamation mark use. I'll pass.

Sure will probably help us on !!

Horrible with the pop-ups. Uninstalled immediately.

now app comes with remove ads option...you can remove ads! http://www.windowsphone.com/en-us/store/app/brain-rush/b33a3c4b-dade-439...

Thanks for reviewing our app! now app comes with remove ads option...you can remove ads! http://www.windowsphone.com/en-us/store/app/brain-rush/b33a3c4b-dade-439...