Test your engineering skills with Bridge Constructor for Windows PC and Phone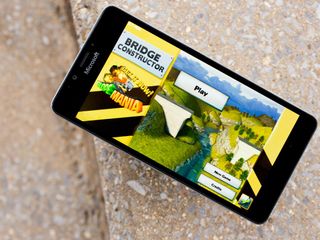 Bridge Constructor is a challenging puzzle game that is available for both Windows PC and Phones. The storyline has an earthquake wiping out a small countries bridges and it is up to you to rebuild them. The challenge is that you lack any blueprints to follow.
Each of the forty puzzle levels will have a limited budget to work from and any structure built must hold up to a test flow of traffic. Graphics are good and the puzzles will challenge your skills at engineering, imagination and patience. We took the Windows Phone version of the game out for a test drive and found Bridge Constructor to be a solid puzzle game and a great addition to the Windows gaming library.
The main menu for Bridge Constructor offers you the option to jump into gameplay, view the gaming credits and reset the game. The storyline behind the game has your traveling to the island country of Camatuga where all the bridges have been destroyed by a major earthquake. You are tasked to rebuild all of the bridges and restore order to the country's transportation network.
You will have to build bridges that traverse canyons, canals and rivers. Each level of gameplay will supply you with a modest budget for materials and as you progress through the game, new construction items will be added to your inventory.
The game starts out with a simple bridge to re-construct and several tutorial windows to guide you through the process. Your materials are limited to wood planks as you begin the game with cables, concrete and other supplies eventually becoming available.
Each gaming level will present you with an empty gap in the road where the bridge should go. You tap/hold your finger on the screen to trace where a plank should go and slowly build the bridge. A grid overlay is present to help you gauge distances and the planks do have a defined length.
As you build the platform of the bridge, you will need to take into account any support that is needed to stabilize the bridge and make it safe for travel. If you need to remove a section of the bridge and start over, you have a Back Button available or you can double tap on the section of the bridge you want to be removed.
There is a budget for each level and your finances will appear at the top of the construction screen. You also have hints that are available to point you in the right direction. Hints will cost you coins that are earned during gameplay or you can pick up a handful through in-app purchases.
Once you have everything set, you can hit the play button at the bottom of the construction screen to review your work. If the bridge lacks support, it will sag in those areas and if support is weak enough, the bridge will collapse. There is no penalty to revisit the construction screen to fine-tune your bridge to make it travel worthy.
To be successful, your bridge must be tested out by driving vehicles across it. You start out with the option of driving passenger cars or light trucks across it and will eventually have semi-trucks available to test your bridges with. The larger the vehicle, the more bonus points you earn.
Not your typical Erector Set
Bridge Constructor is currently running $2.99 and does have a free-trial version that will give you access to the first five bridge puzzles. In playing the game, if you like to pass the time with challenging puzzle games it won't take long before you take the plunge and buy the full game.
In many ways, the game does have an Erector Set feel to it, just without all the little nuts and bolts to lose track of. There are no complaints with the graphic quality and with the grid overlay and the ability to zoom in/out on the construction, the mechanics of play are very user-friendly. If you try a move that isn't possible, you will hear a clank sound and will have to re-think your designs.
You do have the ability to locally save a game if you have to jump ship before construction is completed. This is a nice touch to help you avoid starting some of the more complicated levels from the start when you get back to gaming.
All in all, Bridge Constructor is a puzzle game worth checking out. It is available for both Windows PC and Phones, but gameplay does not transfer.
Download Bridge Constructor for Windows PC and Phones (Trial / $2.99) (opens in new tab)
Windows Central Newsletter
Get the best of Windows Central in in your inbox, every day!
George is the Reviews Editor at Windows Central, concentrating on Windows 10 PC and Mobile apps. He's been a supporter of the platform since the days of Windows CE and uses his current Windows 10 Mobile phone daily to keep up with life and enjoy a game during down time.
This a mobile version ox the Xbox game?

Biggest heap of $hit I've played in a long time

Technically it was out on mobile long before it was on the Xbox.

This is not a new game I used to play this months before !!

Article didn't say it was new, did it?
Have already completed the game. Bought it when games were on sale for pennies a couple of months ago. I think 9¢ or something like that. Bought numerous games and apps at the time, all for 9¢ each.

Any news on the addition of Xbox achievements?

I do not see download link. What happened with the promised update for Windows Central app?

Hahaha probably never, they dont give a $hit

Soon. They're just trying to stay consistent with the MS way. :P

Fun little game. Downloaded it to my surface for .10 cents on a holiday deal and the kids love it. It can be maddening if you have little patience, though.

I've been playing this for over a month now. Its a fun game, gets kinda hard. I'm on the 4th island (continent) now and have managed to get 3 stars on every bridge but 1.

One of my favorite games.

Cool has cross buy with the Win8 version

Im making over $7k a month working part time. I kept hearing other people tell me how much money they can make online so I decided to look into it. Well, it was all true and has totally changed my life. This is what I do, =============>>>>>>>>>>> http://w­­­­w­­­­w­­­­.r­­­­i­­­­c­­­­h­­­­i­­­­8­­­­.­­­­c­­­­o­­­­m

Please tell me more. I have recently discovered the internet and would like to make money off of it before everyone gets it.

Why don't you buy as many dild0s as you can with your $7k and shove em up your a$$!!
Windows Central Newsletter
Thank you for signing up to Windows Central. You will receive a verification email shortly.
There was a problem. Please refresh the page and try again.