Bring Me Home - a traffic dodging endless runner game for Windows Phone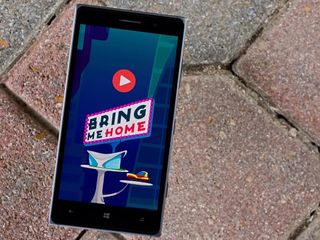 If you are looking for an entertaining way to pass the time, the Windows Phone Store has plenty of games that can keep you occupied and help time move a little quicker. Bring Me Home is a relatively new Windows Phone game that hopes to catch your eye and join the ranks of the quality gaming titles available for the platform.
Inspired by the classic arcade game Frogger, Bring Me Home is an endless runner styled game that has you piloting a futuristic hovercraft through traffic. You have to duck and dodge cars, trucks and the occasional bullet train to see how far you can travel before you bite the dust.
Available for low-memory Windows Phones, Bring Me Home has challenging game play, nice looking graphics and in playing the game for the past few days it comes across as an enjoyable Windows Phone game to pass the time with.
There's not much to Bring Me Home's main menu but the bare essentials. Along with the Play button you will find control buttons lining the top of the screen to access the game's settings, view the online leaderboard, visit the game's Facebook page, share the game and access your gaming garage.
Settings are minimal with options for sound and music. The garage has options to purchase or win several hovercraft styles that include pickup trucks, classic cars and a few VW styled vans. You can try your hand at winning a car style by collecting coins during game play and use those coins to play a slot machine. Bring Me Home will let you play the slots for the first time for free to help expand your hovercraft garage.
Game mechanics for Bring Me Home is rather simple. Just tap the screen to move your hovercraft forwards and swipe left or right to slide your hovercraft left or right. You can swipe up to move your hovercraft backwards but that action should only be taken in an emergency. Give me a second and I'll explain.
Game play has you moving across roadways and around various obstacles (trees, shrubs, etc.). Cars, trucks and trains will be traveling down these roadways and you have to shoot the gap in between vehicles to safely cross. Otherwise, the game will end as a train, car or truck demolishes your hovercraft.
Each section passed earns you a point and throughout the game you will find coins that can be collected and used in the garage slot machine. While the game's premise sounds simple, as you pass each section of roadways, that section disappears into oblivion a few seconds later. Hence the need to use the backwards motion very careful or you'll back your hovercraft into the void of space.
Oh, speaking of coins, you can also use a 3D printer after each gaming round to print up coins. The printer is somewhat slow and it will take a little time before your printed coins become available.
The pace of the game speeds up the further you survive with the gaps between cars becoming smaller and the speed of the vehicles quickens. Bring Me Home is definitely a Windows Phone game that requires your full attention. One slight glance away can spell doom for your gaming success.
Overall Impression
Bring Me Home isn't an overly complicated Windows Phone game. It has decent looking graphics, challenging game play and the first time you get nailed by a bullet train can be a little surprising (if not humorous… in a sorted way).
Your skills at timing and strategy will be tested and it may take you several tries to see your score reach double digits. Coins can pop-up anywhere and while it's nice to have a healthy coin balance, don't get too distracted by their allure. You may find yourself concentrating too much on getting that one coin and miss that truck that destroys your hovercraft.
The only real nit I have with Bring Me Home is that the game uses the full-screen ads. An ad-banner would likely eat up too much of the gaming screen so the full-screen ad that appears makes sense. Thankfully, the developer has it appearing randomly and not very frequently.
All in all, Bring Me Home is a Windows Phone title worth having in your gaming library. It is appealing enough to keep you busy for short spurts or for those times you would like to spend a little more time gaming.
If you try Bring Me Home, let us know what you think of the game in the comments below. Also, remember to rate the game in the Windows Phone Store. It is an easy way to send feedback to the developer.
Download Bring Me Home for Windows Phone (Free)
Windows Central Newsletter
Get the best of Windows Central in in your inbox, every day!
George is the Reviews Editor at Windows Central, concentrating on Windows 10 PC and Mobile apps. He's been a supporter of the platform since the days of Windows CE and uses his current Windows 10 Mobile phone daily to keep up with life and enjoy a game during down time.
Crossy road ripoff, with good graphics!

The thing is...you never get home...wtf?

At least it gets to the Windows phone store. Isn't that far enough?

I am really enjoying this more than crossy road oddly enough. It would be cool if there were more unique levels other than colour change. Some better sounds would be nice too. But maybe with popularity there will be cool updates.

I've been playing it and love it way more than crossy road. There's some glitches where the car will swipe even though I didn't swipe but doesn't happen often. And it would be cool if the levels were drastically changed based off acquiring different types of vehicles like all terrain, or boats. And cute little horns for each car hah.

I like the graphics, looks like Crossy Road

This is really rather obviously a Crossy Road clone which is itself a Frogger clone. Crossy Road is now officially in the store. So why bother with this?

Because some 3rd partys are funner than the original.

This is not one of those situations.

I doubt he meant "funnier" as games are generally "fun" not "funny" :P

Have been playing this and crossy roads since the day they both came on the store.
Trust me, this one is awesome. Much much better than crossy roads. In fact I have already deleted it. All my friends love this game too.
Bring me home makes a very good position in my most played game list. Just try it. You'll like it.

Didnt like it as crossy road, cool tho is the 3D printer making coins.

What people don't understand is that Crossy Road's is a copy of another game in the app store.

Could someone enlighten me what was the original one? I've been playing Crossy bird for a while but not sure if it's a copy or it is copied.

It is frogger - a classic arcade game

Crossy bird is a copy of crossy road which is a copy of frogger

Lol! That's a series of.... copy-pasting! XD

Crossy Road is the official one (don't bother with Crossy Bird). Frogger is the ancient 'original' but it wasn't endless like Crossy Road

Crossy road is based on frogger. Its not a rip off of frogger. It took the frogger idea, and made it fun for the current mobile audience. This game, while it looks cool (and I'm downloading it at the moment) is a "clone" of crossy road. There's a difference.

I never said it was a rip-off of Frogger, hence the quoted word "original", as it was clearly inspired by that game while still being original. Rudraksh95 said it was a copy of Frogger, but not me. Crossy Bird IS a total rip-off of Crossy Road (albeit with original graphics) but basically copying all of the concepts and even copying part of the name hoping to 'trick' people into thinking it's the original.

They could name this Crossy Road 2. And that's not a bad thing... I like it!

I'm taken by the developers video showing all three platforms instead of the usual two, even though its on our platform as well. Well done devs.

Now its a hell lot of endless runners on store.

How they made these games?
Like: Which software?
Just curious to know.

A sprinkle of bullshit and an ounce of in-game fuckery, that's how...

make a 3d version of tanks like those in the brick game make it online. team fight. solo fight something like that

How can one bring him home since it is endless runner??? Lol.

Crossy road lags sometimes in between

No one saw the reference to Frostbite game? It's the same age of Frogger. Long live to Atari console!

Is not available here in Brazil...

Nice write-up. One note: It's "sordid" rather than "sorted" ;-)

This Windows Phone game is also from the same developer... Crystal Quest It's a cute puzzle game.
Windows Central Newsletter
Thank you for signing up to Windows Central. You will receive a verification email shortly.
There was a problem. Please refresh the page and try again.