Brothers in Arms 3: Sons of War coming to Windows Phone after December 17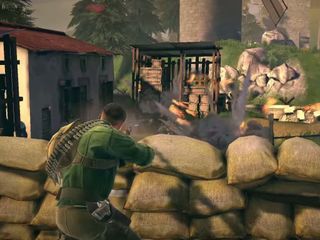 Gameloft has announced that its anticipated gaming title Brothers in Arms 3: Sons of War will be headed to Windows Phone sometime after December 17. The developer says that Brothers in Arms 3 will arrive first on iOS and Android platforms on December 17, with a Windows launch to follow shortly after.
Teasing the game ahead of its scheduled debut, Gameloft describes the following features that the game will support:
A mix of free movement and cover gameplay
Use the d-pad to freely advance to strategic locations or attack head-on.
Move been covers to protect yourself from enemy fire & plan your next attack
Single Player Campaign
Different mission types to play and get better at: assault, siege, sniper, and stealth
Short and intense missions meant for an on-the-go experience
Progress through 8 chapters of missions
Squad based play with brothers
12 brothers in total, each with a unique ability and 4 upgrade-able stats
Strategically choose which brother you take on missions
5 classes of weapons
Progress with 4 traditional weapon classes: SMG, rifle, assault, and sniper
Explore using the 5th class of weapons: experimental weapons with unusual abilities
Expand your skill by taking on additional missions
Play RAID, Commando, and Blueprint missions
via: 1800PocketPC; Thanks, Josh!
Windows Central Newsletter
Get the best of Windows Central in in your inbox, every day!
Chuong's passion for gadgets began with the humble PDA. Since then, he has covered a range of consumer and enterprise devices, raning from smartphones to tablets, laptops to desktops and everything in between for publications like Pocketnow, Digital Trends, Wareable, Paste Magazine, and TechRadar in the past before joining the awesome team at Windows Central. Based in the San Francisco Bay Area, when not working, he likes exploring the diverse and eclectic food scene, taking short jaunts to wine country, soaking in the sun along California's coast, consuming news, and finding new hiking trails.
Damn, I'm going to have my first semester exams! The games just keep coming! Leave me alone! Just joking. :p

I know that feel. I felt the same when they start to launch a bunch of new movies. Shut up and take my money.

I know the feeling. I'm rich and I keep getting interrupted counting my money with all these releases. Where's my tea??

Here, have a cup of tea. It's $6.99 please, because you're rich.

My Software engineering exam and computer architecture exams are a few days away and I'm still playing Minecraft PE... Sigh. If oh well.

Similar fate here, mate :(
Semester exams beginning from the 22nd and all the good game news are raining one after the another....
I'm happy but I'm sad :|

Better later than never. I've already get use to it. But I hope they don't make we wait as much as Candy Crush.

Nah, Gameloft is different from King. A good point about them is that they release games for all OSes at the same time.

More and more games for Windows I swear. Its freaking amazing.

And the left overs go to windows phone......it better come before Christmas!!!

No! Release it the same day! My friends are going to laugh at me!

Ask them to download age of empire :p

And Halo Spartan Assault. Ask them to download that, tell them how amazing it is.

And tentacles: Enter the mind

But it's not amazing. The Windows Phone version in particular has awful touch screen controls. Also, there are far better twin-stick shooters on other mobile platforms. Perhaps Spartan Strike will be different.

Thanks for the support Gameloft! :)

Dire Straits likes this post

Man I can't wait, and when the new Halo hits, I'm going nuts!!!! I wish I could build a complete wall around my cubicle and have the wall be 14 ft high... I'll work all morning but after lunch, its on!!!! Oh well wishful thinking... Lol!

I'm gonna download this when it arrives :)

Is there a reason the Windows Phone version comes later? Like the fact that the system is very different and they have to do a few tweaks, or is it marketing or something like that?

Likely a few tweaks or additional features. The same reason why the WP version of Asphalt Overdrive was delayed. :)

Maybe it'll have Xbox support.

Hopefully it'll have an option for advanced graphics and fps for those of us on snapdragon 80x devices.

Hope its a 512 cause my 830 is coming next year. :/

512 ram! I'm using a 521. Oh well, ordering a Blu Win HD on Thursday.

Hope it supports low ram phones, but it's the same to me as this game may be paid anyway

Won't work on 512 Ram for sure, what a drag

Games just keep coming out, how am I supposed to take my first semester exam now :P

It seems this game support at least 1gb ram.

Will tat support fr 512mb ram devices

Will it support low ram devices?

I think this images look like commands d day.

Oh no, another game Gameloft will destroy! Any other developer plzzzzzzz.

Will it be available for 512 mb ram users...????

Wow! It's already Christmas for the Windows Store! Keep them coming!!

Missed this game. Played the original one on my n72 and n73.

Please alow us to play this awesome game on my 512mb ram device

Love the title 'after Dec 17th. August 2nd 2015 is after Dec 17 2014! Just let us know WHEN these app/games are released, not rumours, or guesses!

Hey gameloft please update this game like Android...

Plzzz rich and stars for my game
Windows Central Newsletter
Thank you for signing up to Windows Central. You will receive a verification email shortly.
There was a problem. Please refresh the page and try again.