Bubble Pirates for Windows Phone game - bursting bubbles on the high seas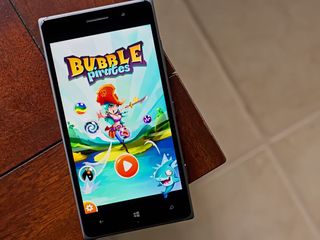 If you are in search of an enjoyable Windows Phone game to pass the time with, take a gander at Bubble Pirates. It is a bubble burst styled game that doesn't really follow the traditional layout of such games. It does follow the match-three rules for bursting bubbles but each of the 100 plus levels includes a challenge that has to be met before you can advance to the next level.
Available for low-memory Windows Phones, Bubble Pirates also includes Boss fights with its multiple gaming modes. Graphics are nice, game play challenging and overall we can see why Bubble Pirates is among the top New and Rising Windows Phone games.
Your main menu with Bubble Pirates is laid out with simplicity. You have the option to jump into game play and pull up the settings. Settings for Bubble Pirates includes sound and music controls, sharing the game and rating the game in the Windows Phone Store.
When you first jump into game play Bubble Pirates will walk you through the back story for the game. The story goes that Pirate Alice accidentally stumbles upon a Treasure Map and as she begins her journey to find the treasure, her ship is attacked. She must now fight her way through over 100 levels of game play, bursting bubbles and fighting the forces trying to prevent her from finding the treasure. And yes, you can skip through the story boards if you want to get to game play quicker.
When you do land in the game itself, the first few levels of play are tutorial in nature and will walk you through the basics of game play. Each level will have a goal to reach before you can advance to the next level. Goals range from revealing/collecting a certain amount of puzzle pieces, freeing up a ship's wheel and freeing up an assortment of sea creatures.
The game screen has your gaming stats displayed across the top of the screen, an assortment of colored bubbles center screen and your ship's cannon at the bottom of the screen. You will shoot bubbles into the playing field to create matches of three of more of the same colored bubble to burst them. Your current bubble and the next color of bubble will be displayed on the canon. You can rotate these bubbles by tapping on the cannon.
Just tap the screen where you want to shoot your bubble and hope for the best. You can tap/hold the screen to get a short trajectory line to help with your aim.To make the challenges of game play a little more difficult, you are limited in the number of bubble shots you have in each level. That number is displayed on your cannon.
There are a handful of power-ups that will become available as you progress through the game. These power-ups can be chosen before you jump into game play and include a guide line that extends your dotted trajectory line, a bubble exchange that adds a third bubble to rotate to on your cannon, a bubble bonus that adds five bubbles to your count and more.
During game play, bubbles will be knocked free from the group as you create your matches and fall to the bottom of the screen into barrels for bonus points. As you work your way through each level, tiny squid appear at the bottom of the screen that act as bumpers for the bubbles falling into the barrels and will add points to your score with each bump they give the bubbles.
Additionally, bonus items will also become available and accessible during game play (just tap the orange arrow at the bottom of the game screen) that include a multi-colored bubble that changes to the color it comes in contact with, an explosive bubble and more. Coins are earned during game play and can be used to replenish both the in-game bonus items and those you choose before starting game play.
Should you fail to reach the goal of each level, you will be able to retry the level or use gems that are earned during game play (or purchased in-app) to add a few more bubbles to your cannon.
Overall Impression
Bubble Pirates is a Windows Phone game that takes the bubble bursting style and adds a challenging, addictive and entertaining twist to things. Game play does have a slightly casual pace but will require a little strategy to meet the goals and stay under the allot number of bubble shots.
While I liked Bubble Pirates, the game could use a little fine-tuning, most notably by adding a help section. The game does a good job of walking you through game play and noting any new features that become available but needs, at least, a reference section defining all the bonus items.
Game play is also restricted, costing you a gaming heart each time you fail a level. Hearts are replenished over time (takes about 20 minutes for a heart to return) or you can buy additional hearts through in-app purchase. I have mixed feelings on these type systems. On the plus side it helps regulate your game time but on the downside it sucks when you only need one more try to beat a level and have to wait twenty minutes for that chance. At least you don't lose a heart when you complete a level.
All in all, Bubble Pirates is worth the download. The Windows Phone game is rated at 4.5 stars and at last check is in the top six of the New and Rising category in the Windows Phone Store. We will not disagree with either.
If you give Bubble Pirates a try, let us know what you think in the comments. And as always, don't forget to rate the game in the Windows Phone Store. It is the easiest way to send a little feedback to the developer.
Download Bubble Pirates for Windows Phone (Free)
Windows Central Newsletter
Get the best of Windows Central in in your inbox, every day!
George is the Reviews Editor at Windows Central, concentrating on Windows 10 PC and Mobile apps. He's been a supporter of the platform since the days of Windows CE and uses his current Windows 10 Mobile phone daily to keep up with life and enjoy a game during down time.
I love bubbles and bubble baths

Whatever articles you publish. The only question on everyone's mind right now is - "When will the next W10 Phone Preview release?" :P P.S: When will the next W10 Phone Preview release?" :P

Your sense of humor needs an update.

That logo reminds me of Rayman Legends...

Omfg I thought I was the only one...

Yeah, practically a rip-off

Amused to see how money can buy words .

Amused to see people making implications without actually saying anything more than complete bollocks.

"Cannon," George, not "Canon." :-) This game is similar to Bubble Witch 2 if you've played it on fb or on an Android or iOS device- it's not as slick but has similar challenges (as well as boss battles, which I've never encountered on BW2) and isn't a wholesale ripoff of that game. Just as fun though. I'm on level 70 and have really enjoyed it.

Please make an ad-free version. I have 2 bucks left.

HELP! I cannot get past level 29 and I cannot find the instructions again for beating the bosses. I thought it said toihit multiple times with same color but i must be doing something wrong. Do I have to hit with same colr as the triangle the boss is in????
Windows Central Newsletter
Thank you for signing up to Windows Central. You will receive a verification email shortly.
There was a problem. Please refresh the page and try again.