Calculator Toolbox updated with new UI and themes, now on sale for $1.49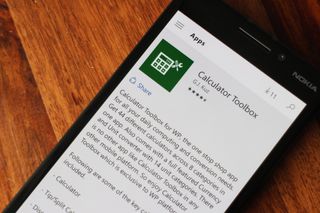 Calculator Toolbox is a feature-rich calculator app for Windows Phone that delivers a total of 45 calculators across eight categories. There's also a currency and converter, along with a tip calculator. With OneDrive integration and Live Tile support, Calculator Toolbox has everything you're looking for in a calculator, and much more.
The app has picked up an update with a new UI with theme support and stability fixes. Here's the breakdown of the changes in version 2.4:
Revamped UI.
Added Modern and Standard themes. Toggle switch under settings.
Modern and Standard themes also respect dark and Light WP background themes.
Ability to pin Converter categories to phone screen.
Fixed the issue with responsiveness of TIP calculator.
Minor bug fixes and performance improvements.
Normally retailing for $1.99, Calculator Toolbox is on sale for $1.49 for the next 24 hours. The developer has mentioned that work is currently underway on a Windows 10 universal app, which will be available in the coming months.
If you're yet to see the update live in the Store, we suggest checking back in a few hours.
Download Calculator Toolbox for Windows Phone ($1.49)
Windows Central Newsletter
Get the best of Windows Central in your inbox, every day!
Harish Jonnalagadda is a Senior Editor overseeing Asia for Android Central, Windows Central's sister site. When not reviewing phones, he's testing PC hardware, including video cards, motherboards, gaming accessories, and keyboards.
How can I contact the developer? I had installed it when it was free (myappfree put it free for 24 hours) but since then I uninstalled. Now it shows me I have to pay $1.49

Some devs upload a copy of the app for free, then take it off the next day. That way if you erase it then you have to pay for it.

You can ask Microsoft for refund

Hi Arthur, Dev here. The paid version of calculator toolbox was never made available for free through myAppfree. May be you got mistaken for some other app? The free version if the app is still available in the store. But please keep in mind that it hasn't been updated in 2.5 to 3 years.

The new UI is horrible... a step backward.

How is it any better than Windows 10 calculator?

@chauu Calculator Toolbox is for people who prefers a simplistic approach. More than half of the calculations can be performed using a standard/scientific combination. But not everyone prefers that. Myself included. :) Some of the calculators offer advanced functions not available in the stock calculator. Currency converter with offline, online, and auto modes, excel report generation from mortgage calculator etc are just a few examples. Give it a spin. You may like it :)

Theo, Dev here. Would you be kind enough to contact me through the app. I would like to get some feedback from you.

Does your app offer a 10-key calculator mode (Aka standard desktop calculator). I would gladly purchase a universal 10 key app for full price or IAP.

@Evil_MrM The app offers a standard calculator, but not be the 10 key calculator you are looking for. Sorry

Dont understand why there aint more ppl complaining about the windows 10 UIs of apps like onenote, word, Exel etc. But getting pissed by that new ui ...
Seriously. If MS would be able to create good mobile version of their own aps ( like they do for android ) nobody would have to use 3rdparty apps :(

If you are an insider give your feedback. How do you know others are not complaining?

You people should respect the developers, which are bringing apps for Windows 10 Mobile, but also encourage them to bring quality apps not copycat apps, still some one is their developing Apps for Windows 10 Mobile.
People here want everything for free, but reject any app that comes at a price.

@HarishJonnalagadda Thanks for the announcement post.

Previous version was faultless. This latest version had got some bug, when opening the app it kept vibrating.

@rogerhew Dev here. The vibration should happen only when you press certain buttons on the home screen. Please let me know if you had a different experience. I will provide an option to disable the feedback in the next release.

I really like the new UI,
It's a great app, which I use on a daily basis
Great work from the developer.

@jeff Thank you. Appreciate the feedback.