CameraPro for Windows Phone 8, satisfying the control freak in all of us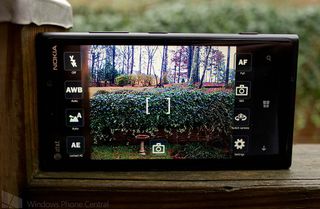 If you prefer your camera controls up front and in plain sight, you may want to take a gander at the Windows Phone 8 app CameraPro.
While the native camera app tucks the settings up under the three dot menu, CameraPro places them on either side of the screen. On top of that, CameraPro also adds a healthy selection of features that goes well beyond what the native camera app offers. CameraPro is a nice addition to the Windows Phone photography app lineup.
The layout of CameraPro has four settings buttons lining up along the left and right side of the screen. While you can tap the screen to select the focus point, tapping the screen won't take the picture by default. You can either use the shutter button on your Windows Phone or the on-screen shutter button that sits at the bottom center of the screen. You'll need to go into the settings to activate the tap to shoot feature.
In the bottom right side of the screen is a settings button. This will access the app's settings as well as the settings buttons not visible from the main camera view. Hint: when you customize the camera settings buttons layout don't get rid of the settings button. If you do, I haven't found a way to access CameraPro's settings without re-installing the app.
Image resolution is displayed in the upper left corner of the screen. To change it, just tap the display. Resolution settings range from 7.99MP to .3MP with various aspect ration options. Additional setting button options include:
Flash: On/Off/Auto
White Balance: Auto, Cloudy, Daylight, Flash, Florescent, Tungsten, Candlelight
Scenes: Macro, Sports, Night, Night Portrait, Backlight
Exposure Time: Auto. Lock or Manual with a range of shutter speeds from 1/16000th to 1 second
Focus Mode: Macro, Normal, Full, Hyperfocal, Infinity, Manual
Camera Mode: Still, Anti-Shake (digital stabilization), Burst, Time Lapse, Self Timer, Bracketing
ISO: Auto and manual range from 100 to 3200
Exposure Compensation: +/- twelve step range
It should be noted that some of these features or settings ranges may be restricted by the various Windows Phone 8 devices. For example, on the Lumia 920 I can set the ISO to 3200 but it defaults to 100. I can set the shutter speed to 1/16000th and access the full range of resolutions on the Lumia 920 though.
Manual Focus is handled in an interesting manner. You have a distance bar at the bottom of the screen that you adjust to bring the image into focus. Unfortunately, the focus bar will only appear when you have the Focus Modes pulled up on to the screen. Additional options include a button to pull up screen overlays that include a grid pattern, a level meter, and a compass.
From the Settings Screen (where all the buttons are displayed) you also have options to arrange the main buttons/menu, reset everything, view the About screen, view the CameraPro Facebook page, and send feedback to the developer.
As it that wasn't enough, in tapping into CameraPro's settings you pull up another five screens worth of settings. General Settings cover turning on/off the on-screen capture button, turning on the tap to shoot feature, customizing the file name and other options.
From the General Settings Page you have a page to set the self-timer, a page to set the bracketing range, a page to set the burst rate, and a page to set up time-lapse parameters.
Once you get all the settings just the way you'd like them and take a photo, a small thumbnail will appear in the lower, left corner of the screen. To review the image full screen, just tap on the thumbnail. You can turn the thumbnail preview off in the app's settings. If you do however, I couldn't find a way to review the photos without heading over to the Pictures Hub.
While CameraPro gives you a healthy amount of control over the camera in a straightforward fashion there were a few bugs. If you pull up the compass, you won't be able to access the app's settings. That button overlays with the compass and apparently there is a programming hurdle preventing the two to co-exist.
When you first launch CameraPro it takes a few seconds for the camera to initialize. When you exit the camera (e.g. go into the app's settings) it takes another few seconds for the camera to re-initialize. This may be just a condition that can't be avoided but can get frustrating if you're in a hurry to get the picture.
You also lack the ability to delete photos from within CameraPro or share images. You'll need to head over to your Pictures Hub to delete or share the images. My last nit with CameraPro is that with all the features and content, there isn't a help section to at least give a minimal description on the settings the app controls.
Overall, CameraPro is a nice camera app for your Windows Phone 8 device. It gives you a healthy amount of control over the camera and adds a few features that should be present in the native camera app. Every Windows Phone camera should have a self-timer and the burst rate and time-lapse features are nice bonuses.
So here's the bad news... there isn't a trial version to let you try things out before buying CameraPro. With an app as thorough as CameraPro is, it would have been nice to see a trial version. If you know your way around a camera, you shouldn't have much trouble with CameraPro. However, I can see those new to cameras get a little lost in all the setting options. Still.... the nice thing about it all is that with digital, you can learn your way around things and if you take a bad photo, all you need to do is find the delete button and try again.
The full version of CameraPro is running $2.49 and you can find it here at the (opens in new tab) Windows Phone Store.
George is the Reviews Editor at Windows Central, concentrating on Windows 10 PC and Mobile apps. He's been a supporter of the platform since the days of Windows CE and uses his current Windows 10 Mobile phone daily to keep up with life and enjoy a game during down time.
I doubt it would be available on the Marketplace if it was illegal.

legit unless you have an 8x. I bought thiss because of this article and then quickly found out it crashes on open in the 8x. Thanks for that wpcentral, you guys seem to forget their are other devices out there than the 920. Maybe you guys should test on multiple devices before recommending apps.

Well if you have an HTC 8X don't buy until updated. It crashes before it opens everytime.

I think we need to review these new apps against both the Nokia Lumia 920 and the HTC 8X (and the Samsung Ativ-S, if it ever sees the light of day) before posting any results. I almost bought it...then I read the above comment. Thanks for that!

I agree that the app should be reviewed on a few devices, but what do you mean about the ATIV S? You seem to be implying that it isn't released yet, but here in Canada, Telus already offers it and so does Rogers. In fact two of my friends have ATIV S's from Telus

Should have read this post......alas already spent the money.

Could this change aperture to something other than f2 ?

Can software physically change hardware? Btw, I am a semi-pro and f2.0 is GREAT!

Nope. The aperture on our Windows Phone cameras are fixed.

The aperture of the vast majority of cell phone cameras is fixed so you can't change it like you can on most cameras (so no).

Anyways, I still love f2 on my grey 920 :D

How did u get the grey one?

How the hell did u got one!!!!!!!

I live in Thailand and got mine here :)

There's exposure COMPENSATION. The aperture will always stay the same.

WPCentral Please edit your review to warn HTC 8X members

So dissappointed with the camera on the Lumia 820 after having the Lumia 900. This has fixed a little of the terrible auto focus issues.

To anyone that reads: I bought the app similar to this, ProShot, and at first glance the pictures that were taken within that app was extremely sharper than native camera. Is this true with CameraPro also.
The publisher says wp8 APIs were limited to view "thumbnails" uncompressed data, when in apps such as these while the original jpeg image was saved to gallery, plz visit my link for an example.
Both pics are the same exact image. The sharper one alwas a screenshot when I was inside of ProShot and the other screenshot was when I was in my gallery.
https://skydrive.live.com/redir?resid=E4DA78E6164FBD11!9699&authkey=!AGa...

Your gallery link doesn't exist.

Don't know what to say. It works for me.

In your gallery settings, make sure that after "....can access.." "people with the link" is activated.

My first thoughts about these camera issues with the lumia 920 were that it was Microsoft's fault, since the N8 and 808 didn't have any of these problems. And if what you said is correct, then, I might have been right.
Still, the 920's camera is the best camera out there in terms of hardware (at least as good as the 808's). The software, however, really needs to be fixed !

Just noticed ProShot this morning. Looks more scaled down but not so much in a bad way. Possibly a little simplier UI. Will take it out for a test drive once this rain moves out and see how much of a difference both make head to head.

Try link again
https://skydrive.live.com/redir?resid=E4DA78E6164FBD11!9699&authkey=!ACa... https://skydrive.live.com/?cid=e4da78e6164fbd11&id=E4DA78E6164FBD11%219699

Works fine :) There's a huge difference between the two pics, but... Both are blurry. Wich phone was that ? EDIT: The other one still doesn't work :/


Thx for the reply. HTC 8X. The pictures don't seem blurry to me. Maybe its degraded uploading to SkyDrive. I don't have WiFi so they maybe degraded. If so, hopefully you see that one is sharper than the other but both are the same exact pics, but was taken as a screenshot; one in ProShot and the other one when inside of the regular camera roll. If you bought and tried yourself you would be dumbfounded. I have a GS3 and the photos I took in this app with my 8X rivaled my S3. I was super impressed, until I backed out and viewed through camera roll. :( lol.

If you don't have sync to SkyDrive set to highest quality (WiFi only) then it will upload low quality with it scaled down and compressed to save you cellular data.

I'm talking about saved photos on the phone in camera roll, not Skydrive

I was talking about why the photos were degraded on Skydrive, had nothing to do with your Camera Roll.
Microsoftjunkie says: Thx for the reply. HTC 8X. The pictures don't seem blurry to me. Maybe its degraded uploading to SkyDrive. I don't have WiFi so they maybe degraded.

Both links dont work for me.

The concept I've been waiting for, the ugliness not so much.

Why would I spend money on this app..... NOT

And do you somehow speak for everyone?
I chose to purchase the app to support the developer's efforts to bring a greater degree of manual control to the camera. I also like the ability to quickly toggle settings without having to dig through the settings menu the way Microsoft has it designed.

It's pretty annoying to fiddle around with these settings with the default camera. Just look at what Google is doing with the Android 4.2 camera interface - Microsoft is the dinosaur here, trying to shoehorn traditional menus on.

It's really 'crowded' but he's a Symbian developer...even the app for the N8 is just 'crowded' with stuff, although useful 'stuff :)'. I'd like to think that he will update with more Modern UI design elements and make it a bit more minimalist without taking away from the usefulness of the features.

At the end of the day, I think this app is primarily for those who are either camera pros or aspiring beyond the novice level.

The Camera Pro UI isn't too bad but I also got ProShot and I think that has a better UI.
Both are better than the Microsoft camera design and menus. I think Microsoft has a habit of designing for the most beginner/novice user and forgets most of us are more capable than that.

I believe that this is the same developer that created Camera Pro N8 (and later 808) for Symbian devices. His name is Harald Meyer and his apps have gotten pretty stellar reviews for his N8/808 app.

Off Topic: Why aren't there email links to developers in the Windows Phone store? I think it would be easier to report issues, kudos, and requests to developers if we could email them. Perhaps there are links but Iim just not seeing them....

Yup, same developer. I actually emailed him regarding the bugs I encountered, but I'll email him again with bug list and a link to this article.

Does it take better pictures?

Lame bought it and yep should have read comments and reviews, crashes on 8X after it initializes.

I don't see any difference...

I just tried out...ummm.. simply the buttons/options are better position and accessible than native camera. To review images taken it is very slow and no very smooth....

I just tried proshot app, as mentioned above...does the same BUT looks a lot more professional and it is very smooth, specially the scrolling between images taken. I don't see better quality images than those taken with native camera. Between the two apps (camerapro and proshot) I take proshot anytime...

The ProShot for some reason render the photos sharper when you view them "only" within the app, or more precisely, right after you take the photo, but after you back out and go to your normal camera and swipe right to view your camera roll, that photo is degraded. You can prove this too. Take a photo in Proshot, then take a screenshot of that photo while you are "still" in ProShot. Then do the same when you are looking at the same photo from your camera roll. Upload them to your computer or SkyDrive and look at the file size. It will will have a size difference of like 20% -30%.

More or less, these apps do nothing to improve image quality besides adding more options. Then on the L920, comes down to Nokia making fixes with updates. No buy if that's the case.

As mentioned, I don't see the images taken with proshot any better/sharper than native camera....but the camera interface is much more user friendly than native camera (and camerapro, but that's my personal opinion)

Do a test for me and zoom in just slightly on the camera roll image. To the best of my knowledge, the camera roll creates over-soft thumbnails of images and only when you zoom do you see the real quality.

Mines seems to be the exact opposite, my photos never cleared up once I zoomed in. Using ProShot took better photos, but they're not saved in that quality.

Ativ s owner here, just tried it out and seems to work well so far, app crashes when trying to change the exposure time, that's the only thing I've cone across that doesn't work tho, not sure if its for hardware reasons or a bug. Pictures look decent, I can update and link some pics later if anyone wants, I'm just at work right now so I don't have a lot of time atm lol.

A comparison between this and the native camera app would be great ! ;)

Bought CameraPro and ProShot (Lumia 920), can't see any difference in image quality and sharpness compared to the default camera app. ProShot has less options and does only support 4:3 8mp pictures....so wasted money

It supports 4:3 and 16:9, I have the app too. You're overlooking it.

Ok, how do you change to 16:9? I can't see either...

Hopefully you're replying for ProShot because that's what I thought Mizmo was referring to. If so, its under Ratio.

yes, I was talking about ProShot...I already went into Ratio several times, I only see one option everytime (4:3)
I also changed the other options (in case Ratio options change when a different setting is selected somewhere else), but no luck.


I got a prompt reply from the dev about this issue. He said the ratio problem will be fixed in the coming update soon as next week.

Hello, I am the developer for ProShot. I don't want to take the discussion away from CameraPro, but there does appear to be an issue with 16:9 not being available on the Lumia 920. We are working on a fix and will have it out in the next update.
If you have any other questions, please send an email to the support link found in the app. Thank you!

Let me say it like this because most ppl do not see the difference. Coming from the publishers email, the picture the app takes Does in fact render sharper "uncompressed" pictures as a "thumbnail". Viewing the jpeg format is "compressed" and the quality is degraded naturally because if the compression. If the publisher acknowledges that this happenens then I'm more inclined to believe him and my eyes.

Honestly I don't know if I'm asking for too much but I swear there's something not right about the image quality of the Lumia 920. Frustrating! I truly do don't care anymore about the OIS. Sharp and beautiful pictures is where I stand.

I agree. It has nothing to do with Nokia as I believe HTC isn't the culprit for my 8X. Microsoft OS seems to prohibit the full potential of these cameras. Hope they fix this fast.

I don't mind closed systems, but come on, camera? WP needs to stand out and Nokia has the potential to give the camera department a boost. Can't be holding Nokia back.

Been using this app for quite a bit (on lumia 820), its very good and I love manual focus feature - been missing that one on every phone I had thus far.
Take a note however, app can crash at times, once it made my phone unresponsive for 10minutes.

I have a Lumia 810 and my pics are very soft and not sharp! Very frustrated user! I wonder if it is the OEM or the OS.....

So finally a Symbian app made it too WP. That's a good news.

I hate the camera on HTC 8x... Or is it just WP period, can't use the full screen for 8mp, that's so stupid! I looked at my friends HTC OneX and her camera uses the whole screen and looks way better than mines but the it's made by the same company...smh! Why? I love my phone but hate my camera on it.. It sucks!

It's an aspect ratio problem. Do I seriously need to explain to you why you cant disply a 4:3 image on a 16:9 screen? And if your friend's OneX camera viewfinder covers the whole screen, check the settings. There, I think you'll find you've been whining for nothing.

Love having the controls right there on the screen. The ability to launch camerapro directly just by hitting the shutter button instead of having to go through lenses would be nice. It would also be nice to be able to delete and share directly from the app. Question though: can you change the aspect ratio so the photos taken in CameraPro fill my Lumia 920 screen?

Love this app! I was wondering if launching from camera/shutter button is possible with this app or is it locked down by MS?

bought and tried this app. several bugs rendered this app almost useless. hope the developer fixed the bugs asap.

Camera Pro for win phone 8 crash on startup on HTC Win 8x

It works well on my L920 & has a great Macro mode. In addition I have noted that th pictures aresharper than my Lumia can produce natively - well worth it.

Use infinite focus if you want a perfectly sharp photo. Without it I think they come out the same.

Amazing app if you a 920. Seems that night shots are coming out even BETTER with this app on default settings. Infinite focus (everything is in focus, no DoF) makes photos easier, and keeps them sharper. I love it.
The fact it doesn't work on the 8x is pathetic though. Everyday I find another reason to wanna shoot a few developers.

Works well in my Lumia 828.
Windows Central Newsletter
Get the best of Windows Central in in your inbox, every day!
Thank you for signing up to Windows Central. You will receive a verification email shortly.
There was a problem. Please refresh the page and try again.