Just how well do Halo Wars 2 and Resident Evil 7 run on Surface Book?
With more and more games coming to Xbox Play Anywhere, gaming on the go is becoming seriously interesting.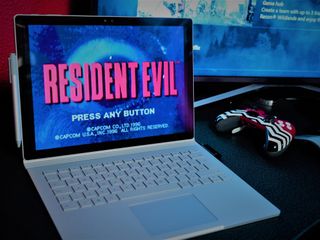 The Surface Book is one of the most powerful devices of its type on the market. Its 2-in-1 configuration gives it unprecedented versatility for inking, casual tablet use, and high-end productivity. To accomplish this, Microsoft squeezed a NVIDIA discrete GPU into the base, which benchmarks at around the same levels as the 940M GPU.
The Surface Book is certainly no powerhouse for gaming. If that's what you're after, you might want to check out the Razer lineup. That said, the Surface Book also isn't a total pushover.
With Halo Wars 2 and Resident Evil 7 recently hitting Xbox Play Anywhere on the Windows 10 Store, I figured I'd test them on my Surface Book to answer a burning question: Just how well will they run?
Surface Book specs
It's important to stress that the Surface Book really isn't marketed as a gaming device. Its Maxwell-based custom GPU is designed to power things such as Adobe Premier and Photoshop, as well as other less-intensive productivity tasks. Still, Microsoft demonstrated Gears of War running on the Surface Book during the device's reveal, giving the impression that it can at least do some gaming. We also previously examined Gears of War, Killer Instinct, and Overwatch, as well as some classic gaming benchmarks, on this Surface Book.
The full specs on my Surface Book:
OS: Windows 10 Pro 64-bit.
CPU: Intel Core i7-6600U dual-core at 2.60 GHz.
RAM: 16GB dual-channel DDR3 .
d-GPU: 1GB Nvidia GeForce (custom, 940M-level).
Storage: 512 GB SSD.
See at Microsoft Store (opens in new tab)
Halo Wars 2 on Surface Book
Halo Wars 2 is a real-time strategy game set in the Halo universe, built by 343i and Creative Assembly. The game runs incredibly well on Xbox One, with crisp, detailed visuals and impressive particle and lighting effects, powering its sci-fi warfare spectacles.
Real-time strategy games (RTS) can become incredibly intensive, hardware-wise, due to the amount of units on screen. The bigger the battle, the bigger the load on the hardware, and even on Xbox One, that can lead to lost frames.
Constrained by the Surface Book, Halo Wars 2 does indeed struggle. I first attempted to play the game on higher settings, targeting a HD 1080p resolution with either medium or high settings for things such as textures and shadows. Naturally, this didn't go so well.
After hitting "Continue" after loading my campaign save, I was greeted by an old friend that I haven't seen in quite a long time:
After booting my Surface Book back up, I waited a little while longer after seeing the "Continue" message pop-up, and I was able to finally get into the game. As you can see, on higher settings, Halo Wars 2 is completely unplayable on the Surface Book, rocking an impressively unimpressive five to eight frames per second (FPS).
So I knocked the resolution down to 720p, the lowest it can go, while leaving some of the particle and lighting effects intact, with some anti-aliasing thrown in for good measure. It's still not what I'd call "playable," particularly in an RTS. With medium-to-low settings, I was able to get a somewhat unstable 15 to 20 FPS.
The best results came from putting everything on low. There I saw lowest-res shadows, low details and low texture quality. In this state, I was able to get between 30 and 40 FPS, with occasional dips down into the 20s for more intensive gameplay moments and fast-scrolling across the map.
Obviously, Halo Wars 2 performs best when on lowest settings, although I'm not sure I'd call it reliable for online, competitive play. Using these settings, you might be able to get some solid enjoyment out of the campaign mode, and advance your play-through while syncing the game between your Surface Book and Xbox One. For optimal play, though, you're going to want a higher-end PC or an Xbox One.
Resident Evil 7: Biohazard on Surface Book
Resident Evil 7: Biohazard is a first-person survival horror game that triumphantly reinvigorates a series that was slipping into obscurity. On Xbox One, Resident Evil 7: Biohazard is a graphics powerhouse, rocking incredible lighting, gruesome monster details, and crisp 1080p, 60 FPS visuals.
Resident Evil 7: Biohazard is also available for Windows 10 as an Xbox Play Anywhere game, syncing your progress across devices. It also gives you pretty insane control over its visuals and resolution, allowing you to dump it all the way down to 540p (though, I'm not sure why anyone would want to play it that way).
On the Surface Book, Resident Evil 7 simply wouldn't load when I attempted to play it above 1080p resolution, crashing to desktop instead. Thus, I lowered the settings incrementally until I landed somewhere in the mid-range, with a 1080p configuration. It actually runs fairly well at this level, dipping between 18 FPS and 25 FPS.
You could play Resident Evil 7: Biohazard under duress with these settings, potentially, but some of the game's more tense battles may become frustrating under load. Resident Evil 7 is, however, very playable on the Surface Book at 720p, without lowering a few of the other more intensive visual features in its options menu.
At 720p, Resident Evil 7 runs anywhere between 30 FPS and 40 FPS, which is more than capable for a game of this type. You could lower it even further to 640p to gain even higher frame rates, and you might even gain some PlayStation 1 pixelated nostalgia in the process.
Conclusion
Ultimately, both games are playable on lower settings, at the cost of visual flair. Halo Wars 2 might put you at a firm disadvantage online, however, as your FPS drops ever further depending on the intensity of the battles. Resident Evil 7 on the other hand, is completely offline and rarely fluctuates in terms of visual complexity. You will want to disable v-sync on both, though, to reduce input lag.
The Surface Book simply isn't designed for gaming, but for those of us who might only use it occasionally on the go, the tradeoffs might be worthwhile. The Surface Book with Performance Base, as its name suggests, will perform better — but nobody should be looking to buy that device specifically for gaming. There are not only cheaper but also more powerful options available.
For a good selection of real gaming laptops, see the link below, and let us know what you use to game in the comments.
Windows Central Newsletter
Get the best of Windows Central in your inbox, every day!
Jez Corden a Managing Editor at Windows Central, focusing primarily on all things Xbox and gaming. Jez is known for breaking exclusive news and analysis as relates to the Microsoft ecosystem while being powered by caffeine. Follow on Twitter @JezCorden and listen to his Xbox Two podcast, all about, you guessed it, Xbox!
nice article, thanks!.. I have the Surface Book with Performance Base, and even though I bought it for the versatile functionality of the inking, full tablet, and traditional laptop combo, I'm certainly glad to see that it runs games at a very acceptable level as well.. but yea, if you want a pure gaming machine, you can do a ton better for the price.. I just love the overall form factor of the Surface Book though.. great product

That's why they need thunderbolt 3 with external desktop graphics support on the next surface book.

its not that easy, you could play it on LOW but after some time 10 - 30min. the HEAT would be too big and the CPU/GPU would be underclocked. Even if this wouldnt happen the thermal design of the whole device is not suited for gaming. The lifespan of the HW could be shortened

I'm still pretty sure Halo Wars 2 is running on the iGPU, given the HD 540 on the i7-U is quite capable. You should getting better performance from the 940MX.

It isn't, naturally I checked that. It wouldn't run at all on the iGPU.

I agree. Its pretty easy to check what programs are on either dedicated le integrated. 940mx would be better than low settings at 720p. I did my own test on my surface book 965m at 1080p and got a solid 60 fps with geforce optimized on medium settings.

Can we stop calling the GPU in the Surface Book Custom Nvidia card? It's a 940 MX.

Microsoft calls it that, lol

RE7 actually played quite well on my Surface Book with the performance base.

Disappointing, given the price tag of the Surface Book. I hope they eventually have one with Raven Ridge, where the graphics should exceed this by a noteworthy margin (being Vega-backed and all). I find it difficult to defend high-price tech where the price is mostly built into "build quality" and "thinness," when it trades off performance so greatly.To me, a thicker laptop that will hold up to some activity is a better solution, while the extreme portability just feels to be done on a level that isn't totally important. But, we're talking PC here. No matter what we want, there shouldn't be trouble finding a device to pull it off. Nothing wrong with choice.

Build quality and form factor make up for most of the price. Look at all of the ultrabooks, none of them can handle intense gaming and all of them have a high price tag. The manufacturers never marketed these devices as gaming laptops. They were all built for portability and battery life which may not be important to you but is to many others.

Why would they use the surface book non performance base for the game tests? Makes no sense. The 965m is superior to the 940m.

Because the non-performance version is the lowest dGPU offered... so obviously having the newer model will result in a noticeable improvement... I have the exact version as the one tested here and I appreciate this article a lot... I originally though I wasn't going to be able to run RE7 but now I think I might get it... I have been able to run: - Outlast / fHD / high settings - Dying Light / HD / medium-high settings - BioShock Infinite / HD / high settings - SOMA / HD / low-medium settings I tend to set my games to a Low-Res but high quality visuals, instead of the opposite... I think it shows a better experience.

What are the chances of a Surface Book 2 with a more potent dGPU in the GTX 1060+ range being released in the next few months?
I'm not really a gamer these days anymore but I sure like the idea of still being able to do that without sacrificing too much quality.

The more likely scenario is that the SB2 will get a GTX1050, which is no slouch.

Nice article. Anyone tried Dishonored 2 on the Surface Book? I have played Deus Ex Mankind Divided on the Surface Book with lower settings and it works fine. Keep in mind that using a quality display device such as the Surface Book certainly reduces the impact of using lower settings. Deus Ex Mankind Divided looks great on my Surface Book....even better than my xbox one at home.

This is why I'll always be a console gamer. When you start the game on a console, you know it'll work well. It may not be 4k, but I don't have a 4k TV.