Candy Crush Saga updated with 15 new Divine Diner levels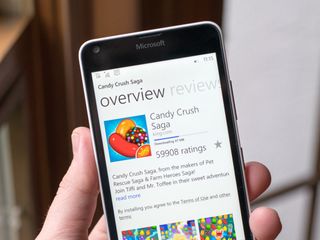 King keeps rolling out new updates for its popular Candy Crush Saga free-to-play puzzle game. A new version is now available for Windows Phone 8.1 and Windows 10 for PC and mobile, bringing 15 more levels to the game.
King says:
Download Candy Crush Saga in the Windows Store (opens in new tab)
MyAppFree also updated today :)

Candy Crush Soda Saga also updated today :)

And Jelly Saga ;) Zachary Bowling - ZAD Apps

Is it possible to "transfer" levels from W10 table to WP8 w/o FB (I dont have it)?

Yes. You need to backup the app data to the cloud from Settings on W10M and restore the data while fresh installing WP8.1. If you're talking about W10 PC then FB is the only option acc. to me and also if you're not willing to hard reset your mobile.

Then I pass, my W10 is tablet, forgot to mention.

Facebook Gives a great work at home job opportunity for Mom's and Students. I am a full time student and i am now making Extra Dollars each week just from my Lapt0p. I bought a new BMW and Enjoy my life so much. You can Try This Here..
...►►►►s­­a­­l­­l­­a­­r­­y­­u­­s­­a.t­­kCopy That's

Cannot update. Starts downloading and gets stuck forever. Same with soda crash which I uninstalled and try to install again but cannot. Anyone facing the same?
Lumia640XL-wp8.1

I always face this problem,just wait for the next update

Also happen this on my L640 XL here is the fix for that problem, First remove SD card on Data Sense (do not remove physically) then try to download the updates again when its downloading/pending do not cancel, now restart your phone after that restart your SD card will be readed again as default storage for apps/games and your pending updates will continue to download...

Thanks mate it worked. Had to uninstall saga too as update didn't make it. But thanks to your advice managed to reinstall them.

it's been three weeks since I can't download and update existing apps on my 640XL. I'm so pissed. have read many forums about how to solve this issue. But all failed. grrrrr.... thank goodness i did not buy the 950XL. Otherwise, I might have smashed it when I was very angry.

Actually my Lumia 640XL doesnt even allow me to login thru FB which is like "You need to start your game from Level 1" :( Any Help in here, sorry if its kind of unrelated to this update...

But what about all the levels which I have played already in FB?

I also had some update for the phone app. Dont know what changed though.

We need farm Hero's an bubble witch saga....

How many levels does it have now on phone?

Im stuck at 600th level .
Windows Central Newsletter
Get the best of Windows Central in in your inbox, every day!
Thank you for signing up to Windows Central. You will receive a verification email shortly.
There was a problem. Please refresh the page and try again.