Candy Crush Saga for Windows Phone updated with new levels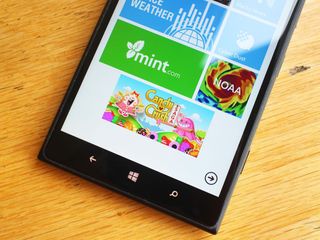 Publisher King has released an update for Candy Crush Saga on Windows Phone that adds a number of new levels to the highly popular puzzle game. It finally arrived for Windows Phone in December.
Here's the funny description of the update from the change log:
If you are a first time player and need some tips to play Candy Crush Saga, don't worry: We have that covered
Thanks to everyone who tipped us!
Windows Central Newsletter
Get the best of Windows Central in your inbox, every day!
Who all love this game (I don't)

I still play Frozen Free Fall and enjoy the game. Never bothered about Candy Crush much.

I felt ashamed to ask Facebook friends for help to access higher levels, so I deleted it.

Before the update you could log out Facebook and finish three levels to get trough. With this update, it's not possible. Sucks for me who don't have Facebook

Turn off data and restart game, you will be now given option to complete quest (three levels) to progress in the game.

I use to but after few days I got bored with it and uninstalling was the thing I did with it.

Too bad they don't care to bring candy crush soda saga as it is the popular one now.

I like it. I can see why some went gaga over it. You do get roped in after a while

You still care about this PoS game? In 2015??

enable Xbox achievements...,then I'm in.

After getting updated... Game is crashing....cant play it..

good so y cNt send request to any to invite them to play. peace of mind

you know you can block ANY game from sending you notifications, right?

We are rather lazy to block themm... So that worthy update brought crashing feature..... Needs no update like Instagram Beta

Keep crashing on my Lumia 920 , work great on my Lumia 535 .

Don't use old and niche phones :P:P

Thanks to letting me know. I won't update

Here too... First start after update went well, now it's crashing all the time

With me it works very well, only I can't login through facebook anymore, so no syncing..

been trying to get this update since morning, it's not downloading just sitting there

You should! The developers need to know that if they take the time we will use their apps. Just give it a chance. If you get bored then uninstall it but help out download numbers grow and leave a review. Takes 5 mins.

Cant download candy crush saga plssss help .,, its show downloading bt aftr a certain limit it show pending ... Wat to do ., I love dis game nd nw I cnt play

Any luck on this isue , iam aloso facing the same issue

Addictive game. It actually is !!

keep crashing.... tried reinstaling didn't work, moved to phone memory didn't work :(


I believe it's a glitch with facebook and candy crush. The cache gets corrupted. I had to uninstall both apps, soft reset (reboot phone), then reinstall both apps. After wards, candy crush works. It will ask again to "connect" to facebook to resume your progress. I have fixed several windows phone users using this method.

so you mean i have to hard reset to run cand crush ?

I mean soft reset (reboot phone). Sorry.

did reboot. still same :(

Did you uninstall both apps, reboot then reinstall both apps?

The only way to win at Candy Crush is..... Uninstall It !!

This update crashed my game to the start screen on the loading screen. Reinstalling didn't help. L1520

Works for me on 925. They made some visual changes. Looks more current.

Sad, but when I saw the notification I was sure the second part of the headline would be "pulled from the store". It was a nice surprise to see the opposite.

I....just....can't....bloody.....stop playing this damn game!!!!

Lol. And while I appreciate the update, it isn't up to where it is on facebook...waiting for level 861+.

Has there been any news on any other King games coming to Windows Phone? King has published quite a few games on Facebook.

No they haven't they only published one. (Which they ripped off from a classic game) and then just reskin them so fools pour money into their plagiarising pockets

No candy crush soda and other games from king.com

It's okay, support the changes they do bring and we will get those newer ones as well. We have to support the devs if we want nice things

I updated and it crashes, worried if i uninstall and reinstall, i have to restart from level 1... Lumia 930

Not a big fan of games like this, but I'm glad to see more popular devs and games such as this one on Windows. It gives ya more hope for the app issue on Windows to subside.

I like this game and support

I got to level 140 and then it just stopped loading. Hopefully this will be fixed now...

I hope they fixed the ridiculous battery drain.. I could kill my icon battery in one hour of either playin or leaving it running in background.. Anyone else have this issue??

As if there weren't enough levels already

Stucked in level n-1 . Here you can assume n= your wish

150 levels I guess
Because I've heard many users say that the last level available was 710 or something like that I don't play it , its shit

The game crashes whenever launched on my l830

please switch your advertisiing id on and the games works fine


You just replied to yourself lol.

looks like everyone having the same problem, hoping for another update to fix this issue :\

Have they fixed battery drain yet? I uninstalled it because battery drain was HUGE, by far the biggest wexpender, and i was only using it maybe 20min a day.

The only 'crush' name game which i'am not in crush with :D

anyone else hates those chocolate levels? those fu*kers are frustating...

Due to chocolates i switched to clash of clans... Happy now ...

Can't rest my facebook game so no thanks I'm not interested.

They should call this update candy crash...

I can'te belive this, I'm done playing CC Saga, now I play Candy Crush Soda on my iOS device. How long is going to take the developers to add this new game to Window Phone devices? a year or two. By then, I will be playing something else. Windows Phone users ARE way behing game Apps. We are the weakest link.


Yes ... Same story... But i switched to clash of clans... On my ipad :)
Now i hate this kind of game ...

Thanks for the Space Weather featurette

Still slow as molasses under W10 Preview. And now the "Connect with Facebook" feature doesn't quite work - it takes you to FB in the browser, not the FB app, and logging in there doesn't load friend lists into the game.

It's crashing constantly for my gf... Reboot/Reinstall didn't work.

Same here...crashes after trying to start the app.

Just change the date with one month .open the game let it load "don't press play".exit the game change the dat back. Ta da .. Now the game its working

Done, but still crash here... 1520 wp 8.1.1
Candy crash saga

LMFAO, how on earth is that supposed to accomplish anything?

I'd like to see more king games on windows phones. More choice on what to play can only be a good thing. Haven't received the update as yet. Hope its not buggy as indicated in posts above. May hold off in updating as trying to determine a way to back up my progress on the game without using facebook. Anyone know a way to save progress on Candy Crush that doesn't involve facebook?

The level adding is not the only thing added... They changed the resolution of the game and other things now it connects much faster to facebook on 2/3g network.and there are no bugs on crashing after you needed tickets.

What device are you using? Mine us crashing c​constantly after the update?

Just try the "date and time " trick

Lumia 1520 cv ita wp 8.1.1 crashing, where to ask for support?

eight hundred and forty five
EIGHT HUNDRED AND FORTY FIVE!?!?!?!"!?!?!??!?!? I give up, you win game, that's far too much for me!!

226, 6 hundred more and I am fine

This game is for mentally impaired

This game is useless without Facebook.

Stopped crashing after turning advertising ID on. L635.

Well whattaya know, that worked!

http://about.king.com/about/contact?linkId=12651213 Support link

This game was neat as a time waster for a while, but it's probably the most pay to win game you'll ever play. No amount of skill can guarantee a win on any round because of the crazy randomization. It's even hard to play if you try cheating using firefox browser plugin if that says anything about it. If you want a match em up type game that actually has some skill, try puzzle and dragon... although PAD is only available on android/ios sadly.

App doesn't open after today 's update. Crashes on opening on L620.

As mentioned by @Verjan, you need to check 'Advertising I'd' is on for it to work? Maybe ads are coming our way?

Try the "date and time trick"

Definetly wouldn't recommend the "date and time" trick. Usually messes up your call blocker.

It is mega quick after this update. Used to lag but now it's like lightning.

download is pending since this update arrives....what might be the problem ?

Game crashes a lot . What a joke they do on windows platform while releasing an update .

Unable to download. Its stuck in waiting mode.... Wp8.1 update1 L930

Me too had same problem pending status or throwing error with some codes. . . Tried all solutions mentioned in online discussions. . .but failed. Finally found. . . After Denim update Facebook app won't be there in your app list. First install Facebook from store (latest). then try installing CC saga it must go fine. But i have frequent crashes during gameplay. . . need to try date time trick as Alex said... any other solutions?

Cant download the app after update in lumia 520

Follow the above .. . . . as in my previous reply

Cant download candy crush app from my store in lumia 520

I do like the Candy Crush Saga however i just want the Candy Crush Soda Saga to be released on the Windows Phone platform and does anyone have any idea when it will be released as prefer the soda version

Follow the above .. . . . as in my previous reply

i have microsoft 640 xl but i am unable to download candy crush saga on my phone