Candy Crush Saga arrives on Windows Phone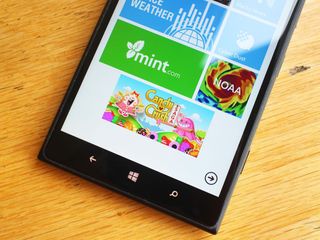 As rumored last week, publisher King has finally brought its highly popular mobile arcade game Candy Crush Saga to Windows Phone devices for the first time.
The game is free to download and play but does contain in-app purchases. Here's a quick rundown of its features
Tasty candy graphics that will leave you hungry for more
Unwrap delicious environments and meet the sweetest characters
Helpful magical boosters to help with challenging levels
Complete adventurous levels and unlock treats
Easy and fun to play, challenging to master
Hundreds of sweet levels in the Candy Kingdom - more added every 2 weeks!
Leaderboards to watch your friends and competitors!
Easily sync the game between devices and unlock full game features when connected to the Internet
And before you ask; yes Candy Crush Saga is indeed compatible with Windows Phones with 512 MB of RAM.
Much thanks to the many folks that tipped us!
Oh yeah.. Even tho I don't play the game.

Would not play this but great news, no more off topic requests lol

This should be with Live.....should have achievements.

Haha.. I don't mind about this game

I hate the publisher and their dick move suing people who made games with "Candy" in the title, and games with "Saga", despite Candy Crush itself being a rip-off in both name and gameplay.

Nah, except for big publishers, almost none of those from iOS and Android port their games as Xbox Live. Also, it will take a few more months for this game to be released if it were Xbox-enabled.

No, this is a good, ole-fashioned money sink. Achievements should be reserved for games that require skill to beat instead of cash. I played this on the iPad for a few weeks. I'm glad that checkbox has been filled, but I think this game's popularity has already begun to wane.

Cant believe... Started playing this game yesterday on droid..today its on wp.. I searched it today on wp store as well only a few hrs ago.. What a coincidence its live!!!!

It has been on Android for over a year now. It's so yesteryear...

Yep, Microsoft should've ensured it was Xbox Live enabled. Another huge missed opportunity (after yesterday's terrible Minecraft: PE launch). When your customers have to wait years to get a game, you should go out of your way to make sure they get the definitive version of that game. Xbox integration could've been that differentiator. #SaveXboxWP. Truth, right here.

If they were to ad xbox live to Minecraft: PE it would be released in june 2015. Would you like that? Don't get me wrong, I also want games to have xbox features but first MS needs to fix the ridiculously long xbox certification process before you can start being angry about the lack of xbox support.

Agreed. I'd rather see it on the platform before getting xbox live support.

I'd rather see it do both. Don't settle. You deserve Xbox games on WP and you deserve them in a timely fashion.

If you actually bothered to follow the link and read the goals of the #SaveXboxWP movement, you'd have seen that the very first goal is to cajole Microsoft into revamping the counterproductive Xbox certification process.

Alright but I was only responding to your comment, which didn't specify these details at all.

In my comment that you replied to was embedded a link to those details.

I honestly did not notice, I'm in the app so all I saw was a hashtag. (no, that tiny icon for links didn't catch my attention)

Yeah, the app doesn't do a good job of advertising embedded links. You have to tap and hold on the comment until a context menu pops up, and then, if there is a link, you have to click "follow link". It's pretty cumbersome.

Yes! Bad Microsoft! Stupid Satya for not enabling Xbox Live in a game that is made by King!

It's Microsoft's platform. It's their responsibility to court developers and incentivize them. So, yes, they should be criticized for dropping the ball on this (and other recent ports) by not facilitating Xbox Live integration.

I'll never play the game, but downloading anyway just to bump numbers.

That doesn't really do anything.

OMG, it's finally here. I just saw tear dropping from my other eye.

I'm not playing the game, but this is a great addition to Windows Phone Store :) Let's see if other major titles follow the route...

Finally, I don't love it, but I'm sure that this game will make alot of WP fans happy

R.I.P. All Candy Crush Alternatives.

Heh?!
I still enjoy playing Frozen -_-!

I was actually playing it just before reading this news.
Edit: Playing frozen free fall

Hi5! What level, mate? I'm at 142 :)

I'm on 171 on Frozen, and my gf is probably past 200 already.

LOL! I gotta play more, I suppose :P

206 btw i was about to open the game to check it, but the tile flipped and it showed my level. Gotta love live tiles.

That's what live tiles are meant for! :D

Actually it would if it worked fine...but it runs abnormally ssslooooowwww

Finally!!! love how smooth the app is, and LOVE that it syncs with facebook

Funny, that's actually the one thing most people HATE about the game.

I think i get why, the lives soesn't sync between FB and my Phone, so if i have full on Facebook, i can have 0 on my phone.. But i like it beacuse of the backup!

I like that it syncs because I have only had a windows phone as a smartphone, and I had played this on fb instead because it wasn't available. Now I have all my progress synced right up and ready to go!

NOW JUST CLASH OF CLANS, THEN I WILL GIVE ZERO FCKS ABOUT THE 'APP GAP' IF ANY!

BTW we have the father!! Age Of Empires!! :P

Lol, Castle Siege? That game is a shameless copy of Clash of Clans.

There are tons of Clash of Clans copies out there. Gameloft has Total Conquest, Disney has Star Wars Commanders, and MS Studios has AoE: CS.

LOL. Actually CoC is the copy of AOE. Since AoE was the first game of this kind. I'd prefer AoE > CoC any day.

Then you can play AoE all damn day long now cant you? .. I am sorry but I play BOTH and CoC has MUCH more to offer then AoE.

Broda you said it wrong!! Coc is copy of aoe!! ;)

Lol, it's the other way around dude.

Kingdoms& lords I play that and I am happy

I love Kingdoms and Lords!

What about Cloud Raiders? :)

Call of Duty: Heroes if it ever hits the phone. But I'm a CoD fanboy

It might. That game is already on Windows 8.X.

To all of you who have replied, I have AOE:CS on my Lumia and CoC on my iPad. Truth is, I like AOE's potential, but it didn't really catch on and so atm, CoC wins. All my friends who have Droid/IOS play it, and I'm just waiting and waiting for that day, where CoC arrives, and I can brag the f about how Windows Phone is the BEST!!

Ever played cloud raiders? Awesome gameplay. Just missing the global chat n clan wars features.

Cloud Raiders is cool my kids play it but still not nearly as big as CoC user base.

I need CoC I wanna see that Supercell logo booting up on my Lovable Lumia 1520 and I would not Regret buying my Lumia.I wouldn't regret Dyin.....

Did you say it before?
Or is it my early night déjà vu? xD

heed us, microsoft!
we must summon CoC to strengthen our core. the paling must not fall!

Cant wait for soda saga sometime in 2018!!!!

True story Posted via Windows Phone Central App

+L1020 +L630 +Soda +Cookies +Lawn mower +MyDog +All s#it out there, these quotes are fockin truth , Time to go back to hibernation and wait for next big thing

You sir, just made my night! Yeah, night!

Lol, WP will still be around in 2018 lol MS will stop throwing cash at this dead OS someday. MS only hope is to kiss an make up with google and side load android apps while keeping WP OS look and feel.

Well, Windows Phone has officially made it. ;-)

Your mama will be so proud!

Him too. He's smiling down proudly at me from heaven. :)

is your dad riding on you...? i wanna know what that heaven is.

My dad dies when I was 14.

I'd wait until we get YouTube before saying that ;)

Aaaaaaaaand we're done here.
Glad we finally have it. Only Snapchat really left.....

Yahooooooooooooooo!!!!!!!! Yahoo is a trademark of Yahoo™ all rights reserved :P

Yes! Now my mom can play her favorite game.

Wow, we have 2 year olds on here. ;-P

Good sign for the future.

I mean the future of wp depends on some silly candy crush saga?? Have we got down to such low depths????? Lmao!!!!

Lol its not just that, it's that big name games, apps, and publishers are becoming a little more common on WP.

I somewhat agree with you but we have to remember that if we want people to use Windows Phone then we need the popular apps from other platforms and, like it or not, Candy Crush Saga is one of them.

Snapchat and Clash of Clans are next on the list.

AOE:CS kills clash of clans. Plus its WP exclusive.

AOE:CS doesn't kill it, it's actually the other way round. It is a poor rip off of CoC. Obviously such rip offs are only on WP, and the originals are on iOS and Android. :p

So look @ ripoffs like mytube n metrotube which is better than original youtube app!!!

Except AOE as a game came first before CoC. So CoC is actually the copy...not AOE...

Dude, he's taking about the genre. CoC is not classic real time strategy. You're just comparing two IPs.

AOE domination is coming in january. so there are 2 version of AOE.

I will download just to pump the # up

Me too. I might even actually play a few rounds ;)

Me too. I have never been interested in Candy Crush, never played it on my iOS or Android devices but I downloaded it for WP to support the download number and played a few rounds on my 1520. I then downloaded it to my 1020 and 635 and will text the link to my daughters so they can download it to their 920 and 635. My wife will have none of this candy crushingness to grace her 1520 as she has always been totally disgusted by the media attention even though she has never played it. I would like the Dreamcast version of Sega Swirl to come to mobile platforms. Come on, someone, anyone, make that happen.

Yes!! Finally you can fart in peace:)

Thanks bro. My favorite video player is now on wp.

Lol I laughed
Mx player he meant?

I hope this is a universal game, like all new games should be for both windows and windows phone..

Your the reason it's difficult to develop for WP but I agree I do love me some Universal apps.

No, it is not "difficult" to develop to WP, don't be a liar.

Hey man games left . Posted via the Windows Central App

Dead Target is (imo) the exact game as Dead Trigger. Hell even the graphics are about the same. If anything I would truly LOVE for Deadzone to come to WP. That game is on FB, iOS, Android, Windows 7 and even Mac!!

No, Dead Target is not the exact same as Dead Trigger. It's obvious you've never played it.

Well, I've been playing Pastry Paradise on both my phone and PC, like everyday, several times a day, and I totally enjoy it! It is such a cute and pleasant game to play. I tried Candy Crush Saga at Facebook about a year or two ago, and after about 5 levels, just didn't understand the hype behind the game. However, once I finish Pastry Paradise, I will revisit Candy Crush Saga. Glad the game is available for those Windows Phone users who have been waiting for this game. I'm going to download it to show support.

Pastry Paradise is way better than Candy Crush.

Wow 512 mb supported good job kings.You are very good. Posted via the Windows Central App

Ooh my god! Finally the 'shit' that millions of wp users have been waiting for has arrived..All hail MS!!!!

It came so early! Just how many years late!! May be 1 or more!! Hahah no one bothers about it now bored of it!

That's what I've been wondering. Didn't this come out 2 years ago?

My friend switched from android to windows phone and was asking whether this game was available. Now it is..

Now you can proudly say it
Yes! Yes! Yes! Yes! Yes! Yes! Yes! :P

Yes,I do!
*wedding bells ring*
Lol

We also need Miniclip to join on in. I want that Pool game! unless you guys can give me an alternative..

Yeah me too. That is so needed

Arcadia 3d its got a collection of games pool,pinball,air hockey,chess,shooter,soccer good game

Thank you will try it out.

Now I can play it and hate it again lol

Oh Snap, my Wife's gonna have to eat her words after showing-off with her Note 3.

Awesome! I can't wait to go see this "new" Avengers movie too! I guess this is good but anybody who really plays this has already moved on.

That should shut up lot of mouths.

I don't know who Noone is, but I'm glad he cares.

Just read half way through the comments and I am nearly making my ribs start aching... it's like all the comedians have flocked here

I don't care about the game, but a friend of mine loves it so I'll get it so I can send her lives or however it works

Hey guys plz download it else king will unpublish it from the store citing no one downloaded the game. Posted via the Windows Central App

If you want WP to grow we need the big developers ! It doesn't matter if you personally care, but if you want new people buying WP phones we need all the big games and other apps it is as easy as that !!

Yes! Yes! Yes! Yes! Yes! Yes! Yes! Yes! Yes! Yes! Yes! Yes! Yes! Yes! Yes! Yes! Yes! Yes! Yes! Yes! Yes! Yes! Yes! Yes! Yes! Yes! Yes! Yes! Yes! Yes! Yes! Yes! Yes! Yes! Yes! Yes! Yes! Yes! Yes! Yes!

I never played this game, but it's still a good news. Now I hope Microsoft can convince Supercell to bring their games to WP... Or just buy them just like with Mojang lol

Supercell hates WP. They won't get here until WP gains some visible market share.

This. I have bluestacks on my sp3 only for Hay Day. What a waste of resources.

Good news for wp, thought I don't play it.

Cool. Finally I can convince my friends to switch to wp! :)

Much awaited ... Although not fond of games yet it's a response to all those who crib abt WP & praise android just bcoz it has candy crush

Downloading it right now!

This is such good news! Word will continue to get around that Windows Phone is a huge market.

Weee cool i will olay this because i never played Candy Crush .BTW i still want Retrica .

I can die peacefully now!!

*crying*
We'll miss u little bad@ss

Not available for Windows 8.1?

it's available sent from nokia lumia 920 WP8.1.1 PFD

It has always been available on W8.1... in the browser.

I laughed :D via the WPC App on Nexus 5

Another great app in the shop store. Great work.

Now I'll go and play this in a commons select committee meeting!

<