Challenge your fastball with CanKnockdown 3 for Windows Phone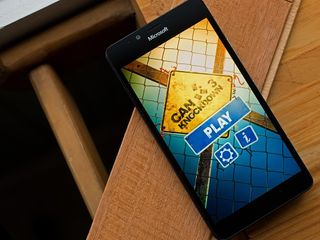 CanKnockdown 3 delivers the classic carnival game where you try to knock down a series of cans by hurling a baseball at them. The Windows Phone game is a challenging physics-based game that starts you out with sixty levels of play and an additional one hundred levels available through in-app purchase.
We have been playing CanKnockdown 3 over the past few days and found the Windows Phone title to be an enjoyable and addictive game to spend a little time with. The graphics are explosive and match the fun mood of a carnival or amusement park game nicely. If you are in search for an entertaining, casual game for your Windows Phone library, CanKnockdown 3 is worth trying.
CanKnockdown 3 presents you with a series of metal cans sitting on ledges, pedestals or stacked on top of one another. You have three baseballs to throw at the cans, with the goal being to knock them all to the ground.
The main menu for CanKnockdown 3 offers you the option to jump into gameplay, access the game's settings and if you swipe up on the main menu you will be able to view your gaming stats and find links to the game's social network pages.
CanKnockdown 3 includes sixty gaming levels with the free version, and a $1.99 in-app purchase opens up access to an additional one hundred gaming levels — in addition to removing the game's ad support.
The levels are progressively unlocked and scattered about several chapters. To advance to a new section of gaming levels, you will have to earn a set number of stars that are earned based on your scores.
The gameplay mechanics aren't difficult to pick up, but difficult to master. The three baseballs will roll across the bottom of the screen with your cans sitting in the background. To throw a ball, just flick or swipe up at the baseball. The faster you swipe, the more power behind your throw and the direction of your swipe dictates the direction of your throw.
Along with the plain, unmarked cans, the game will also toss out bonus cans to help you have a fighting chance at success. For example, you have an "extra ball" can that when hit will earn you an extra throw and an "explosive" can that could blast neighboring cans down when hit.
The fewer tosses it takes to knock down all the cans, the better your score, which in turn increases the number of stars earned. You can also earn bonus points by throwing your baseball with speed and knocking down the blocks that may be holding up the cans. If you fail to knock down all the cans, you can replay the level in hopes of improving your score.
Carnival Fun from your Windows Phone
CanKnockdown 3 isn't a very complicated Windows Phone game, but that does not reflect that it is a game without challenge. Simply put, CanKnockdown 3 is a fun game for those times you need help passing the time or just have the urge to enjoy a casual gaming title.
The graphics have a nice gritty feel that's reminiscent of a street carnival or amusement park. You also realistic sound effects that range from the ball hitting a chain-linked fence to the Carney cheering you on in the background that adds to the atmosphere of the game.
It will take you a little time to get used to throwing the baseball, especially when the cans are placed on elevated ledges.To improve your aiming point you can tap-and-drag on a baseball and roll it across the lower ledge the balls roll out onto. Once you get a feel for throwing the balls, the game will get a little easier but will still have the potential for kicking your butt.
The game does support low-memory devices and the CanKnockdown 3 did run smoothly from a Lumia 550. However, I did experience some minor lags while loading the game. Nothing earth shattering, but still noticeable.
Overall CanKnockdown 3 is a fun game, well worth having in your Windows Phone library.
Download CanKnockdown 3 for Windows Phone (opens in new tab)
Windows Central Newsletter
Get the best of Windows Central in in your inbox, every day!
George is the Reviews Editor at Windows Central, concentrating on Windows 10 PC and Mobile apps. He's been a supporter of the platform since the days of Windows CE and uses his current Windows 10 Mobile phone daily to keep up with life and enjoy a game during down time.
Finished this game ages ago. Definitely recommend.

Enjoying it now on my 640XL

Yeah.It's an awesome game.Runs really fast at 640XL

Hey hi guys i took lumia640xl jumping from Lumia 525 planning to install win10 on 640xl hws the battery life on it can any tell me.. I have been insider since day 1 on my L525 its gets heated up even now so ... Hws new build on 640xl worth to upgrade...?

Hey,I'm using the Windows insider program from 22 July.I think before 2 or 3 updates the w10 run really fast.If you want my opinion just do it.I use my phone for 10-12 hours (I use it most of the time for my university) the battery is really cool and the life about 14-15 of hard using.But I recommend to u to make hard reset after the update for a fresh start.

I'm stuck on level 4. I only opened one level. What am I doing wrong?

That was by far the most complex,intriguing , and helpful comment I've ever read. This shear amazement I feel after reading this, cannot be understated. I revel in the pure brilliance of the writing, and I cannot wait to read your next great work.

GothardJ2, that reply made my day xDD I love sarcastic comments :D

Level 4 is actually very simple. Many ways to beat it. It is possible to do in just one throw. Think of the cans like dominoes... If you had to start a chain reaction, where would it be? Also, think if it's possible to hit more than one can with just one ball...

My bad, I worded this poorly. I am in Stage 4 IronWorks. Only level 13 is unlocked. Am I missing something? It wants be to pay to unlock others which doesn't seem right. I have 3 stars on all the previous levels in the other 3 stages. Are my 3 start scores not high enough?

Ah, I see where I misunderstood now after reading it again. I believe that's as far as it goes until you purchase to unlock the rest. I've gone through and got 3 stars with a Speedy rating on every single level and it still only shows the one open level for me as well (#13).

Good game . Đã test trên Lumia 640, thấy đồ họa rất sắc nét . Các màn chơi tương đối khó nhưng khá thú vị . Ngoài kỹ năng, sự khéo léo ra thì còn phải vận dụng tư duy và óc sáng tạo :)

Ναι, στα αρχιδια μας τι γράφεις όμως μικρή πουτανίτσα. Γράψε αγγλικά αλλιώς άντε και γαμησου. Βρωμιάρα

According to multiple translate sites, it is Vietnamese. According to the same translations it is: "Good Game. Have test on Lumia 640, see the graphics are very sharp. The stages are relatively difficult but quite interesting. In addition to the skill, ingenuity, have to use thinking and creativity"

I thought it was Klingon.

I thought was a mix of French ,German, Latin and a Forgotten language and every one who can speak it was able to call the daemons from hell and curse his enemies but as you live you learn more

We want other infinite dreams games, for example sky force.

Then tell everyone you know to get this one and they'll likely bring them to Windows.
Windows Central Newsletter
Thank you for signing up to Windows Central. You will receive a verification email shortly.
There was a problem. Please refresh the page and try again.