Canon CanoScan LiDE 400 Slim Scanner vs. Canon CanoScan LiDE 120: What's the difference?
For the last 10 years, Windows Central has spent countless hours researching every accessory, PC, and laptop in the Windows ecosystem to give you the tools you need to make good purchase choices. We work hard to give you the best information and reviews for your reading pleasure.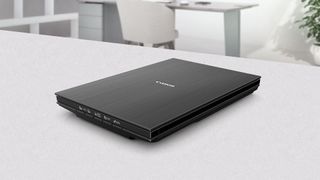 (opens in new tab)
CanoScan Lide 400 Slim Scanner
Our pick

The CanoScan LiDE 400 is a low profile, high-resolution scanner that has a lot of excellent features, including a high scan speed. However, do you really want to pay $90 for a scanner alone?
For
Extremely high-resolution scans
Low profile
Lightweight
Against
Price is pretty high for a scanner
(opens in new tab)
Cheap and cheerful

The LiDE 120 is on the low end of the spec sheet compared to the 400. It will do fine if you want to scan documents, but it's not powerful enough to perfectly scan photos and can't do much else.
For
Small in size
$20 cheaper than the 400
Against
Low scan resolution
Slow scan speed
Both the 400 and the 120 versions of the CanoScan LiDE scanners are lightweight and low profile, but one is significantly more powerful than the other. If you are hoping to do any picture scanning then the 400 is probably the choice for you.
There is a clear choice here
While you might be inclined to think one flatbed scanner is the same as the rest, that isn't quite true. Both versions of this scanner will get the job done if you want to scan documents, but when it comes to more intensive tasks, the only one you can count on is the 400.
Resolution — how many pixels your scanned image contains — counts for a lot in scanners and the LiDE 400 has double the scan resolution of the LiDE 120. If you're thinking of using your scanner to convert old photographs into digital copies, for example, then having the higher resolution 400 is a must. With a very satisfactory 4800x4800 DPI, your photos will look as good as the day you took them.
The scan resolution of both scanners is sufficient for copying documents, but the LiDE 120 processes at half the speed of the LiDE 400, making your scanning day that much longer. It takes the 120 a whole 16 seconds to scan one sheet of paper. Compared to the 400's eight seconds, the LiDE 120 is a wagon next to a rocketship. The LiDE 120 may have been an acceptable scanner two or three years ago, but for todays scanning needs it just doesn't cut the mustard.
You can check out the rest of the important specs below.
| | CanoScan LiDE 400 | CanoScan LiDE 120 |
| --- | --- | --- |
| Max. resolutions | Optical:4800 x 4800 DPI, Interpolated: 19,200 x 19,200 DPI | Optical:2400 x 4800 DPI, Interpolated: 19,200 x 19,200 DPI |
| Scanning speed | Document: 8 seconds, Photo: 4 seconds | Document: 16 seconds, Photo: 8 Seconds |
| Weight | 3.6 pounds | 3.4 pounds |
| Power input | USB-C | USB 2.0 |
| Scanning Element | Contact Image Sensor (CIS) | Contact Image Sensor (CIS) |
In this comparison, there really is one clear choice. The LiDE 400 is faster, more powerful, and even has USB-C as it's power input, making it compatable with all the future devices that are moving over to USB-C. The 120 only uses USB 2.0, ensuring it'll only work with older devices.
The fact that it costs $20 more than the LiDE 120 is not enough of a reason not to reccomend the 400. The CanoScan LiDE 400 is twice as fast and has double the resolution of the LiDE 120 making it the outright winner in this comparison.
Hi-res power
(opens in new tab)
If you want high-resolution photos, get the 400

With a large scan resolution and 8-second scan times, the LiDE 400 will increase your productivity and with USB-C power, it's future-proof too.
Cheap but sturdy
(opens in new tab)
Great for scanning documents but not much else

Despite being $20 less than the 400, you have to suffer from some compromises that make the lower price just not worth it. Only get this if you really can't afford the extra $20 for the LiDE 400.
James built his first PC when he was 13 and has never looked back. He can be found on Windows Central, usually in the corner where all the 3D printers are, or huddled around the Xbox playing the latest games.
Windows Central Newsletter
Get the best of Windows Central in in your inbox, every day!
Thank you for signing up to Windows Central. You will receive a verification email shortly.
There was a problem. Please refresh the page and try again.