Capcom Home Arcade review: A fun, but expensive, blast from the past
This isn't your average mini retro console. It's pretty massive for starters.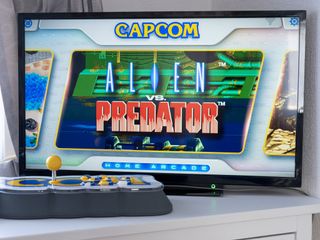 (Image credit: Windows Central)
The recent trend of retro, mini consoles has produced some good, some less good outings from past favorite brands, but as we enter the holiday period there's another to add to the mix.
Produced by Koch Media, the Capcom Home Arcade is certainly retro, but it's far from mini. What it is, is a high-quality home arcade experience. But is it worth the fairly eyewatering price tag?
Bottom line: The Capcom Home Arcade is a good product, albeit one with a niche appeal and a painful price tag.
For
High quality sticks and buttons
Superb build quality
Varied game selection
Solid frame rates and overall performance
Street Fighter II
Against
Very expensive
WiFi issues mean updating firmware currently impossible
Very niche appeal
Not available in North America
Capcom Home Arcade games list
The Capcom Home Arcade launches with 16 games and packs a decent amount of variety, plus they're all authentic arcade experiences. Here's the full list:
1944: The Loop Master
Alien vs Predator
Armored Warriors
Capcom Sports Club
Captain Commando
Cyberbots
Darkstalkers
Eco Fighters
Final Fight
Ghouls 'n' Ghosts
Giga Wing
Mega Man The Power Battle
Progear
Street Fighter 2: Hyper Fighting
Strider
Super Puzzle Fighter II Turbo
Capcom Home Arcade and the authentic experience
Short of having a full cabinet in your home, the Capcom Home Arcade is probably the most authentic feeling arcade experience you can get. On a hardware level, it's quite the thing.
Generally speaking, the retro mini console market has seen appealing, but fairly cheaply made boxes. The PlayStation Classic is a prime example, in that it looks just like a tiny PlayStation, but it feels like quite a cheap, very hollow box. That's not what the Capcom Home Arcade is at all.
It features a pair of competition class Sanwa JLF-TP-8YT sticks with 8-way GT-Y directional gates and OBSF buttons. I'm far from a connoisseur of such hardware, but I do know that Sanwa sticks and buttons are both exceptional quality and very highly regarded. They feel incredible to use and immediately transport you back to a time of hammering coins into cabinets as fast as your young hands could.
That's ultimately the strongest praise for the Capcom Home Arcade. The experience feels authentic, and importantly, given its £200 price tag, that this is a quality product. Nothing is cheap, no corners are cut.
That stretches to the experience of playing the 16 pre-loaded titles, too. There's a solid variety, and of course, the legendary Street Fighter II. This has to be about the best way to play this iconic game in your home. The games are delivering using emulation, but it's a good one, and by all accounts the internals are pretty strong, even coming with 4GB of NAND flash paired with the unspecified ARM SoC.
Performance is strong, and as the boffins at Digital Foundry have identified, you get a solid 60 FPS. The games all look generally very good, and the Home Arcade outputs at 1080p over HDMI. Display modes are fairly limited, but you can get something fairly authentic-looking, or you can add some smoothing and stretch the display to fill your TV screen.
One, perhaps unfortunate side effect of the authenticity on show is the sheer size of the thing. Where the PlayStation Classic and SNES Mini are tiny little boxes that will tuck into any part of your home entertainment center, the Capcom Home Arcade is enormous.
By virtue of its two-player layout, the body is very long and is best played on a solid surface like a table. If you're soloing it and trying to set it on your lap, you're not going to have a particularly great time. The size and heft mean it's extremely well planted when on such a surface, but it's still huge, and it's something you also have to consider when you're not using it and just want to store it somewhere.
Capcom Home Arcade has its flaws
Make no mistake, as a piece of hardware and gaming experience, the Capcom Home Arcade is very good. But it's not without its flaws, which sadly aren't limited to saying it's a bit big.
For one, the Wi-Fi is entirely unusable. No matter how long I tried, I could not get it to connect to my home network, which isn't a deal-breaker, but it does mean that the firmware can't be updated should a new one be released. There's a USB port on the rear with an unexplained purpose, so maybe that could be a route, but as it stands, I can't ever update it.
Checking out other reviews, it seems I'm not alone, either. I do use a mesh network at home, which I thought might have been part of the issue since for some reason the Home Arcade seems to list each of my nodes individually, but even trying each one-by-one, there is no joy. And since there's no way to update it, it looks like it won't get fixed.
The lack of wireless ultimately simply means you can't join the leaderboards beyond updating the firmware, so it's not a massive deal, but it's a pretty rough bug to have left the factory with.
Then we get to the price. It's £200. And that's the same price as an Xbox One S. Sure, it's a quality product, and those Sanwa sticks alone would cost you up to £60 if you were buying them separately, but £200 is still a lot of money for something with 16-games and a pretty niche appeal.
And it's the latter of those paired with the price that could ultimately be the downfall. Koch Media shouldn't be criticized for making a high-quality product, not at all, but in turn, it leads to something that's very expensive.
And if you're not already a fan of arcade titles, then I'm not sure this is going to be the product that turns you into one. Arcade games by their very nature are often difficult, and the lack of progress saves and endless returns to the beginning are foreign to younger players who never experience this time of gaming the first time around.
It's also not available in North America, so, sorry guys.
Should you buy the Capcom Home Arcade?
Whether or not you should spend your money on the Capcom Home Arcade is a difficult question to answer. On one hand, the product itself, despite its size, is absolutely superb. The hardware is extremely high quality, and the fact that this was built to a standard rather than cheapening out to keep the price down is commendable.
However, it is expensive, and it does have a very niche appeal, sadly not nearly as widely exciting as something like the Nintendo retro releases.
However, if you are a retro arcade fan or you're looking for the perfect gift for the arcade fan in your life, then there's plenty to like here. The experience feels very authentic, and for games like Final Fight and Street Fighter II, this has to be about the best way to play them in a modern setting. I'm terrible at both games, but they're enormous fun to play on the Capcom Home Arcade.
And that's ultimately the final word. For the right person, this is a brilliant product. But for everyone else, it's too expensive to take a chance on.
Insert Coin
Large, well-made, very expensive

For the right person, this would make a terrific gift, but it's large and very expensive, even if it is a superb product.
Get the Windows Central Newsletter
All the latest news, reviews, and guides for Windows and Xbox diehards.
Managing Editor - Tech, Reviews
Richard Devine is a Managing Editor at Windows Central with over a decade of experience. A former Project Manager and long-term tech addict, he joined Mobile Nations in 2011 and has been found on Android Central and iMore as well as Windows Central. Currently, you'll find him steering the site's coverage of all manner of PC hardware and reviews. Find him on Mastodon at mstdn.social/@richdevine