Caprine review: Customize Facebook Messenger on Windows 10
If the interface of Facebook seems boring or stale to you, Caprine provides a customizable option.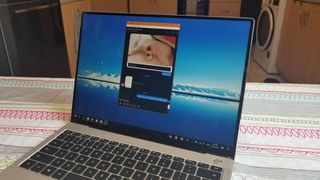 Facebook Messenger is one of the world's most popular messaging services, and there are a number of ways to use it on Windows 10. You can use Facebook's own first-party Messenger, message from your web browser, or use a number of messaging clients such as Messenger 10.
Caprine is another Windows client for Facebook Messenger. It's centered around a customizable interface and power-user features such as keyboard shortcuts. It's an attractive alternative and is a good option for anyone who is on Facebook regularly.
Caprine is available for free on Windows 10. It's a fork of an app available on GitHub, but the fork was done with the original developer's permission, according to Caprine's description.
Making Caprene your own on Windows
Caprine takes the general Facebook Messenger interface that you're used to and gives it a number of customization options. You can toggle between light and dark modes, hide elements of the interface, such as last seen indicators, and toggle the sidebar. The last of those is especially useful because Caprine scales well when resized, but if you make Carpine as narrow as possible, the sidebar takes up too much room. Being able to turn that on or off with a keyboard shortcut is great and lets you either switch between messaging different people quickly or fit the app into a small window. You can also hide the top menu, which is the least attractive aspect of the app and looks like it's from Windows 95.
I don't love the blue-based dark theme that Caprine offers, but that's more of a personal taste. What I do like is that it has options. If you're going to switch away from apps or websites that already work, there needs to be an incentive. Looks are a big factor because messaging apps require your eyeballs to be on the screen quite a bit.
Caprene brings the power
The main differentiator between Caprine and most other ways to use Facebook Messenger are the keyboard shortcuts. Most of the interface changes mentioned above can be switched on or off with a combination of keys, but you can also interact with Caprine using keyboard shortcuts. There aren't a lot of power features that could work with Facebook Messenger, but Caprine brings as many as it can to the table.
A co ofuple common controls are that you can use Control + G to insert a GIF or Control + E to place an emoji into a message. There are a number of shortcuts that let you keep your hands on the keyboard for more of your messaging sessions. The downside is that these aren't customizable, as far as I can tell. That means if your system or another app already uses a combination of keys, you'll run into issues.
Caprene is a RAM eater
Caprine looks nice and has some solid features, but it takes up a lot of RAM when idle. In my testing, Caprine took up around 176MB when idle compared to Messenger's 3MB to 4MB. When actually running, I found that Caprine used less RAM than Messenger by a little bit.
Caprine is powered by the Electron framework and with that comes downsides when it comes to RAM. If you're going to run Caprine perpetually in the background, be ready to give up some space.
Is Caprene worth the switch?
Caprine offers a customizable interface with light and dark themes, the option to toggle elements of the interface on and off, keyboard shortcuts, and more. These are excellent features and I'm always a fan of more options. But customizing Facebook Messenger might not be as important to many as customizing an app like Slack, which many people look at all day.
If you're on Facebook Messenger a lot, I recommend giving Caprine a try. It's more than just a web wrapper and I think options are always a positive.
Even if you are more of a casual Facebook Messenger user, there's no reason not to give it a try. Caprine is free, easy to use, and works well.
Some will criticize Caprine for being Electron based, but I don't hold the hatred that many do for Electron. Caprine ran fine on my systems, but it did take up significantly more RAM than Facebook's first-party app when idle. If you're opposed to Electron or just have a machine that doesn't have a lot of RAM, Caprine probably isn't for you.
Pros
Customizable design
Keyboard shortcuts
Free
Cons
Electron-based
Eats up RAM
Doesn't have customizable shortcuts
Get the Windows Central Newsletter
All the latest news, reviews, and guides for Windows and Xbox diehards.
News Writer and apps editor
Sean Endicott brings nearly a decade of experience covering Microsoft and Windows news to Windows Central. He joined our team in 2017 as an app reviewer and now heads up our day-to-day news coverage. If you have a news tip or an app to review, hit him up at sean.endicott@futurenet.com.