Behold the inside story behind Carcassonne for Xbox Windows Phone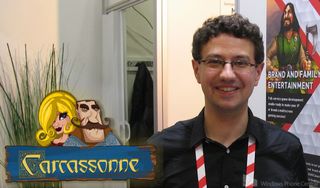 In the last week or so we've brought you interviews and announcements from German developers Handy Games and Flare Games. Now we've made it a trilogy by speaking with Exozet Games, the studio who brought popular board game Carcassonne to Xbox Windows Phone last year.
Matthias Hellmund, the Head of Mobile Development at Exozet, sat down with us to discuss the development process of Carcassonne, its online multiplayer, and even the notorious grinding Achievements! Few game makers come prepared with as many development stories. Head past the break to learn the full picture behind how Carcassonne arrived on Windows Phone.
The road from board game to Xbox Windows Phone
The physical Carcassonne board game was first published in 2000. In 2011, Exozet released their mobile adaptation for Blackberry, Java, and Android phones. The Windows Phone version began its earliest stages of development in early 2011 while Exozet worked to complete the Android version.
2011 was a happier time for Xbox Windows Phone. Back then, Microsoft actually approached Exozet about developing a mobile game with the Xbox branding. The developer had already released a few Windows Phone apps for other publishers, so they knew something about working with C# and Windows Phone 7. Exozet wanted to release Carcassonne on as many platforms as possible; hence they chose it as the game to port.
Development hurdles
Carcassonne's development was challenging for a number of reasons. For one thing, Microsoft would announce and eventually released the Mango (Windows Phone 7.5) update while Exozet worked on their game. This forced the game maker to flash and test various beta Mango builds along with their title, adding to the development time.
In March 2012, another product launched as Exozet toiled away on their game: low-end Windows Phone 7.5 Tango devices. These phones had only 256 MB of RAM instead of the 512 MB found in other Windows Phone 7 devices.
Naturally, the lower system RAM meant that games and apps had less memory to work with on these value-priced phones. Because Carcassonne was so far along in development when Microsoft announced Tango, Exozet reluctantly abstained from reworking the game to run on 256 MB devices.
Xbox Live games don't just release in one or two countries; they appear in a number of markets across the world. The extensive international nature of the release required Exozet to translate Carcassonne into more languages than they had ever done before. The hardest part of the translation process was reworking the game's UI for Asian character sets (Chinese, Japanese, etc).
Paving the way for Online multiplayer
Finally, Carcassonne was one of the first Xbox Windows Phone 7 games to support online multiplayer (Battleship beat it to release last summer). Because nobody else had created online Xbox games on phone before, Exozet couldn't look to existing knowledge or code bases when creating their multiplayer mode.
The Partner.net test environment and the actual Live environment also differed somewhat. The game experienced significant and frustrating online performance issues upon its release, which were almost entirely out of Exozet's control.
Thirteen months after starting the project, Carcassonne finally launched on Windows Phone in October 2012. Check out our full review to see how it measured up to expectations. And be sure to watch the video interview above to see Matthias's response to our review criticisms!
More board games in the future?
While there's no question that the developer's ability to test Carcassonne's online mode before release was insufficient, Exozet still speaks fondly of the overall experience. Microsoft responded to their communications quite promptly, often providing highly technical feedback for the developer to use.
Windows Phone Carcassonne players might have noticed that the game supports downloadable expansions, but none were ever released. Exozet actually prepared at least one expansion, but Microsoft chose not to publish it. It's a shame – if Microsoft had continued funding Xbox Windows Phone development, Exozet might have brought their adaptation of The Settlers of Catan board game to Windows Phone as well.
Carcassonne – Windows Phone 7 and 8 – 45 MB - $2.99 – Store Link
Windows Central Newsletter
Get the best of Windows Central in in your inbox, every day!
Paul Acevedo is the Games Editor at Windows Central. A lifelong gamer, he has written about videogames for over 15 years and reviewed over 350 games for our site. Follow him on Twitter @PaulRAcevedo. Don't hate. Appreciate!
Great game. We play the actual board game as well.

Paul you must have a chat with those developers who make metal slug and crazy taxi :p and maybe even ask glu to bring gun bros 2. :|

Yeah Paul, you should ask them. I miss playing Metal Slug :(

Email SNK and Sega, the developers of Metal Slug and Crazy Taxi respectively. A large volume of demand, especially for people willing to pay for the apps, may lead to a port.

Cool as that would be, publishers don't listen to me on stuff like that. It's a business decision and really the only outside influence that will cause them to release a particular game or to start supporting the platform would be direct contact (and possibly funding) from Microsoft.

Would love for more turn-based strategy games. They are just perfect for a touch-enabled platform.

That! Some genres just translate very well to touch screen. Now FPS'...

Yes, please port Settlers!!!

Ugh MS. I would have appreciated some updates to the game and would have loved Settlers.

Great article Paul, especially the video!
Off topic: Any game on WP7/8 with online achievements...ready to boost, send me a message: Fresh LP
Sorry for off topic, keep up the good work!

And is a shame that this game, together with another 10 MS Studio Games, isn't available here in Brazil!! And all these games have the Brazilian certificate for months!! I don't like MS Studios.

Ticket to Ride, anyone? I would love, love, LOVE to see that game make its way to WP/WIN8/RT on Xbox Live. That's probably the only app my wife has on her iPhone that I'm truly jealous of.

It seems that the moral of the story, and many similar stories, is "don't bother with xbox live". Hundreds more hurdles to jump through, MS can block expansions, the certification (and recertification for updates) can be brutal & expensive etc

But then if developers do the smart thing (for them) and release without Xbox features, there's this sizable subset of Windows Phone users who won't even try non-Xbox games. It's a bad situation all around.

Thanks for the report on this, Paul. Very interesting, and frustrating to read how Microsoft has put up hurdles on Exozet Games. We coudl've had fixed online play, an expansion pack, and possibly Settler of Catan by now. It doesn't surprise me, though: my ongoing dialogue with Microsoft Studios and Xbox LIVE support regarding this game has been incredibly frustrating.
For those who want to play this game online, I have written up instructions here on WPcentral. We also organize online games at that link, and I announce upcoming matches on Twitter (@opticon9). It's fun game, well worth the $2.99.

Great story, but Paul....y'all HAVE to do a piece on Rudy Huyn. (that is assuming that you haven't already). I think alot of ppl would love to hear more about him as he is basically the prodigal WP developer

I second this request. I downloaded his Wikipedia app after reading here about his new Instagram app.

Do you think his Wikipedia app is better than Wiki Bee?

I couldn't say, I don't have Wiki Bee.

Does anyone wanna play the game as i cant find any one online wanting to play

We organize online games here at WPcentral. I also announce them on Twitter (@opticon9). Lots of people play online (I'm usually playing a dozen games at any given time). You just need to organize a meeting time at the start.

i would really like to see this for Windows 8. This game really shines on a tablet and i like the larger playing space.

Also, why are there so many games and apps that are available on Windows Phone 8, but not on Windows 8?

Microsoft has been funding some Xbox games for Windows 8, whereas they seem to have stopped doing that for Windows Phone. Several games like Ty the Tasmanian Tiger would have come to Windows Phone too if microsoft had actually approved the ports.
Windows Central Newsletter
Thank you for signing up to Windows Central. You will receive a verification email shortly.
There was a problem. Please refresh the page and try again.