Royal Revolt developer reveals Windows Phone and Windows 8 download numbers, sequel plans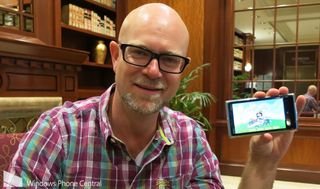 Next up in our coverage of Casual Connect USA is an interview regarding one of our favorite Windows Phone 8 and Windows 8 games: Royal Revolt. The game comes from a collaboration between two German studios, Flare Games and Keen Games.
During last week's event, we spoke with Georg Broxtermann, the Co-founder and Director of Business Development at Flare. He revealed how Royal Revolt came to mobile Windows platforms, some very encouraging performance numbers, and what we can expect from Flare Games in the future. See the video after the break!
Reverse Tower defense
Royal Revolt tells the story of a young man who returns from magic training to find that his father has died and his wicked aunts and uncles have taken over the kingdom. To get back what is yours, you'll have to attack the stolen castles and towers instead of defending them. Hopefully the little prince has enough money left when it's all over to rebuild everything!
Players directly control the prince by touching anywhere on the screen; Windows 8 users also have the option to use the mouse. Approach an enemy and the prince will attack automatically, making combat fun and easy.
You'll face hordes of foes and dangerous defenses, so you're also going to need an army of your own. Just tap the buttons at the bottom left corner of the screen to summon soldiers, archers, and more types of troops. At the bottom right are your spell buttons. These allow you to heel your troops, blast enemies, and more.
The prince, his troops, and magic spells are all fully upgradable. Spend coins earned from completing levels or gems bought via In-App Purchase (IAP) to make those improvements. Royal Revolt is free to play on all platforms.
Successful revolt
At Casual Connect, Flare Games announced some impressive performance figures for Royal Revolt on mobile Windows platforms. The Windows Phone game has been downloaded over 750,000 times, and the Windows 8 version (which released later) over 500,000 times. That's more than a million Microsoft fans enjoying the game. Georg tells us that IAPs are quite strong on both platforms as well.
The strong sales result not just from the Royal Revolt's high quality, but also the promotion Microsoft has given the game. By featuring it prominently on the Windows store, they've made it easy for players to notice and download the game.
Microsoft Germany also played a part in convincing Flare Games to port the game to Windows Phone in the first place. We heard a similar story from Handy Games (also a German developer), which seems to indicate that Microsoft Germany is working hard to get local developers onboard with Windows Phone. The only thing they're not doing (sadly) is convincing these developers to publish their games with Xbox branding… But that's a trend we've known for some time now.
More from Flare in the future
The most important thing is that strong developers like Flare Games are supporting both Windows Phone and Windows 8. Considering the success of Royal Revolt, it should come as no surprise that Flare and Keen plan to release the in-development Royal Revolt 2 on our platforms in the future. Flare's most recent iOS release Throne Wars (a multiplayer strategy game with MMO elements) is also a contender for mobile Windows platform as well.
In the meantime, the best way to ensure we see more games from Flare is to grab Royal Revolt. If you like it well enough, let them know by buying a few gems in-game.
Royal Revolt – Windows Phone 8 – 284 MB – Free – Store Link
Royal Revolt – Windows 8 – 306 MB – Free – Store Link

(opens in new tab)
Windows Central Newsletter
Get the best of Windows Central in your inbox, every day!
Paul Acevedo is the Games Editor at Windows Central. A lifelong gamer, he has written about videogames for over 15 years and reviewed over 350 games for our site. Follow him on Twitter @PaulRAcevedo. Don't hate. Appreciate!
RR2 should be an XBL game.

And sync saved games across all windows platforms

...like I told in another comment.

Until Microsoft makes it dead simple to integrate Xbox Live into these indie games I can see why they are avoiding it. From the stories I have heard it takes FOREVER to complete and test on Microsofts side. They need to speed that up dramatically as some of these indie games are REALLY, REALLY good and deserve the Xbox branding and all the extra attention that comes with it.

What about the possibility of adding Xbox-live certification after the fact. This game really should be an Xbox game (whereas there are a few Xbox games that shouldn't be). I agree they should make the certification process faster, but they should also open it up so that indie games that are selling well, and of high quality, should be eligible to be rebranded as Xbox games. It's a shame because I usually only play Xbox games and I tend to overlook non-Xbox games (this is because I'm addicted to Achievements, as are a ton of people).

750,000 downloads is impressive.
It has been downloaded between 1,000,000-5,000,000 on android which has huge user base.

Microsoft promoting the game might have helped a lot. More games is what WP8 and Window 8 needed.

So much for Android and its Userbase.... Royal Revolt is a Big Name now on the WP platform, they should ( I know they will) build upon its success!

I played this briefly a little while back. It was pretty good, just not my style of game.

More awesome than this only if they were Xbox Games. But I bet here, again, it's more of Microsoft's fault for complicating so much the Xbox process. Shame, really.

PLEASE!! make progress sync between the two platforms for the next game. this game would have been so much more enjoyably if I could sync progress from phone to surface to pc.

I dont know if this Georg B. reads comments on his products highlighted in articles such as these, but if he does; thanks for supporting Windows RT, Windows 8, and Windows Phones. We appreciate the fact that you didn't allow some idiots with fruit on devices manipulate you into ignoring our prefered OS. Thanks again, Georg. To you other devs, that are on the fence about Windows. You might not make as much money, but we are far more appreciative of your efforts...if that is worth anything. And for those of you trying to blackmail Microsoft before you will support Window, from the entire community here, I would just like to say.....DROP DEAD.

I keep hating in app purchases. Looks like there is no getting away from this :( I might have to make peace with it eventually :|

I can get into high levels without IAPs, just it's way more time to accomplish the game, though, if you don't use IAPs.

My dad loves Royal Revolt on PC. But they should sync game progress to cloud so that players don't lose progress when the game is uninstalled.

Agreed. I like it too, and it's better to not just sync it to the cloud, but also to other PCs in the same account you use.

I played through the game on my phone. It's a lot of fun, although it does get a little repetative. Also, you kind of have to ignore new abilities in order to save gold and spend all on a couple spells to make them as strong as possible. I have to say that the programming is top notch... it resumes really well and picks up exactly where you left off, even if your phone does!

Agreed! RR has implemented auto-save game progress impressively, and I don't get easily frustated when my phone crashes! Haha

Really hope it will be Xbox Live enabled :).

My comment is gone. Lol. That was trolling maybe;) I dnt really like game with big size. 8gb issss ssssooo no enough

"...allow you to heel your troops..." -- 5th par., last sentence
It should be heal, not heel. Are you want to wear your troops with heels? Sounds funny, though :p

Thanks Paul! I didnt know about the game. I downloaded for WP8 and Surface. Now only is everyone on the site were to download, that would only further encourage support. Played it for about 15 minutes and I have to say this is a great game.

Impressive performance, even when it runs on a low-spec hardware like Lumia 520/620/720, HTC 8S, and Ascend W1/W2.

thanks for the video i saw the game on the store but i wasn't interested until i saw the video ....Downloading right now

Downloaded it today. interesting game
runs great on L520

One of my favorite game in my Lumia 920. Looking forward for the sequel. :)

Hi. I've got a Windows 8 64 Bit Operating system, and this game is not showing or available in the windows store. Is the game limited to 32 bit Systems or will it work with 64 bit systems as well, and if it does, PLEASE KINDLY INDICATE WHERE THE GAME CAN BE OBTAINED FROM, AS WE SEARCHED, AND SEARCHED, AND IT'S NOT THERE!!!!!

Hey there. It works fine on 64 bit systems. We link to the game at the end of the article.