Cart Nav, organize your shopping lists with this Windows Phone app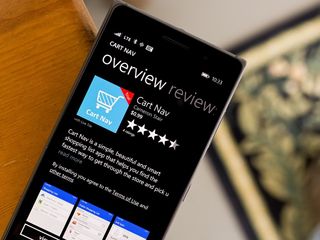 If you are tired of creating shopping lists the old fashion way with pen and paper, there is a relatively new Windows Phone app available the hopes to turn your head. We were tipped on Cart Nav and while I have to admit that I'm still one to grab a scrap piece of paper to create shopping lists, I was curious if Cart Nav was appealing enough to change my ways.
Cart Nav has support for multiple lists for specific stores and the layout isn't too cumbersome to navigate around. It does allow you to sort your items into categories and will let you price items and chart the cost history. You also have Cortana integration so you can add items by voice commands. Cart Nav definitely has potential, especially if the developer is successful at adding one of the planned features.
When you first launch Cart Nav, you will need to create a lists by tapping the + button that sits at the bottom of the main screen. You will then get to choose one of the preset stores, add a store, delete a store and edit the store listing layout.
The preset stores include Walmart, Publix, Kroger, Albertsons, Safeway, Target and Shoprite. The stores are also divided into mapped and unmapped categories. A mapped store already has the categories or sections of the store organized (produce, dairy, deli, drinks, etc.). I'm not sure why there is the distinction because you can always edit the layout to fit your needs.
I like the category mapping in that if you know you roam a store in a particular order, your list can display the items based on that order. It lessens the chances of you forgetting to pick up crackers when you've made it all the way to the other side of the store.
To edit a store, which includes deleting it from the list, tap and hold on the store listing and the button menu at the bottom of the screen will change from the + button to an edit and delete buttons. I was expecting a drop down menu to appear and if you aren't looking for the control button change you may miss it and get a little frustrated because you cannot delete a store.
Nonetheless, once you have added your store to the main page it is time to create a shopping list. Tap on the store tile and you will be sent to the list creation screen where you can start adding items by tapping the + button.
Cart Nav has a large volume of pre-categorized items. Should you enter an item not recognized by Cart Nav it will be placed in the other category. Once added to the list, you can tap on any listed item to edit the quantity, price, units and category of an item as the need arises. Once you have established a purchase history on items, you can view a charted cost history from the edit screen for that item.
As you hit the store and toss an item in the cart, a small box is besides each listing to mark the item as collected. Under the three-dot menu at the bottom of your shopping list screen you will find options to delete completed items, delete all items and turn on/off the estimated cost total.
Settings for Cart Nav offer options to delete any modified items and price history you have created. You also have the option to color code categories.
Cart Nav does have Cortana Integration where you can add items to your list using voice commands. Just launch Cortana and say "Cart Nav add [item] to my [store name] shopping list", the app will launch and the item will be added to the shopping list. The Cortana integration comes across as handy if you are out of the app and run across something to add to your shopping lists but a little cumbersome if you are already in Cart Nav and want to add items to your list verbally. An in-app voice command solution would be a nice supplemental feature for these occasions.
Overall Impression
Cart Nav is a nice Windows Phone shopping list app. I do like having the ability to organize categories based on your needs. One headache my wife creates is when she bounces around the store with the order of items she adds to the grocery list. This makes it easy to forget something (often realized as you are unpacking the groceries). Being able to organize items in a logical order should eliminate these type headaches. The interface is a little unique but once you get the hang of things, it flows nicely. The Cortana integration is a nice touch but I wish the app had an internal means of adding items to your shopping list verbally.
Overall, Cart Nav is worth a try or in the least an app worth keeping an eye on. Planned features include integration with the Microsoft Band to let you view your list from your wrist and the ability to customize/add categories to the stores.
Cart Nav does have a trail version that is limited to two shopping lists at a time. The full version will set you back $.99. Time will tell if Cart Nav is strong enough to make me ditch my pen and paper but for those already looking to make such a leap, Cart Nav is worth a try.
Download Cart Nav for Windows Phone (Trial / $.99)
Windows Central Newsletter
Get the best of Windows Central in in your inbox, every day!
George is the Reviews Editor at Windows Central, concentrating on Windows 10 PC and Mobile apps. He's been a supporter of the platform since the days of Windows CE and uses his current Windows 10 Mobile phone daily to keep up with life and enjoy a game during down time.
+1 here I, I have my "needed list" then use the website at the store to make my list and use the clipping tool to clip the page into my gorcery tab in onenote. works like a charm for me, and it is shared too. I think that from what I've seen from other apps, this one has potential, but I'm not going to pay to try out the full monte.the trial is way too limited. Just MHO

Thanks for your feedback about the trial. Would you like it if you had the option to use more lists during the trial in exchange for the app showing banner ads?

I guess I'm the last person who remembers what they need from the grocery store.

I saw no comments so I logged on to post, "Just use OneNote." You two beat me to it, lol.

Cortana remind me to check my shopping list next time I'm at any supermarket :)

There was a great PalmOS shopping app called 'HandyShopper' - I have found that nothing, not even OneNote, is as useful for lists as that little program, regardless of platform. I'm eager to give this one a try to see if it at least comes close enough to HandyShopper to replace OneNote (which, while minimally convenient, has been unsatisfactory, compared). Thanks for letting us know about this app.

I too have been on a quest to find something as good as HandyShopper! Loved that app! My wife and I are currently testing Wunderlist. I don't like the sort options, but she doesn't seem to mind.

I loved Handy Shopper as well. My wife and I now use Shared Shopping List. It is much simpler feature-wise, but the one thing we love is that one can add to the list and it shows up on both phones, including a new item count on the live tile. It would be great to combine that one feature with Handy Shopper. Or even with this app. But at this point, that has become a must-have feature.

I want something cross platform, and collaborative

Yes! My wife switched away from Windows Phone to Android, so whatever I use needs to work on her phone. Everything is already on OneNote although I've considered Wanderlist.

I'm happy with MS Corporation's "Shopping List". Clean and Simple.

I've been using Shared Shopping List for a long time. Great grocery / any list app that you can share list and update instantly across devices.

Me too. Got pro. Use it with the wife and even helps with the inlaws... OneNote isn't optimized for sharing a shopping list with live tiles and toasts when things change. And its more difficult to use without rooms...

I use a shared OneNote document with family members - everyone can add to list, updates real time to all, done.

Yes. My wife and I have OneNote shared shopping lists in Family Room for all the stores we shop (Target, and Lunds). We keep a Master list with check boxes for each store, in the order that you walk the store. Each trip, improves the list in someway by adding an item or moving an item to it's new location in the store (list). We list the specific item when it matters (1% Milk, Life Cereal) Very handy to just reach for my phone and check off an item to be purchased when I notice we are running low and it then syncs with my wife's phone. At some point, someone in the family goes shopping and picks up the checked items, unchecking each items check box as they go. Best Wishes

Good to have an another app designed for single people. For families however, this is one app that being universal or haveing a web component is a MUST. Microsoft Food and Drink, One Note, Cozi, Wunderlist, OutofMilk (IOS/android), Listonic,(which needs a serious refresh but sports a web component) are examples of what a shopping app worth its salt should be. Don't get me wrong, I do like what they have done with this app and it looks great but I cannot imagine creating a weekly or two week shopping list for a family of 4+ on a Lumia 520 let along my 1520. Dev, if you are reading this, finish what you've started. It needs a web component or be universal so it can sync with the handset.

I am reading this. As a student developer this is unbelievably huge for me. Currently I am creating a Universal version of this app that will contain ALL of the features that have been requested by users. I hoping to have it done in the coming weeks.

You are da man! I'm happy as punch to read this and since I am an avid user of such apps, if you need a tester, holla. We need something better than OutOf Milk on this platform that looks like the one you did. One thing too, be sure to make one that is paid. I don't exactly know how that translates to a developer but it I'd rather deal with paid solutions than ones forcing ads on me. No rush. School business comes first.

I couldn't disagree more. For our family we just don't have a need for a web component. My wife goes to the store and buys groceries, what do I need a web component for?

I use Shared Shopping List Pro. Great for households like mine where more than person does shopping. Changes to shared lists update in real time as long as the phone (Windows only) has a data connection. You initially build lists from scratch so your stores, items, organization (by aisle #, category, whatever) are totally customizable. Thereafter, the feature for storing frequently purchased items as favorites enables making a fresh list quickly. Also like the clean interface. Easy to learn thanks to the on-screen tool tips and info on developer's web site.

Does anyone know of a shopping app that allows you to add an item to a master list by scanning the product code (either at home or at the store? What about a feature that tracks prices for those of us looking to comparison shop? You could just scan each checked off item as you put it in your cart and "glance and go". Best Wishes

I thought very briefly about adding scanning of groceries to my PlusPoints app. Until I looked at what it cost monthly to have access to one of the databases that had barcode information for groceries, that is...

OneNote is fine...or more than fine
Windows Central Newsletter
Thank you for signing up to Windows Central. You will receive a verification email shortly.
There was a problem. Please refresh the page and try again.