CBS News brings new official and beautiful apps to Windows Phone and Windows 8.1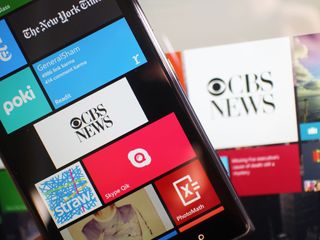 CBS News has released two new official apps for Windows. Head into the Windows Phone Store and Windows Store and you'll find the official CBS News app that brings a 24/7-hour digital news channel to your phone, tablet and PC.
Curious as to what you get with these two beautiful apps for Windows Phone and Windows 8.1? of course you are. Here's the set of features available in CBS News:
24/7 streaming video news channel: CBSN
Real-time updates to evolving news stories throughout the day
On-Demand video clip and full episodes from CBS News programs
Latest business headlines and market info from CBS MoneyWatch
Share interesting stories with your friends and family via email, Facebook, or Twitter
We've been playing with the CBS News app on both Windows Phone and Windows 8.1 for a few minutes and already we're blown away by the beauty. Download these free apps to see how fluid they are when transition between pages and sections. The ability to watch on-demand video clips and full episodes of CBS News program is just the cherry on top.
Look forward to checking out CBS shows like:
CBS Evening News
CBS This Morning
60 Minutes
Face The Nation
Sunday Morning
48 Hours
You're going to be excited to hear this: CBSN is available first on Windows Phone and Windows 8.1 before Android and iOS. CBSN is the new digital streaming news network that allows for phones, tablets, PCs and other internet-connected devices to watch live, anchored news coverage 24/7. Look forward to about 15 hours of anchored coverage each weekday.
For more on the new CBSN network go here.
We'll be spending more time with these apps, but for now you need to download them and check them out.
Windows Central Newsletter
Get the best of Windows Central in in your inbox, every day!
I like the app, but am I the only one who can't get the live tile to update? Just black and white and days "CBS News". Yes, it's enabled in settings.

Hmmm...yes no live tile either..set to 'On' in settings...

Same here. Emailed support-waiting for answer..

Every developer: Take note how to build a truly and beautiful WP and Windows app.

Excellent. Lazy dev's have zero excuses now for their sorry looking apps on the WP platform. CNN take note. Thanks CBS.

CNNs app isn't the worst I've seen. But you're right Windows phone must be very difficult to develop for if app quality is a judge.

App quality can be bad or good with easy or hard to develop platform.

Could not agree more. Excellent job on this app.

I was going to pass on this app. But I'm glad I didn't. This app is totally beautiful! CBS hired someone who truly believes and loves Windows Phone!

I love the use of Helvetica here!

Great! Now bring the same to Xbox One.

Just get it on your Windows phone at least to show support.

Over an app? Doesn't take much for you apparently.

Jesus ppl don't be so uptight....loosen up a little

Seems a shit ton faster than other apps

This is a good source if you like your "news" far-left of center.

Every news network has a bias. That's why it's important to get news from multiple sources.

Beats having it far right of center.

Citation needed* Both are pretty terrible sources of unbiased facts.

You have to learn how to pull the news out of the bias.

Please keep political discussions off this article, thank you.

This is a technology discussion, not a platform for people's politics. I'm not sure why everyone thinks that everyone else CARES about their opinion. That being said, I don't find CBS as biased as MSNBC and FOX. They tend to stick to the facts of the news without injecting a blatant perspective. I defy you to find a news source that isn't biased. In the US, the AP Wire is about as close as it get, but that wouldn't make an interesting app, now would it. The app is beautiful and functional and has features that no other app seems to have. The live news network for connected devices in amazing and I love that it debuts on Windows Phone. I'm wondering if our smaller numbers will allow them to ramp up and gauge server strain. Too bad they didn't have it up and running for election coverage. That would have been a good stress test. The scrolling is beautiful. I love how the top menu scrolls up after the main story image scrolls underneath it.

" I'm not sure why everyone thinks that everyone else CARES about their opinion. " Yet here you are giving your opinion... " I defy you to find a news source that isn't biased." The problem really isnt bias or politicval slant..the problem is when you have an entity like Fox News that outright lies and distorts the facts. Big difference.

They ALL do it. Fox/MSNBC...all of the. People just align themselves with the gang they most identify with and give them a pass. To both of those networks credit, they have more "opinion" shows than pure news. "Your guys" distort and mislead, too. It's not just "those guys". The bias of the consumer is even more ridiculous than the networks. I sometimes post news stories on Facebook from either MSNBC or Fox to watch people have their fit of rage and dismissal, because they assume the source is biased and wrong. I like to be able to point out when it comes, word-for-word, from the AP and that the other network's site has the SAME story, word-for-word. Partisans don't care. Partisans just attack. My original opinion was mostly about the point of the article which is WOW, this is a beautiful app. I've also checked out that live streaming and it worked find on WiFi. I'm a bit scared of cellular data, even though I get mostly LTE round these parts with AT&T.

Everyone download it go support our supporters! Even if you don't use it :)
Update: After using it, it really is beautiful. Pretty darn good.

I even downloaded it onto my laptop and I never go into the Metro/Modern side. :)
The Windows Phone app is really nice.

Xfinity TV!!!! Where art thou?

Awesome! Someone send this as an example to Flipboard ...

+920
This is a truly beautiful app. A news aggregator app like this one would be impressive.

One of the most beautiful apps I ever seen for windows phone

Wow, very nice and responsive. Wish it supported notifications.

Not available for Nokia 928.

Verizon 928 here with DP 8.1. It downloaded and works great on mine!

Why are Daft Punk treating Ebola patients?

Damn that is one slick app. One of the best I've seen on the platform. CNN needs to see this app and take notes for real.

Looks nice so far, but no live tile or notifications? Hope they add that soon!

In 2012, Microsoft lured away Nancy Tellem from the presidency role at CBS, to become their entertainment and digital media president. Considering how powerful she was at CBS, it's possible that she helped this awesome app get created? You never know. http://en.m.wikipedia.org/wiki/Nancy_Tellem

Jeez..this is a gorgeous app.. Sweet!! I sent them an email commend the devs on a great looking app.

I Tweeted @CBSNews about it. :)

From CBSs page:
"now Windows 8.1 and Windows Phone 8.1 through the Windows Store..... iOS and Android by the end of the year..... Wat? That's amazing!.... But wat?

WP 8.1 only ... The Verizon (wp8.1)gap *is* the Windows app gap

I've had each platform on Verizon and they Verizon screws Android users just as bad as WP. But they luv some iPhone! Apparenlty that's the only platform that updates directly on Verizon.

Very nicely done, I've been looking for a decent news app

Can't get it on W10 tp. Link from Windows Central app takes me to a website that wants to give me info about getting win8.1 and searching in the store just brings up all the old CBS apps. Guess I'll just use it on my phone for now.

It's cool that we're first to finally get something before those I shall not name. Nice gesture on CBS part. That said, I still prefer the NBC app for now.

app is very slick. Scrolling is still a little weird (jittery) on my 930 and 925. I've basically given up on WP third party apps in this area. NIce app though.

Everybody please download all big name apps to show them its worth developing! :)

Love it. Works perfect on my Icon.

It's really a well design app. Easy on the eyes.

So where is Rodeye to say that it is MSFT's marketing's fault that we get such a gorgeous app. Qualified developer who put in the work to develop for this platform get rewarded. Awesome job CBS, I have a new go to news app for my phone and maybe my Surface as well.

Beautiful UI , much better then abc news app.

Excellent news about a news app!

Beautiful app. Just took the live video for a spin and it came in crisp and clear.

Great app! Excellent design and flow from news stories to the shows. I hope this is a sign of more to come from all the developers and the companies who should be on WP.

Absolutely beautiful app. This is how its done

I guess we can now see the universal apps at work.

Not that beautiful. Quite generic, and some elements take up too much space when they don't serve any real purpose visually or in usability. The eye logo for example, takes up an entire pivot. That could be shrunk down in size and put above, below, or behind the pivots.

I don't understand. If you scroll on a page, say News page, the Eye logo and top menu dissapears and only the hamburger menu shows.

Really beautiful app! Kuddos to the app developers!

WP 8.1 only. THANKS VERIZON!

Beautiful AP! This should become the standard

This app is simply stunning!!

THIS. This is how you differentiate your Windows app experience AND keep your brand identity. This is how developers and designers who wish to build experiences on the Windows platform should build their app experiences (see what I did there?)

Great design and smooth as butter.

isthis completely new for WPOS, or a clone from iOS?

There's an article you should read. :)

For being released first here am downloading it

Beautiful app. I like how it fills the whole screen and the burger menu is always welcomed. Nice job CBS.

This is the best looking app I've ever gotten from the store. Well done, CBS!!

This is one beautiful app

This should be featured as a best example of developing Windows Phone app. This is just so polished and beautiful app. Conforming the Modern UX guidelines yet still presenting the brand of the app, a perfect mix.
OneDrive and....Microsoft, take note! :D

Indeed very nice addition to the mobile side of things, if you havent tried it as or if your a bit hassitant please do, SD card compatible so no risk of usint up internal space i have and it looks great, the only thing im not sure about is the PC side of things windows store says the app has been removed or not availible, maybe because i livein europe or it just hasnt been completly rolled out yet. But other devs should take note and draw from this example. Thank you CBS.

Looks very good. I love developers who make quality apps for WP. Hanging out on Android until/if Lumia 1030 comes to T-Mobile. Enjoying the Xperia Z3 in the meantime. Posted via the Windows Phone Central App for Android

That's a beautiful app on Windows 8.1! We need more apps like this. Posted via the Windows Phone Central App for Android

Will CBS promote that they have new apps for WP and Windows 8 like they do for i-devices? My money is on no. Comedy Central still only promotes their app for iOS and Android.

Nice app but sharing feature sucks. Doesn't provide a proper link.

This app is a piece of art.. Fo' real!
Windows Central Newsletter
Thank you for signing up to Windows Central. You will receive a verification email shortly.
There was a problem. Please refresh the page and try again.