Celebrate Minecraft's third anniversary on Xbox with three free skin packs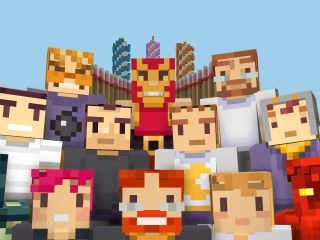 Three years ago, the hit PC sandbox game Minecraft was launched for Microsoft's Xbox 360 console (the actual anniversary date is on Saturday, May 9). The game was a massive hit for its original developer Mojang and its console partner 4J Studios, and was part of the reason Microsoft eventually acquired Mojang and Minecraft.
Today, to celebrate the third anniversary of Minecraft's Xbox 360 release, Mojang and 4J Studios have released three free characters skins for the games. Only one of them is available for both the Xbox One and Xbox 360 versions of Minecraft, and it features Mojang employees and others.
The other two new skin packs are just for the Xbox One edition and are the same packs that were released for the Xbox 360 version on the occasion of the first and second anniversaries of its launch. They include skins based on some Microsoft-based games like Halo. All of these packs will be free to download until May 17.
Source: Mojang
My daughter will love this!

wait, wut? minecraft is over 3 years old? :o

On the Xbox 360 ..its been on the PC for much longer

My brother is gonna love it!

Three years of getting nickel and dimed lol

Yeah, because $20 for the best game ever and free updates thereafter is "getting nickkel and dimed" ...

The bigger story from that press release is that 20 million copies of Minecraft have been sold on Xbox 360 and Xbox One so far, making it more successful on Xbox than it is on PC. It's currently the third best-selling game of all time, well on pace to become number one in a few years. Buying Mojang for $2.5 billion will go down as one of the best acquisitions in tech industry history. Props to whoever aggressively pursued it at Microsoft.
Windows Central Newsletter
Thank you for signing up to Windows Central. You will receive a verification email shortly.
There was a problem. Please refresh the page and try again.