Challenge your friends to predict world cup 2014 football matches with Sporting Mouth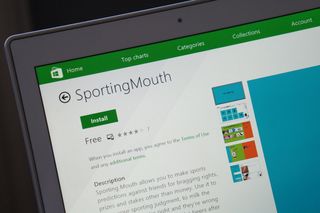 The world of sport is full of predictions, whether you're betting on who's going to win the next football match for real stakes or simply with friends on a piece of scrap paper in a local pub. Since this is 2014 and we're living in a world of technology, Sporting Mouth for Windows 8 and Windows Phone is a brand new app for risk free sport predictions against friends. That is unless you don't wish to lose pride and/or bragging rights.
The goal of the app is to prove to others that you're the king of judging how sport plays out. With the world cup just around the corner in Brazil, it's the perfect time to get down to business on who will purchase the next round of beers should they lose the prediction. With the app it's possible to create groups and set stakes, but it's worth noting that you'll have to settle the score and deal with the consequences should you lose out. But that's part of the fun.
It's an interesting way to whip up challenges for friends to enjoy and there's a solid variety of stakes to setup. Get into the football spirit before Brazil 2014 hits us this month and check out Sporting Mouth. Creating an account is straightforward and locating friends to invite is easy through the apps or on Facebook.
Rich Edmonds is Senior Editor of PC hardware at Windows Central, covering everything related to PC components and NAS. He's been involved in technology for more than a decade and knows a thing or two about the magic inside a PC chassis. You can follow him over on Twitter at @RichEdmonds.
For FIFA 2014 World Cup fans, here is a tip of the day: If you want FIFA 2014 World Cup schedule in you Windows Phone calendar, follow these steps:
> Open http://calendar.live.com/ (or go to http://www.outlook.com/ tap on the down arrow in top ribbon and then select Calendar) >Navigate to Import (in top ribbon). > Navigate to Subscription (left pane) > Enter this URL: webcal://www1.skysports.com/calendars/football/fixtures/competitions/wor... > Give it a name, select color (lime), choose charm (trophy; its a world cup!) and click Subscribe. > In your Windows Phone refresh the associated Hotmail/Outlook account's mail. > Open calendar app and you will find the scheduled! Note: Everything related to *.live.com (people, calendar, mail ..) get sync'd, when you refresh the associated mail app. Hope it help someone out there.. :) ~ Cheers !!

Woohhhoooooooo!!! Was searching for something like this. Thanks a ton! :-)

I'll bet that one of the teams will win in the end.
There, saved you all from endless wasted time in front of the tv :P

Hm, need to test. Me and my friends also created an online game where you can make soccer predictions and compete with friends. Like a bookie but without money, just fun:) http://predictheroes.com

Really interesting, good work) I'll play. Guys u might be there))

Another amazing World Football App to check out - https://itunes.apple.com/us/app/world-football-news-2014-brazil/id859073...

I use #Pulpo for bet with my friends. It is a very nice app available on Android and iOS :)
Windows Central Newsletter
Get the best of Windows Central in in your inbox, every day!
Thank you for signing up to Windows Central. You will receive a verification email shortly.
There was a problem. Please refresh the page and try again.