Chase Mobile heading to the Windows Phone Store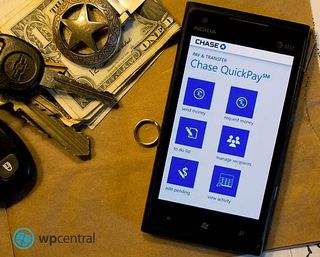 Good news for Chase banking customers. The Chase Mobile app is heading to the Windows Phone Store to join other banking apps such as the Bank of America app, and the National Australian Bank app.
With Chase Mobile you will be able to monitor your accounts, transfer funds between accounts, make deposits using Chase's QuickDeposit (where you take the picture of your check to deposit it), send wire transfers, pay bills, and search for a local Chase Bank or ATM location. You can even monitor account alerts for payments and set balance levels.
The Chase Mobile App is still in the certification process but is expected to be available at the Windows Phone Store in the next 48 hours or so. We'll keep an eye on things and when the Chase Mobile App goes live, we'll let you know.
Source: Conversations Nokia; Thanks, everyone, for the tip!
Windows Central Newsletter
Get the best of Windows Central in your inbox, every day!
George is the Reviews Editor at Windows Central, concentrating on Windows 10 PC and Mobile apps. He's been a supporter of the platform since the days of Windows CE and uses his current Windows 10 Mobile phone daily to keep up with life and enjoy a game during down time.
Yup, been waiting since earlier this year when it was rumored to release around July

Ha ha - my thoughts EXACTLY!

Is this Lumia store only? I got the impression it is, or at least for a time.

It looks that way for now.

It doesn't say it so it's not

Where in the article does it give you that impression? It specifically says windows phone store, not Nokia apps

Look at the source article. Mentions Chase Mobile for Nokia Lumia, but I can't tell if it means it will show up in the Nokia portion of the store or not. That's why I asked.

Too late I moved to wells Fargo :(

WHAT!!! I thought this wouldn't be available until WP8!
***FINALLY***

Edit: Wait... is this for Lumia phones only? Oh, please tell me that's not the case...

With Chase Mobile for Nokia Lumia
It looks like it

Stop the FUD, it clearly states Windows Phone Store. Nowhere does it say or mention "Nokia only" or "Chase Mobile for Nokia Lumia"

Funny, just cancelled all my accounts there this week. But more banking apps are good to see.

It's about time!! Good thing I picked up a Nokia Lumia 900 for the month while I wait for my 920! :)

Finallyyyyyyyyy.. Now I only need discover bank.. Reliefff

Right after I drop all of my chase accounts... Lets hope they don't lose 3 billion on this set of transactions

Its for all windows phones not just lumia.

It's about flippin' time!

I suppose it's good. The mobile site has served me well for years, so it's a bit of a meh moment for me.

I've been using the online mobile too, but am looking forward to the photo deposit feature. One less trip to the arm. :)

I have been using the mobile web site too, but yea I would prefer the app easily. Quick deposit alone is worth it, plus the interface looks much better, and the other day the website was down but their apps and text still worked.

Awesome! Been waiting for this one! It will tide me over until the wallet hub version in WP8.

Mother of god, yes! Finally an app that I have really been wanting. Great news!

Pics or it didn't happen.

Don't have a Chase account. But good for those who do and happy to see more banking apps.

Finally I've been waiting since they announce

The Nokia conversations article says "Windows phone and Nokia Lumia". I don't think it's a Nokia exclusive

Finally. the bank has come back to Nevermind.

Woohoo! Best news I've heard all day!

There was a guy in the forums complaining that he was leaving WP unless this app showed up...

Absolutely! It's about freaking time!

Better late than never I guess.

No Wells Fargo app yet? :(

And grats to those who have Chase.

This is great news, because I have an extra account there. Yeah!

Finally, indeed! Now all of the apps I've ever wanted are available

About freaking time! now my GF can stop asking if I have this app!

Where is the Citibank app?

It's about GOD Damn time. I hate when companies that service the general public only develop for for the two main OSes.

I can finally get rid of the iphone 3GS I've been keeping alive just for the Chase app.

oh great and finally. I just left chase last year and now it's here urrrrrrrhhh

Nice! Has TD created an application for WP yet? I was so disappointed that TD hadn't created one but they have both for Android and iOS... Please let me know!

YAAAAAAAAAAAAAAAAAAAAAAAAAAAAAAAAAAAAAAAAAAAAAAAAAAAAAAAAAAAAAAAAY YAY YAY YAY YAY YAY YAY YAY YAY YAY YAY YAY YAAAAAAAAAAAAAAAAAAAAAAAAAAY! Did that sufficiently convey my happiness right now? I will finally be able to do quick deposits without bothering my iPhone-owning boyfriend, AND do quickpays with my iPhone-owning friends!

Finally... I have been waiting for this for a very long time.

Now all I need is an american express app and I will be set.

Yup. Me too. Bofa app is good.

Very nice, this should spur development at the other major banks and credit unions. I spoke to an old coworker who tells me navy federal is developing a WP app

I hope Wells Fargo is next!

This is a hugeee deal for my girl and her whole family with windows phones as they all have Chase.

i just need Wells Fargo doeee.

We need wells Fargo app as well

its nice to see. its one of the apps on my list that WP needed to have if I was gonna get a new phone. Where are you hbo go and watch espn?

About... TIME! Good job, lets keep the momentum Microsoft. Regain your crown!

Wells Fargo where r U??!!!

So ppl are asking if it its "LumiaOnly Store" ... That's a very good question cuz I have yet to get an update..am I missing something?? >>Unlocked HTC Titan

It does look like this is a Nokia exclusive for starters.

I don't even use Chase but this is precisely why my next phone will be a Nokia!

It better not be a Nokia exclusive. Its a banking app.

It's about fucking time!!!!! :)

Thank you Chase Mobile Team!

Anybody know when its supposed to available in the marketplace? I still don't see it.

Still not in the marketplace..

I have been checking the market since reading this. Its now Sunday and still not there.

10/1/2012 and still no sign of the app in the store. Also, E*TRADE does have a WP7 mobile app tha is primarily trades but it does show you're bank balances as well.