Check the current temperature on your lockscreen with LockTemp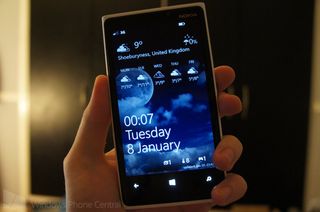 LockTemp is a little app that provides a temperature reading for the current location of a Windows Phone. Sounds like functionality that's already presently available in popular weather apps, right? This is where magic comes into play. LockTemp actually makes use of the small notification area at the bottom of the lockscreen to display the reading, instead of the large content area up above, or using wallpapers.
Why is this an important feature? It frees up the large area above for calendar events, weather reports and more to be displayed in full. As well as this, the wallpaper is also configurable with photos or for apps to take advantage of while LockTemp retains the ability to report its readings to the user. As mentioned above, the app in itself is extremely simple, but solves an issue many have when they have too many apps that are required to be on the lockscreen.
What's more is the developer is offering the app for free. Full functionality is supported for an unlimited number of centuries, unless the consumer wishes to support further projects being launched on the platform. An option to purchase LockTemp is available (for $0.99), which acts as a donation for the development effort.
Unfortunately, due to the way that the information is displayed, temperatures of 0 or 100 will be displayed as 99 and 1 or 101 will be read as 98. This is a limitation of the operating system. Should a data connection not be presently available, no icon or readout will be displayed on-screen. It's a superb solution for those who wish to add a temperature reading next to the email, missed call and SMS counters.
You can download LockTemp from the Windows Phone Store. It's available for free (purchase the app if you wish to support the developer) and be sure to note that it's Windows Phone 8 only. You can also engage with other Windows Phone Central readers on our community forum.
Rich Edmonds is Senior Editor of PC hardware at Windows Central, covering everything related to PC components and NAS. He's been involved in technology for more than a decade and knows a thing or two about the magic inside a PC chassis. You can follow him over on Twitter at @RichEdmonds.
Well weather flow is able to display 0 as 0

AFAIK WeatherFlow doesn't currently sport functionality to display temperature readings in the notiication area of the lockscreen.

Ohh now I get what you mean, lockscreen temperature as a notification icon..that makes sense.

Prefer weatherflow. This just gives you the temperature in the form of a notification, right?

Absolutely correct, so if you'd rather not have a weather app use up most of the area of the lockscreen, LockTemp enables you to restrict temp readings to the notification area at the bottom.

I think this looks pretty good I'll give a look at it.

What's the name of the weather app that shown in the title picture for this article?.. The one that shows a 5 day forecast and more from the lockscreen?

I hope Weathermaster is better prepared for WP8, there is no rival to it in Sweden.

Agreed. Still best live tile as well. Sadly it has no new features in wp8.

I've been using this app, very nice so far

Anyone know the source for the weather data? It seems to be 1 degree off from Accuweather. At least at the moment.

Is it possible to make start screen apps that can overlay other start screen apps? This would be a very useful feature.

AFAIK all apps that utilize the lock screen to display data are doing it in a hackish way by actually printing that data onto an image, and then setting that image as the lock screen. There's no native functionality for displaying info on the lock screen besides the small area below the clock.

Yeah, but wouldn't it be useful?? Its a cool idea. I would love to be able to organize my lock screen to my personal preference,, not just pictures that change.

Seems pretty cool, but still like weather flow more. But I see why people would get this. :)

This sounds pretty cool. I personally don't like the weather forecast on my lockscreen all the time but do like the idea of the temp being displayed as a notification.

Nice little app, I like it. I know I often have the problem of too many apps that would benefit from being on the lock screen.

So simple and perfect! I just uninstalled my previous weather app(s). This is all I'll ever need.

Not sure if this replaces an everyday weather app unless you live in the moment and don't care about the future weather lol

You know, you're right... I just realized that this has no rain indicator. Just temp. I just realized I don't care about the temp. In winter, it's cold. Summer is hot. What else do you need to know? :)

Have you ever tried skymotion? its an awesome app for rain, never seen anythingn like it frankly.

Temperature values from 1 to 99 only? Now that's useless in winter for the sane part of the World that uses Celsius scale.

What? I'm from the 'sane part of the world' too (Perth, Australia) but the lowest temperature on record (in the last 50-100 years) here is 0 degrees C :P It's currently a sweltering 40 degrees!

yep it's really hot here in perth though it's worst over east atm (btw nice to see a wp fan from perth here)

*high-five* to a fellow Perthling :)

Love the idea, but the temp is wrong for me.

Why is weather flow pictured on this review of another app?

To show the difference between the apps. That with this app compared to WeatherFlow you can have just a tiny notification for tempatures. To get a more "clean" LockScreen instead of WeatherFlows 5day forecast taking up most of the screen.

That's not even the default though. You have to turn on the 5 day forecast in the settings of WeatherFlow.

WP hasn't got many interesting app yet like android

Can't seem to find it on the Australian store.. :(

Odd observation. The current temp where I am is -2 F. On my glance screen, LockTemp shows 97 F.
Edit: Nevermind...I just read the explanation in the app settings. Seems it's an OS limitation.
Windows Central Newsletter
Thank you for signing up to Windows Central. You will receive a verification email shortly.
There was a problem. Please refresh the page and try again.