Check out Half-Life: Alyx being played without VR
The discovery of basic movement and shooting support suggests that the future is bright for Half-Life: Alyx modding.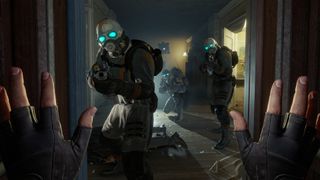 (Image credit: Valve)
What you need to know
A streamer discovered a console command that allows you to use the mouse and keyboard to move and shoot in Half-Life: Alyx instead of VR gear.
The game lacks much functionality in this state, but it implies it may be easier to make the game playable without VR than originally thought.
Valve's Robin Walker said he "looks forward" to seeing players create mods that remove VR from Half-Life: Alyx.
On a livestream, Twitch livestreamer and Valve News Network founder Tyler McVicker discovered that you can move around freely in Half-Life: Alyx by using mouse and keyboard instead of VR tech while datamining the game's files and messing around with the code. Soon after, he discovered the "vr_enable_fake_vr_test" console command, and when he entered it Alyx's hands popped up on the screen, allowing him to fire her gun without any VR gear. You can watch the clip below:
This is huge, as it shows that Half-Life: Alyx has basic support for moving and shooting with mouse and keyboard. This discovery comes only a day after a comment from Valve's Robin Walker that he's "looking forward" to seeing the game being modded so that it can be played with mouse and keyboard; if modders can take advantage of the basic working controls that are already present in the files, he may not have to wait long.
Sadly, the console command doesn't enable any advanced functionality, such as moving objects around in the world. Still, though, it's exciting to think that the foundations for a modded version of Half-Life: Alyx that removes the VR requirement exist. We can't wait to see what happens next.
Half-Life: Alyx is available on PC via Steam for $60.
It finally returns
Half-Life 3, but it's a midquel

Half-Life: Alyx is a bold comeback for Valve's previously-stagnant AAA franchise, described by Valve itself as its "flagship VR game."
Affordable accessories that'll pair perfectly with your PC
Every one of these awesome PC accessories will enhance your everyday experience — and none cost more than $30.
KLIM Aim RGB gaming mouse (opens in new tab) ($30 at Amazon)
Whether you're a gamer or not, this is an absurdly good mouse for the price. It's ambidextrous, has a responsive sensor, a braided cable, tank-like build quality, and, yes, it has RGB lighting, though you can turn it off if that's not your thing.
AmazonBasics USB speakers (opens in new tab) ($16 at Amazon)
These neat little speakers may only pack 2.4W of total power, but don't let that fool you. For something so small you get a well-rounded sound and a stylish design. And they only cost $16.
Razer mouse bungee (opens in new tab) ($20 at Amazon)
Use a wired mouse? You need a mouse bungee to keep your cable tidy and free of snags. You get no drag on the cable, and this one has subtle styling, a rust-resistant spring and a weighted base, all for $20.
Brendan Lowry is a Windows Central writer and Oakland University graduate with a burning passion for video games, of which he's been an avid fan since childhood. You'll find him doing reviews, editorials, and general coverage on everything Xbox and PC. Follow him on Twitter.
This is the saddest thing I've read today.

People doing this are missing the true intent of the developers and what makes the experience special. Alyx is beyond just being another Half Life game. I don't think it would be that interesting if it wasn't in VR, to be honest. I wouldn't play it.
So the guy who does this or seeks to do this is settling to play an inferior experience, that is, just a flat game, instead of striving to play it in VR. That's sad. They're bringing us a game experience, a world to truly immerse ourselves in, but all some people want of this is sitting in front of their PC with a mouse and keyboard at their fingertips, and just care about yet another game where they walk by pressing a key and they shoot a few things with their mouse cursor. tl;dr It's the wrong way to play it, and not because of a technical requirement to have the hardware, but because you're missing a memorable immersive experience. Just my 2 cents.

Maybe some people just want to play without having to make a large investment just to play one game?

You're not wrong that the non-VR version won't be as good, but at the same time, VR right now is very inaccessible to many, many people due to the cost. Also, tons of Half-Life fans have been waiting over a decade to see what's next for the series, and I sympathize with people who are frustrated that after all that waiting time, they can't enjoy it because of a financial entry barrier. I guarantee you that if people had the money to get VR to play HL:A, they would. But many do not. This will be the next best thing for them.
Windows Central Newsletter
Thank you for signing up to Windows Central. You will receive a verification email shortly.
There was a problem. Please refresh the page and try again.