Check This Out: Hangman Pro for Windows 8 - bring a classic game to your device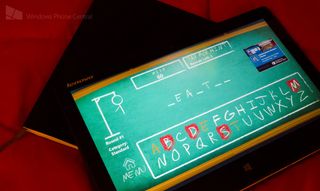 The word game of Hangman is one that had arisen during Victorian Times and is still played to this very day. A simple, yet addicting, game that started with paper and pencil has made it to Windows 8 in a well-designed application by Random Salad Games – Hangman Pro. Despite the add-on of the word "Pro" to the end of the game's title, there is in fact no light version or paid version of the game; the game is free to all who wish to play, so check it out after the break.
Hangman Pro is set on a chalkboard background and can entertain either one or two players at once. In single player mode, the user attempts to guess a world randomly picked by the computer. In two player mode, each player takes turns passing the tablet back and forth to compete with each other. At this time, there is no online play mode – quite a shame as we feel this game would have been even better with some online multiplayer action. Luckily, you can still compare yourself to other players thanks to an updated score leader board.
If you have never played Hangman before, the objective is to guess a randomly selected word before you "get hanged". Every time you guess a letter that is not in the word you are attempting to spell, a piece of your body is drawn up on gallows. Within this game, there are seven pieces to be drawn before you lose: the gallows, a head, two arms, a body, and two legs.
There are initially seven categories of words available to choose from including: easy, standard, hard, phrases, animals, geography, and food. If you rate the application (which is a good thing to do anyway), you are given four additional categories including SAT, TOEFL, GRE, and Mystery.
The game is a good way to pass the time and is quite fun to play. You can download it now for free from the Windows Store by clicking here (opens in new tab).
Windows Central Newsletter
Get the best of Windows Central in your inbox, every day!
Download option not shown in the WPCentral app.

Read the title, not a Windows Phone app. ;)

It actually has Windows Phone version as well, just this article doesn't mention it.

WP version: http://www.windowsphone.com/s?appid=91c70453-6140-4f08-8a53-4000f7d46507

This is an awesome game, love to play it all the time, very nicely done as well

Just downloaded this the other day. It's nice though I laugh at the people who gave it fewer stars because they wanted more hints. It's hangman.

Had it, then uninstalled it. Two issues with this: Pro versions should NOT contain ads. This thing does. Two, phrases should be complete. This game, a win is only part of the phrase is all that shows. Completing that is a win. Not good.

Hard to imagine how Hangman and Pro go together :-)

We would play this in school with index cards and a chalk board. Fast forward to 1980 when I typed this by hand from a book into a TRS-80. Thought it had gone as far as it could go until Wheel of Fortune hit the air.

Would that have been a book from Creative Computing? Ah, those were the days....

An really good alternative is Trine's Hangman by Gydar Industries. They've been supporting WP for years. Works on WP7 and 512MB devices. ;)